by
posted on December 28, 2018
Support NRA American Hunter
DONATE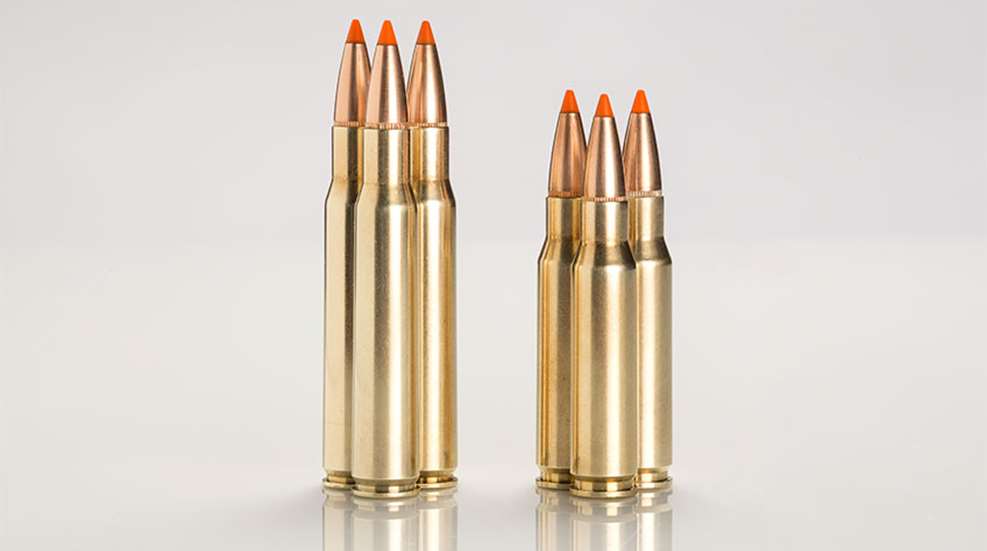 In nearly every Western hunting camp I attend these days, there's almost always some long-range rifle guru who insists on using target or varmint-style bullets for big game. This guy's argument usually goes something like, "You can't kill 'em if you don't hit 'em!" Problem is, target and varmint bullets are not intended for game any larger than coyotes. While they might work like dynamite under ideal conditions if the animal is hit broadside and not too close, you're asking for trouble in other situations.
Eventually you'll be faced with a less-than-perfect shot angle, like down through the spine, a hard quartering-away angle or a close-range shot on a shoulder. That thinly jacketed bullet is going to do what it's designed to do, and that is come apart. If it hits heavy bone there's a great chance it will fail to penetrate sufficiently, and you'll have a wounded animal on your hands.
It doesn't have to be this way. There are myriad premium big-game bullets that offer good accuracy at reasonable if not long-range hunting distances. A new one is the TipStrike from Norma. It's a premium, controlled-expansion projectile that features a heat-treated polymer tip, a flat base and a mechanical locking system that lessens the chance of its lead core separating from its copper jacket.
Norma is a Swedish ammunition manufacturer that's one of the world's largest and most popular sources of hunting ammo, except in the United States. One reason is its products haven't been marketed here much. Norma is owned by Europe-based RUAG Ammotec, and it produces top-quality components as well as loaded ammo; its brass alone is coveted by handloaders everywhere. Over the last few years the company has focused on engineering proprietary bullets so it can better compete with the more advanced bullets coming from the U.S.
The TipStrike competes, thanks to its moderate weight-retention qualities combined with excellent ballistic coefficients. Its jacket is preprogrammed to expand yet stay together with the core across the entire velocity spectrum. The TipStrike is touted to not only expand at longer distances but also, unlike varmint bullets, retain its weight for great penetration at shorter distances even if it encounters heavy bones. It's also claimed to deliver "instantaneous drop-dead" results, but we all know that is marketing hype. Even heart-shot animals often run a short distance.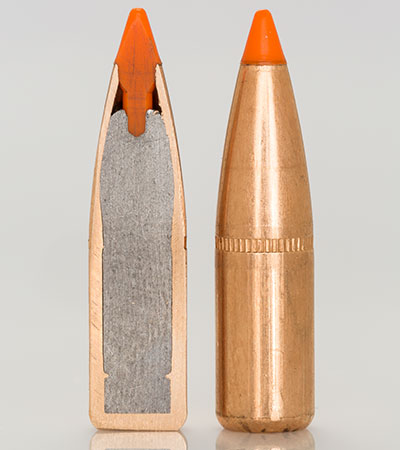 While the bullet is named for its red polymer tip that increases the ballistic coefficient (BC), looks snazzy and initiates expansion, many other bullets have these tips. They're nothing new. The TipStrike's most noteworthy feature is found in its jacket. Near the bullet's base, the jacket forms what is essentially a chock along its interior circumference that serves to bite into the lead core and help keep the two from separating during impact. While some bullet makers choose electronic or electro-chemical bonding, much like Nosler does with its AccuBond, Norma opts for the mechanical route. Both work.
Like other preprogrammed bullets with tapered jackets, the TipStrike expands rapidly for the first third of its length before expansion is slowed by progressively thicker jacket material along the shank and near the base. For violent impacts at close range, the frontal portion peels back and the midsection bulges for the mushroom effect as the interior chock bites on the lead and prevents it from separating.
Norma's gel tests indicate that the TipStrike expands to roughly 1.4 times the bullet's original diameter for a balance of tissue disruption and penetration. It averages 70 percent weight retention. From what I've seen, I think this bullet leans slightly to toughness (penetration) over expansion, and I like that.
I hunted wild boars with TipStrike ammo, and I shot two of them with the .30-06 load. One weighed about 100 pounds and the other about 250. The bullet exited from both, and the boars died moments thereafter. One ran about 20 steps, while the other ran about 50. This is indicative of a bullet that both penetrated and expanded well.
Even with its flat base, the TipStrike has great aerodynamics and an advertised BC of .454 for the .30-caliber, 170-grain bullet. While its BC would be higher if Norma chose to go with a boattail instead, its price would also be more, and I don't think a boattail is missed inside of ranges of about 600 yards. The bullet has a cannelure, which is a holdover from older days of bullet making—part of Norma's past—and it's mostly for show.
Accuracy of the .30-06 170-grain TipStrike load was superb during testing. Groups from my Sauer rifle averaged .95 inch, slightly better than the rifle's overall group average, which included other loads.
I found Norma TipStrike to be great all-around ammo for big game, from deer and hogs to bears and even elk. While it's not first to this growing market, TipStrike gives Eastern whitetail and Western big-game hunters another reliable and accurate option in controlled-expansion bullets.
Technical Specifications
• Caliber: 7mm-08 Rem., 7x57mmR, 7x64mm, 7x65mmR, .280 Rem., .308 Win., .30-06 (tested), 7mm Rem. Mag., .300 Win. Mag.
• Bullet: 170-gr. Norma TipStrike
• Ballistic Coefficient: .454
• Muzzle Velocity: 2790 fps (advertised w/24″ barrel)
• Muzzle Energy: 2,937 ft.-lbs. (advertised)
• MSRP: $46.65 per 20-rnd. box; norma.cc/us