by
posted on July 9, 2019
Support NRA American Hunter
DONATE
Hunters and tents have had an intimate relationship since some forgotten Neanderthal stretched a piece of mammoth hide over a fallen tree and crawled under it to sleep. They protect us from the elements and allow us to sleep close to the hunting area, which can be some distance from our homes. Tents are portable, so we can move and change locations. Unlike a fixed camp, a tent is portable enough to follow the game. If one location is not producing, we can pack up our tent and move to a better place.
The concept of a small, quick-to-set-up tent works great with hunters. For example, the guy who leaves work Friday afternoon and drives to his hunting location so he can be ready in the morning. He doesn't need a big wall tent with a wood stove. He just wants a warm, dry place to sleep. A lot of us just sleep in the vehicle, or at least I used to; that's a younger man's game. Comfort helps old bones sleep better and a well-rested hunter is a better hunter. I've found that a tent with a comfortable sleeping pad is a lot better than a lumpy, cramped back seat with a seat belt buckle jabbing my ribs all night.
I love sleeping in a tent. There's something about sleeping under the canvas (I know, they are mostly nylon today, but 'canvas' has a more literary ring, don't you think?) that eases my worries and soothes the soul. I often wake up thinking it was the best sleep I've had in months. But, I also want to be comfortable, and not all tents fill that requirement. When I'm well rested, I enjoy the trip a lot more and hunt a lot harder than when I had a cramped and uncomfortable night's sleep.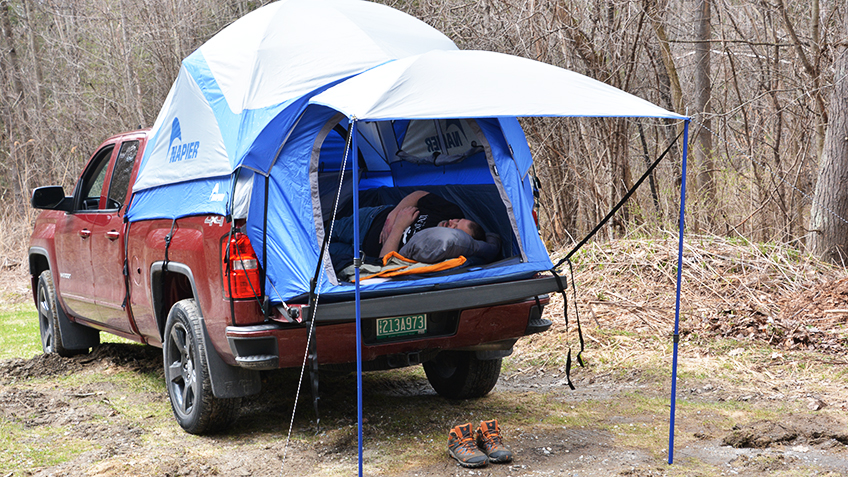 Recently, I've been using a Napier Sportz Truck Tent, and think it is perhaps one of the great ideas of our time. This tent is fast to set up and it fits in the bed of my pickup truck. The sides pull over the edge of the truck to keep the rain water out of the bed and there's a 4X4 foot fly to cover my cooking gear. Instead of a lumpy forest floor with hidden roots and rocks to torture me in the night, I am on the smooth bed of the truck. Tip: If the ribs on the bed bother you, cover them with plywood.
I'll admit, the first time I set the tent up, I did what every man in the history of men and tents has done in one version or another. I started late on a hot, muggy evening. The light was fading, sweat was stinging my eyes and the mosquitoes were draining my blood faster than a coven of vampires. It all resulted in enough cash in the swear jar to take the wife on a two-week cruise. (Go ahead; tell me you didn't do something like that first time out with your new tent. Just remember, lying is a sin.)
Setting it up the second time was a considerably better experience. Apparently, if you read the directions, things go much smoother. Who knew?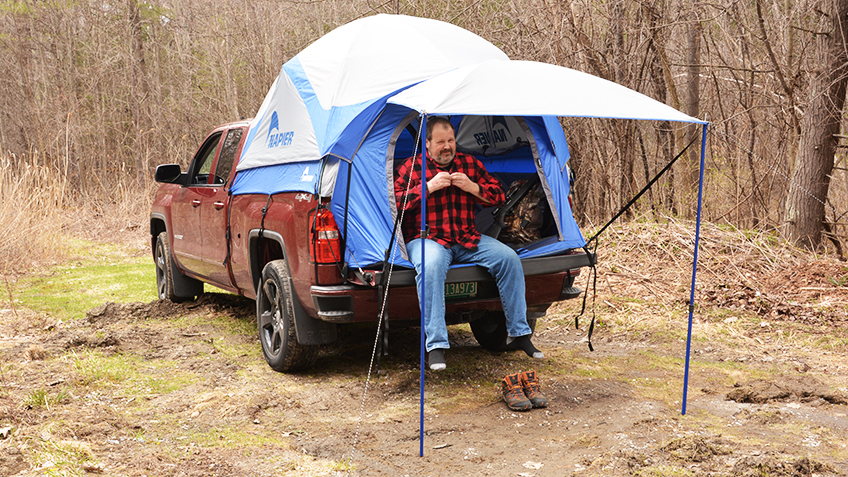 Everything on the Sportz Truck Tent is color coded. Simply match the poles to the pockets in the tent, slide the poles into place and pop the tent into shape. Secure the ends of the rods, tie down the tent and it's done. Just ten or 15 minutes and it's all ready to go. That includes putting up the fly and installing the rain cover.
The tent is well-made and surprisingly roomy. The guy in the photos above is my buddy Mike Brookman. He's the same size as an average Sasquatch, and yet he thought the tent was more than big enough for him and his wife. Therefore, for average-sized adults, it will be more than enough space.
Unlike a backpacking pup tent, the Sportz Truck Tent, with a center height of 5 feet, 7 inches is more than tall enough to sit inside with a camp chair. If you wonder why that's important, then I suspect you have never been stuck inside a small tent all day in a hard rain. It gets tiresome lying down for hours on end.
The tent locks to the truck in several locations with non-marring clamps on adjustable straps. There's a window in the back that will correspond with a sliding window in the truck so you have access to the cab or anybody in the cab. It has three large windows and two ceiling vents, as well as an internal gear loft, gear pocket and a built-in lantern holder.
One unsung advantage of the Sportz Truck Tent is the elevation. It keeps you up off the ground and away from mud, snow, water, bugs, snakes and inquisitive critters of the night. Heck, I once had two wolves show up at my tent and empty my cooler. It could have been worse; I lost a couple good steaks, but I wonder how it would have ended if they visited the inside of the tent.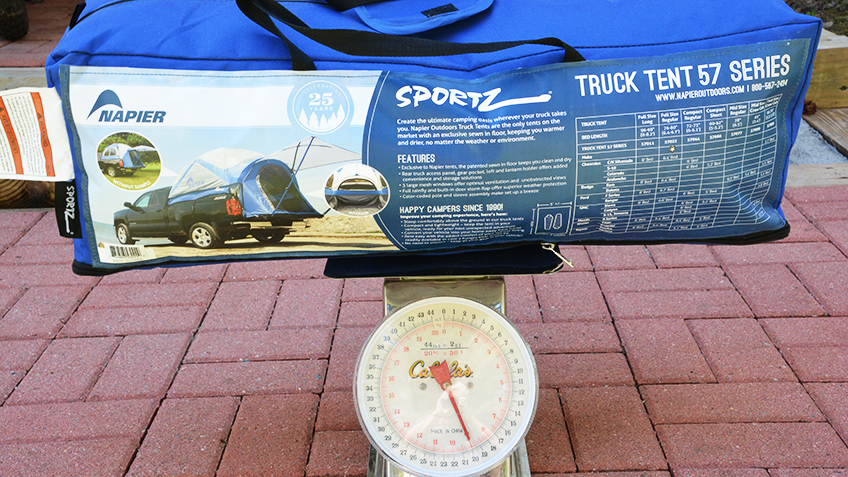 Additionally, the elevation of the truck tent makes it much easier to get in and out of. Those of us of a certain age are now regretting the follies of our youth. All those stiff, aching joints disapprove of a ground dwelling pup tent. With this tent at tailgate height, it's much easier to access. Standing up and leaving it in the morning is a lot less strenuous than clawing your way up from ground level. For all the young hunters rolling your eyes right now, your turn is coming. I didn't believe it either at your age, but trust me, nobody alive escapes it. This tent is a blessing for a senior hunter.
It can sleep two comfortably, or me and all my gear. With an MSRP of $279.99, it's perfect for a quick weekend get-away. It puts you in turkey country before dawn or into the heart of deer country, allowing you to start your day fresh and well-rested.
The Sportz Truck Tent packs into a small carrying case and is light enough at 20 pounds to easily carry with one hand. It is available in several models that are matched to specific truck bed sizes.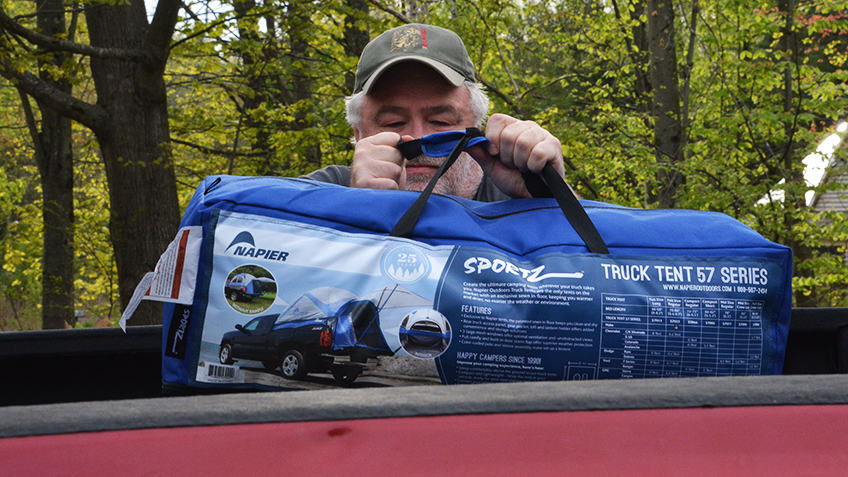 To learn more about the Sportz Truck Tent, visit napieroutdoors.com or call 800-567-2434.