by
posted on September 19, 2023
Support NRA American Hunter
DONATE
Spoiler alert: If you're a Marlin fan who thinks the new Marlin lever actions will never be as good as the originals, or who wants to hate on Ruger because it's not really Marlin, you can stop now, you're going to be sorely disappointed in this article. The new 336 is fantastic. Not only is Ruger doing right by Marlin, they are likely producing the best Marlin lever actions ever made. Some of you can let the hate flow through you. Still with me? Okay, moving on.
The new Marlin Model 336 Classic is a reintroduction of the pre-Ruger Model 336 lever action. It's a reintroduction because Remington, who purchased Marlin in 2007, not surprisingly went bankrupt in early 2020. When that happened, it was lights out for Marlin and the 336. Fortunately, in September of 2020, Ruger bought Marlin, saving the iconic brand and rifles. This year Ruger/Marlin reintroduced the Model 336 with their updated version, the Marlin Model 336 Classic.
The Marlin Model 336 Classic is of course a lever-action, tubular magazine-fed, hammer-fired rifle with both a half-cock and cross-bolt safety. Purists despise the cross-bolt safety. But just like lawyers and cockroaches, it's here to stay, so best to learn to live with it.
Our sample weighed 7 pounds, 2 ounces, which isn't bad considering there's a lot of metal in these guns. Speaking of metal, the 336 has a polished, blued steel, slab-sided action, drilled and tapped for scope mounts, with a side loading gate. The solid-top receiver with side ejection is what makes it easy to mount an optic on the Marlins. This has always been a welcomed advantage over other lever actions like the Winchester 94 that have top eject, preventing optics use.
The new 336 barrels are made by Ruger, so no more micro-groove rifling. Chambered in .30-30 Winchester, the cold hammer-forged barrel on the 336 Classic is 20 inches long. It comes with an elevation- and windage-adjustable rear buckhorn sight, and a brass bead front sight protected by a hood. The rear sight elevation is adjustable via a stepped elevation slider, and the windage is adjustable by drifting the whole rear sight assembly left or right.
Its namesake lever is the traditional configuration, curved inward to match the lines of the grip. It easily accommodates three fingers to work the action, but it might get a bit crowded with thick gloves—just something to keep in mind.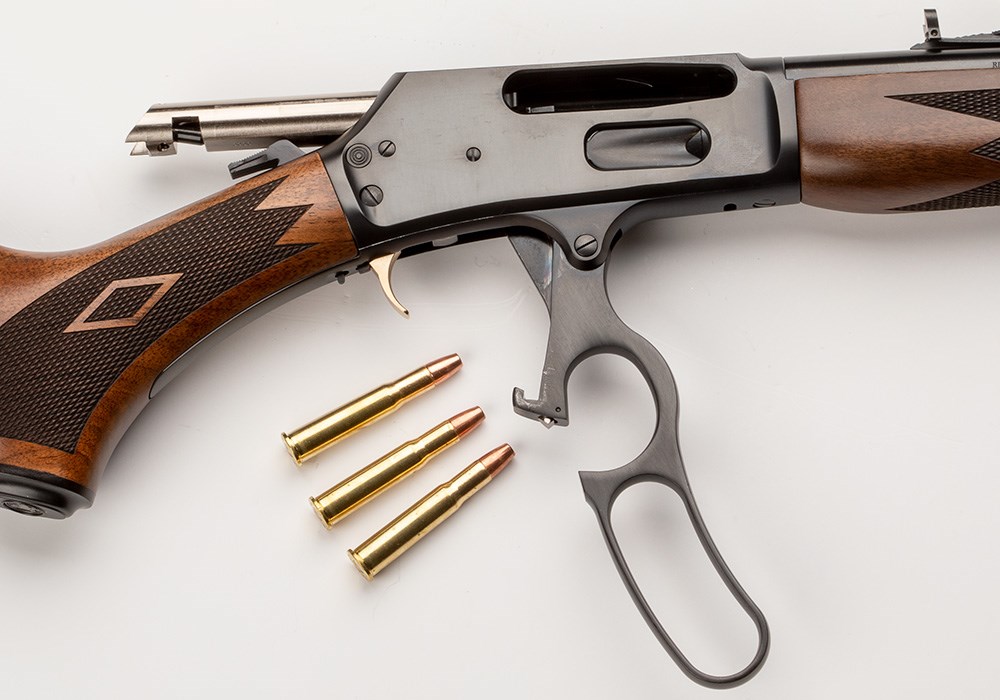 The buttstock and fore-end are made from nicely finished, laser checkered, American black walnut. The checkering looks great and provides a surprising amount of texture given how it's cut into the stock. Handling and shooting a wood-stocked rifle has a warm, comfortable feel that's easily forgotten given the prevalence of synthetic-stocked bolt guns and ARs. It's a pleasant change of pace. A barrel band secures the fore-end, and it includes a traditional sling-swivel stud. The buttstock is checkered at the grip and has a thin, attractive, functional recoil pad and a sling-swivel stud. Two very noticeable buttstock features are the new, red-and-white Marlin bullseye, and a grip cap with the classic Marlin horse and rider logo. They are attractive additions.
A wide, brass trigger finishes off the classic look and is comfortable to operate. The trigger pull averaged about 5 pounds. It is extremely crisp with zero take-up.
There are a few cosmetic differences between the new and old Marlin 336, such as the bullseye, which is now red and white instead of black and white, the grip cap, and the new Model 336 fore-end is a bit slimmer. But the major differences are internal. The design is still the same, but the Ruger Marlins are more precisely machined, and all the internal parts except the trigger/sear are tumbled, resulting in better consistency and a smooth action right out of the box.
The new Model 336 Classic is a fantastic looking rifle, it really is, but how does it function and shoot? To find out, I shot the rifle at 50 yards with open sights, and at 100 yards with a 3X-9X scope. I wasn't too concerned about the accuracy of the open sights because that's probably testing my old eyes more so than the gun, but the sights were easy to see and aim accurately.
The setup for accuracy testing consisted of a Leupold VX-Freedom 3-9x40mm in Leupold QD rings on a Warne one-piece steel base. I shot Hornady's American Whitetail and LeveRevolution ammo, as well as loads from Barnes and Winchester. 
The scoped setup proved the new Marlins, using the Ruger-made barrels, shoot well—really well. Groups ranged in size from just over 2 inches to .4 inch, averaging about 1.5 inches. This is great accuracy for a lever-action rifle. Loading was easy. The action is quite smooth. It was easy to keep on target while cranking in round after round when shooting offhand.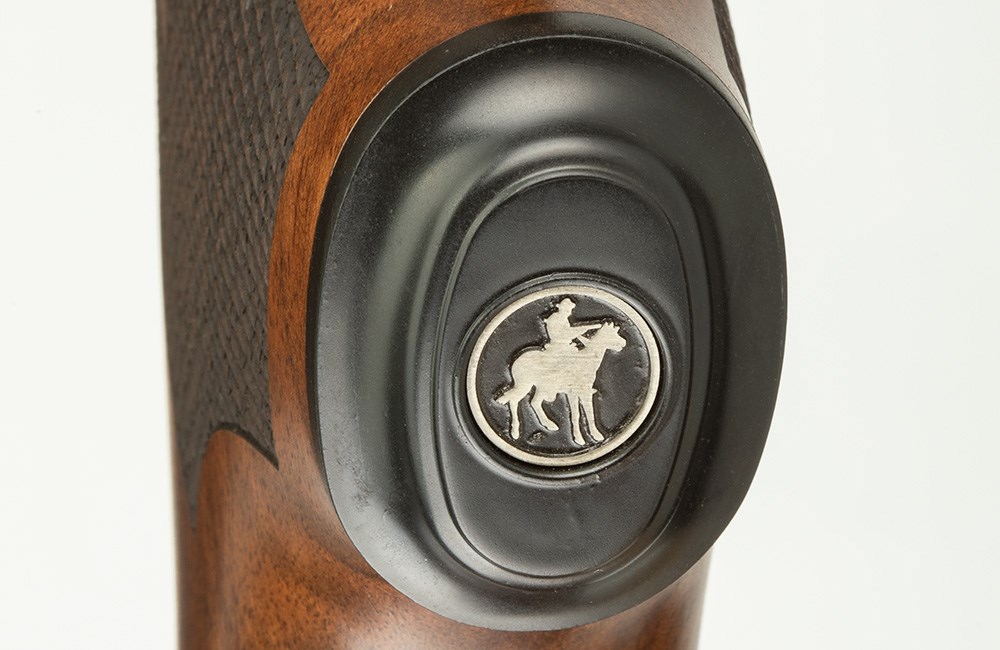 The rifle looks great, shoots great and feels great. The new 336 shoulders quickly, points easily and is comfortable to shoot and work the action. Not to be overlooked is the fact that the .30-30 Winchester is one of the most pleasant-shooting cartridges you'll find. Combined with the overall ergonomics of this classic design, the Marlin Model 336 Classic provides a fun, heartwarming shooting experience.
There isn't anything you need to do to this rifle; it's ready to hunt right out of the box. That said, a low-power variable optic or a red-dot would be a fantastic choice for this lever action. Fortunately, scope mounts are readily available, making it easy to set it up with just about any type of optic you can think of.
If you're not that familiar with lever actions, please note they are a bit more difficult to clean with a rod from the breech. Get a good BoreSnake or Otis-type cleaning setup. You don't want to clean from the muzzle end unless you absolutely must.
When I first got this 336 for review, I had high hopes. As a former director of marketing at Marlin Firearms and the creator of the 1895 SBL, I wanted this new 336 to be every bit as good as the pre-Remington era Marlins. I am not at all disappointed. Frankly, my sample of the Model 336 Classic indicates that these are probably the best Marlins ever produced. It is smooth, precise, accurate and has a great wood-to-metal fit. Overall, this is really a great lever action. Ruger has done a fantastic job bringing this iconic rifle back to life. If you're a Marlin fan and are worried about the future of Marlin and their historic lever actions, don't be. As a former Marlin employee and Marlin fan, I can honestly say the brand and rifles are in the best hands we could have hoped for.

Technical Specifications
• Type: lever-action rifle
• Caliber: .30-30 Win.
• Magazine: tubular; 6-rnd. capacity
• Barrel: 20.25"; alloy steel; cold hammer-forged; 1:12" RH twist; 6 grooves
• Trigger: single-stage; 5-lb. pull weight
• Sights: adjustable semi-buckhorn rear, brass bead front w/hood
• Safety: cross-bolt; half-cock hammer
• Stock: straight comb; American black walnut; 13.38" LOP
• Metal Finish: blued, satin
• Overall Length: 38.625"
• Weight: 7.5 lbs.
• Accessories: offset hammer spur
• MSRP: $1,239; marlinfirearms.com