by
posted on August 23, 2023
Support NRA American Hunter
DONATE
The Korth NXS 8-Shot revolver from Nighthawk Custom and the ZeroTech Thrive 1x25 red-dot I'd mounted on the handgun were zeroed for 25 yards. When I moved back to 50 yards to continue my accuracy testing, a rezeroing was needed as two of my first three shots at a 3-inch orange bullseye were to the left 1.5 and 2.5 inches.
I adjusted the ZeroTech and aimed at the second orange bullseye. My next three shots hit closer together, but I'd clicked just a little too far to the right. I made the needed clicks left and then, just to be sure, took a shot at the top left corner of the white paper. I hit where I was aiming. Not wanting to waste an opportunity, I took two more shots using my first shot as my aim point.
Result: Three rounds of Hornady Handgun Hunter, firing a 130-grain MonoFlex bullet, scored a 1.4-inch group at 50 yards from a rest.
Might be a fluke, I decided, so I kept shooting with the Hornady and two other brands of .357 Magnum ammunition. At the end of two separate accuracy sessions at this distance, with many, many sub-2-inch groups fired, I knew the Korth NXS was the most accurate revolver I'd ever had the pleasure to shoot. It looked pretty darned cool, too.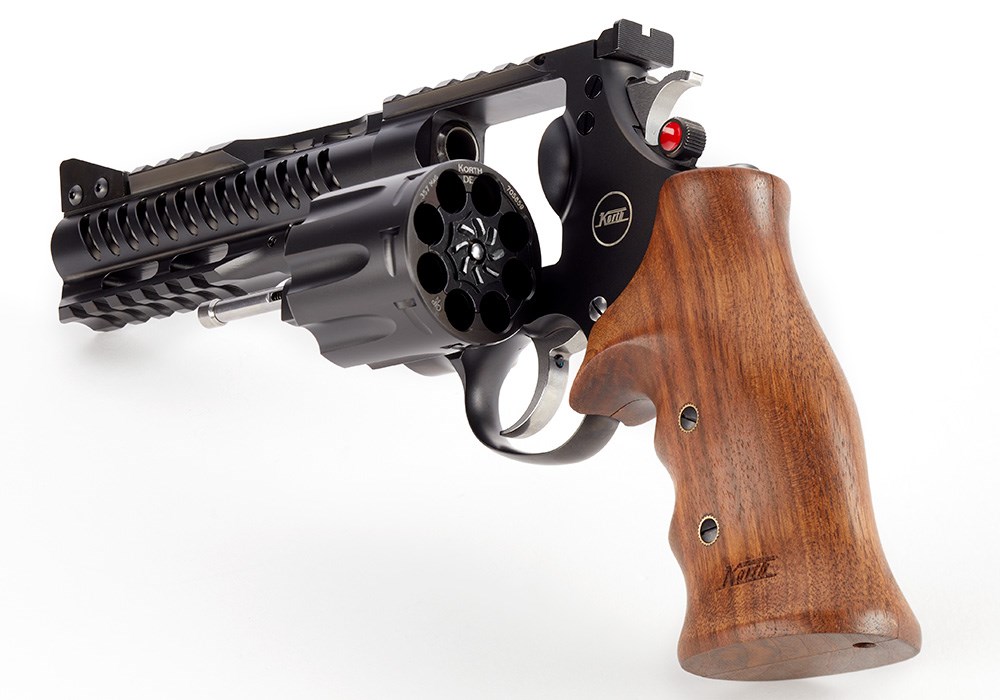 Nighthawk Custom of Berryville, Ark., started life as a maker of top-quality 1911s nearly two decades ago, with the motto, "One Gun, One Gunsmith." That's right: Start to finish, Nighthawk 1911s were (and are) custom made, fitted and tuned by one gunsmith. Today, Nighthawk has expanded into shotguns, plus offers leather and knives, and in 2016 began its partnership with Korth.
Korth-Waffen of Lollar, Germany, has been making high-quality revolvers since 1954. Like Nighthawk Custom, Korth builds every revolver from start to finish with the labor of a single gunsmith. Every part used in Korth builds comes from fully machined bar stock. In collaboration with Nighthawk, the Korth series of revolvers offers 12 different options in .357 S&W Mag. and .44 Rem. Mag., with barrel lengths ranging from 2.75 to 7.5 inches.
And, yes, being handmade custom firearms, Korth revolvers are very expensive.
The "8" in the NXS 8-Shot refers to the eight rounds of .357 Mag. held in the revolver's cylinder. That cylinder includes a cut to accommodate moon clips, though no clips were included. The NXS features a hammer-forged, 6-inch precision barrel housed in a ventilated barrel shroud for faster cooling, with integrated Picatinny rails on the top and bottom. The top of the revolver's frame also sports a Picatinny rail for the easy mounting of an optic.
I first shot the NXS 8-Shot at 10 yards offhand to get used to the handgun and to see where the sights were. A bit off, for the latter, but that was quickly fixed as the rear sight is easily adjustable for windage and elevation.
I moved on to my outdoor range's 25-yard line and, still using the revolver's open sights, shot groups with the above-mentioned Hornady ammunition. I also shot Barnes VOR-TX loaded with a 140-grain XPB hollow-point bullet, and Black Hills Ammunition's HoneyBadger featuring a 127-grain monolithic bullet with four cutting edges that from the top look remarkably like a Phillips head screwdriver bit.
I pegged three-shot groups of .90 inch and 2.2 inches with the Barnes, 1.1 and 2.03 inches with the Black Hills and several 1-inch groups with the Hornady ammo, at which point I realized any misses at this distance were going to be on the shooter and not the revolver. I then mounted the ZeroTech red-dot for my 50-yard testing, the optic fitting easily onto the NXS' top rail.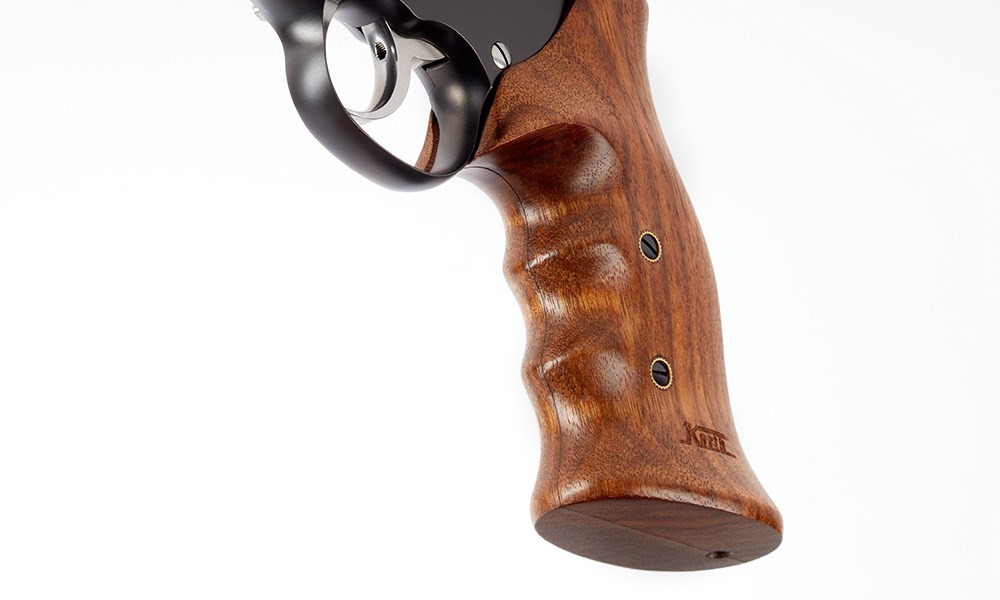 For my 50-yard accuracy testing, I shot from both a bench and from shooting sticks while sitting in a low hunt chair, elbows on my knees for a very steady rest. As noted, accuracy at this distance was very impressive.
The Hornady scored the best group overall at just .90 inch and the best average at 1.82 inches. The Black Hills was close with a best group of 1.2 inches and a 1.85-inch average. The Barnes did very well, too (see chart below). All three would be excellent hunting choices for medium-sized and smaller game.
Trigger pull in single action was a very crisp 1 pound, 9 ounces on average, according to my Lyman Electronic Digital Trigger Pull Gauge, and a very smooth 5-pound average in double action.
The metal parts are coated in a durable black DLC finish, while the grips are made from a really beautiful Turkish walnut. The "New Style Korth Cylinder Release" is located to the left of the hammer and above the walnut grips and releases the cylinder with a forward push. The cylinder swings out quite wide for easy loading.
The NXS can also be had with an interchangeable 9mm cylinder at an additional charge.
The only problem area of the revolver, for me, was open sights. The angled front post needed to be more upright, more vertical and therefore more visible. For my eyes, that post often got blurry and lost, especially in bright sun and at distances over 25 yards. A slightly deeper rear notch would've been a help, too.
A number of people would no doubt cite the price at essentially $5,300 as the biggest problem with this revolver. Not me, and I can't afford the NXS.
The price is what it is, and, no, Korth/Nighthawk will not be selling a half-million of these exceptional revolvers. But for the relative handful of hunters and shooters who do purchase an NXS 8-Shot, they will have a lifetime handgun capable of decades of accurate shooting afield and at the range; an heirloom that will be passed down for many, many generations.

Technical Specifications
• Type: double-action revolver
• Caliber: .357 Mag.
• Cylinder Capacity: 8 rnds.
• Barrel: 4", 6" (tested): 1:10" twist; ventilated barrel shroud w/integrated Picatinny rail
• Trigger Pull Weight: 1 lb., 9 ozs. (single-action); 5 lbs. (double-action)
• Sights: adjustable rear, shrouded front post; Picatinny rail for optics
• Grips: Turkish walnut
• Metal Finish: DLC coated
• Overall Length: 11.65"
• Weight: 50.7 ozs.
• Accessories: none
• MSRP: $5,299; nighthawkcustom.com