by
posted on July 13, 2023
Support NRA American Hunter
DONATE
As the saying goes, "ounces equal pounds and pounds equal pain." To that end, manufacturers of nearly every type of hunting equipment have made strides to shave off as much back-breaking weight as possible. Although bulky items like treestands can see the most significant mass savings, there is an incredible benefit to eliminating even just a few pounds off your rifle. Traditionally, this was accomplished by using ultra-thin barrels clad with deep fluting, sometimes abbreviated in length as well. None of these features are favorable to accuracy, and length reduction often equates to a loss in velocity and killing effectiveness. Today, we benefit from a larger material picking pool, with carbon fiber finding itself among the top of the list for tasks that involve strength without heft. Howa has made a rifle or three and has found success with carbon fiber through the stocks of its popular Stalker series. The company's natural progression would be using this material to lighten the barrel, giving us the Carbon Elevate.

The Howa Carbon Elevate is a bolt-action, centerfire repeating rifle that features a slender stainless steel barrel wrapped in several layers of carbon fiber. This configuration yields a design that is practically as rigid as an all-steel launch tube but barely tips the scale. After being threaded and capped for accessories, the final assembly is incorporated into either Howa's Classic M1500 action or its newer mini action, depending on chambering. Both feature a conventional 90-degree bolt throw that feeds from a detachable or internal magazine, determined by the cartridge it fires.
The benefits of a carbon-wrapped barrel would be lost entirely if weight-saving measures weren't also applied to a rifle's stock. So again, Howa turned to Stocky's to create a carbon cradle to follow through on what was started with the barrel. Using a carbon version of its proprietary Accublock, Stocky's can reproduce the same rigidity that it gets from the metallic version of this bedding system at a fraction of the poundage. Knowing that the Carbon Elevate is destined for rigorous outdoor use, a slightly rubberized Kryptek Altitude camouflage finish is available. This unique pattern breaks up its outline and enables a secure grip regardless of where you might need to place your hand. Creature comforts like a LimbSaver recoil pad and a pair of sling studs are also included, which on many rifles is sadly overlooked.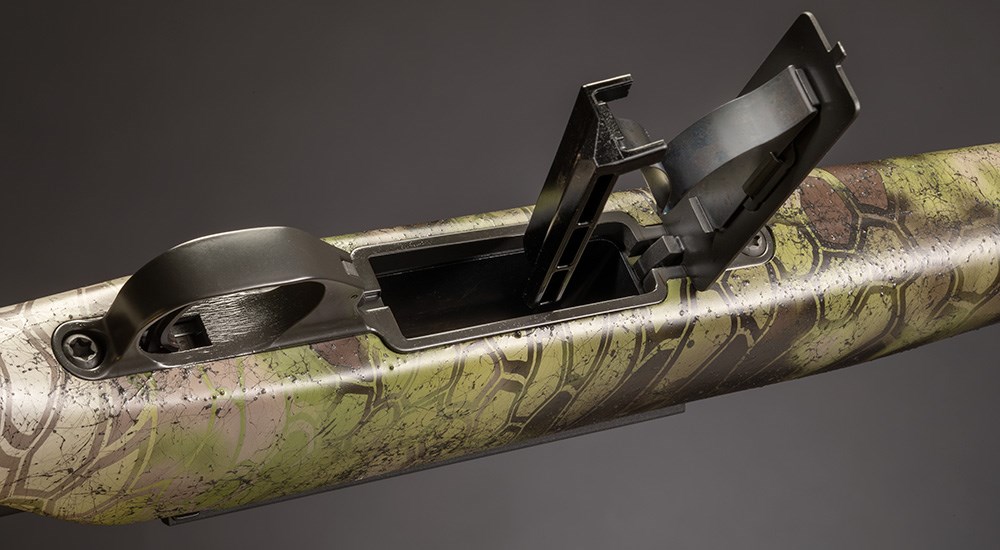 My test sample arrived chambered in 6.5 Creedmoor and just needed glass before I could take it to the range. Since it comes drilled and tapped, I attached a Nikko Stirling 20 MOA base and then mounted a Riton 5 Primal 3-18x44mm scope. I chose this magnification range because the 6.5 Creedmoor is capable of ethical harvests at extended distances, just so long as proper shot placement is applied. I was tempted to attach a bipod to the forward sling stud but since I could balance the gun on one finger I quickly realized how poorly that would impact field position shooting. From here, all that was left to do was round up some hunting ammunition, charge my chronograph and head out to the proving grounds.
One of the secondary benefits of a carbon-wrapped barrel is enhanced heat dissipation, and with an ambient temperature of 92 degrees, I intended to test it to its limits. After placing steel at 200 yards and paper at 100 yards, I found some shade and conducted some dry-fire practice. With the HACT trigger, I enjoyed the light press and defined wall of its two-stage configuration, which let off clean after a measured 3.5 pounds of pressure. As far as hunting rifles go, this is dynamite. I love seeing attention like this put into hunting triggers, as this area is often dismissed. I believe a light trigger should always come standard, as shooting in the field doesn't afford you the luxury of perfect support to cover up your sins. That said, I bellied up to a sturdy shooting bench to take much of myself out of the accuracy equation and fired a series of three-shot groups with three different types of hunting ammo. In doing so, I was also able to confirm Howa's sub-MOA guarantee with Federal's Fusion load, with offerings from Hornady and Remington not too far behind. From here, I rose to my feet and commenced fire on the 10-inch gong that was previously placed downrange. During this portion of my evaluation, I gained an appreciation for the rifle's balance, as repeatedly scoring hits offhand was no task at all. Additionally, the recoil was mild enough to quickly get back on target, paying dividends should you need to see which way an animal moved after being struck. I finished my range day in the prone position, engaging a 4-inch gong at the same distance in an effort to gather data on extended use and point-of-impact drift. Let's just say that I ran out of ammo before anything noticeable occurred.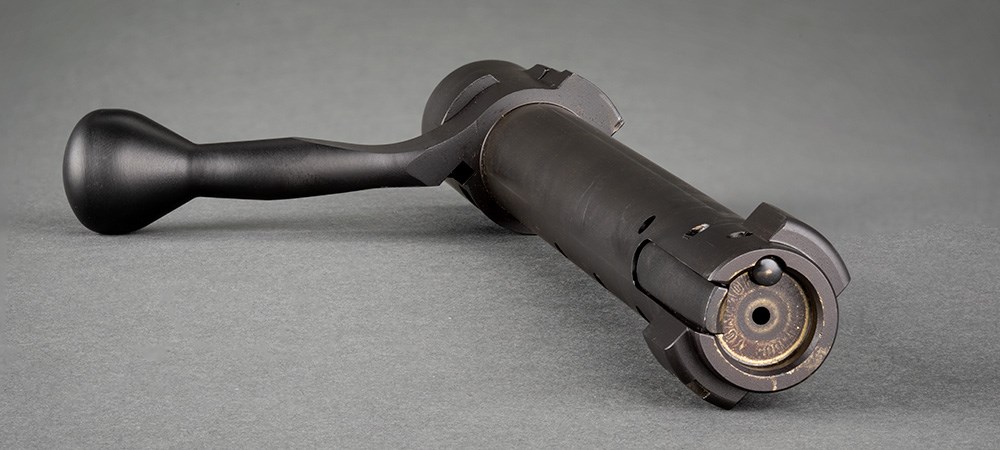 The Howa Carbon Elevate has brought bench-gun accuracy and utility to the hunting world without resorting to a package that can't practically be hauled afield. I enjoyed its "just right" balance for offhand shooting, and it dissipated heat like a gun wearing a barrel that was several pounds heavier. Chambered in the right cartridge, this could be a one-gun solution for varmint and big-game hunting with a side of "just plain fun to shoot at the range." At the time of this writing, the Elevate comes in your choice of 6.5 Creedmoor, .308 Win., 6.5 PRC or 6.5 Grendel, so there is plenty of wiggle room for everything in between. Regardless of what you settle on, you are bound to enjoy your experience as much as I did, wherever your journey may take you.

Technical Specifications
• Type: bolt-action, centerfire rifle
• Caliber: 6.5 Creedmoor (tested), .308 Win., 6.5 PRC, 6.5 Grendel
• Magazine: internal; 4-rnd. capacity
• Barrel: 24"; carbon fiber-wrapped stainless steel; heavy contour;  button rifled; 1:8" RH twist, 6 grooves; threaded ⅝"x24 w/cap
• Trigger: single-stage; 3-lb., 8-oz. pull weight
• Sights: none; drilled and tapped for optics
• Safety: 3-position toggle
• Stock: straight comb; carbon fiber; Kryptek Altitude camo; 13.75" LOP; sling-swivel studs
• Metal Finish: blued
• Overall Length: 44.94"
• Weight: 6.5 lbs.
• MSRP: $1,693; howausa.com