by
posted on February 16, 2023
Support NRA American Hunter
DONATE
German engineering is revered the world over. As a rule, products that hail from the country carry the utmost attention to detail and are made to last for generations. To this day, a large percentage of the original Mauser rifles find themselves afield every hunting season, and as such, their owners hardly ever consider putting them up for sale. If you are among the hunters who unfortunately missed out on the glory days when these surplus German rifles could be had for a song, fear not, for Mauser is still alive and well and even frequently introduces new rifles. Take the M18 Savanna, for instance. Building on the success of the no-frills concept, this rifle expands the line to include a synthetic stocked version in an attractive tan hue. Also attractive is the MSRP of just $849, so much so that I needed to request one for a closer look.
The M18 action is undoubtedly Mauser as it has an extraordinarily refined fit and feel. I observed this during my initial handling when I lifted the bolt and slid it out through the rear of the action. Its removal requires nothing more than pressing the release on the left side of the receiver, something I am fond of as it doesn't require pressing the trigger. A cursory look revealed the bolt to be of a three-lug configuration, which I already suspected from the short lift. Looking closer, I was able to spot one of the chief money-saving features, a push-feed design. For years, rifle shooters swore up and down that controlled-feed actions did a better job of retaining meplat integrity. However, in recent years we are starting to see that isn't always the case, as a properly designed push-feed system can be just as gentle on ammunition, and cost substantially less to manufacture. Returning to the action, I removed the magazine via the push-button release on the underside of the stock and found another production-saving concept, a universal magazine body. The M18 can be chambered for cartridges as small as .223 Rem. all the way up to .300 Win. Mag., all through the use of a solemn receiver and magazine clad with the appropriate spacer. This reduction of parts drastically cuts down retooling time at the plant and allows Mauser to churn out more guns without sacrificing quality. The outcome is a well-built firearm at a price that is easy to swallow.
Although built to be far less expensive than the company's M98 rifles, Mauser ensured that each M18 still had the features hunters demand, like a crisp adjustable trigger. My test sample came from the factory with a pull weight of 2 pounds, 13 ounces, but I was able to swing it from 2 pounds, 4 ounces to 3 pounds, 11 ounces just by turning the screw located in the trigger bow. I love that the system doesn't require removal and retorquing of any components, allowing for adjustment in the field without much fuss. Stopping the trigger's unintentional depression is a three-position, receiver-mounted safety that provides a provision for retracting the bolt without enabling the trigger. This world-class action is mated to a cold-hammer-forged barrel that is threaded in a caliber-appropriate pitch to support a sound or flash suppressor or muzzle brake.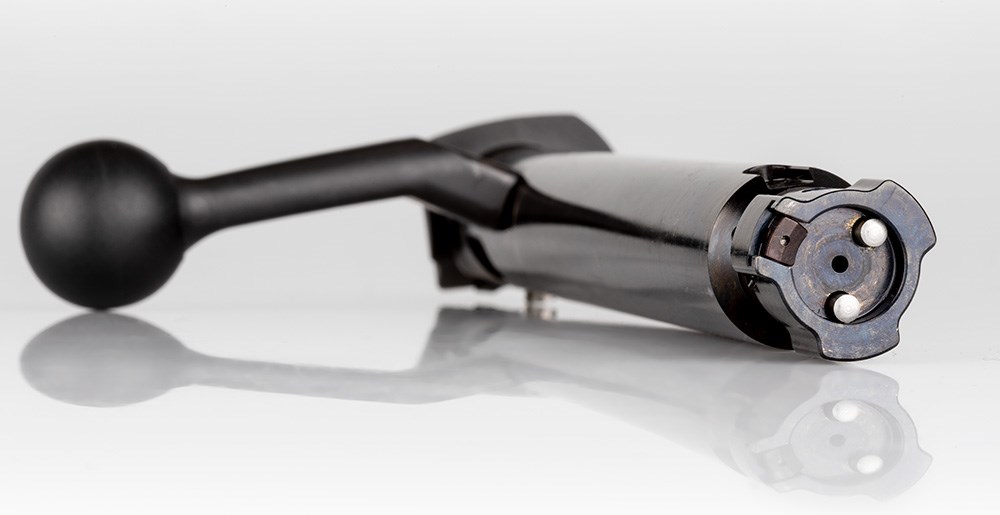 The stock of this M18 is what makes it the "Savanna" edition, as the polymer base is tinted with a tan coloring. Comfort features include rubber inlays on both the grip and fore-end, and a rubber buttpad that is removable to reveal a handy storage compartment. Rolling the rifle over exposes a pair of steel sling swivel studs to attach your carry method of choice or even affix a bipod for additional stability. Other than that, it is all business, a nod to the Germans' commitment to keeping costs down.
Each M18 receiver comes drilled and tapped to accept common Remington 700 long-action rails or bases, with no other sight system provided. I affixed a one-piece Picatinny rail to my rifle before attaching a Bushnell 4500 2.5-10x40mm scope. As my sample was chambered in .308 Winchester, I considered this the ideal magnification range as I wouldn't be taking many shots outside 500 yards. Aside from that, all that was needed for my range day was ammunition, so I chose a variety of hunting-grade fodder from Hornady, Federal and Winchester and headed out to see what the new gun could do.
I fired my initial shots from the bench, during which I confirmed the MOA accuracy guarantee with Winchester's subsonic offering. Additionally, these were just plain fun to shoot as the recoil was minimal. Running the supersonic loads from Hornady and Federal wasn't too rough on the shoulder either, as the rifle's buttpad, coupled with its geometry, did a fine job of mitigating recoil.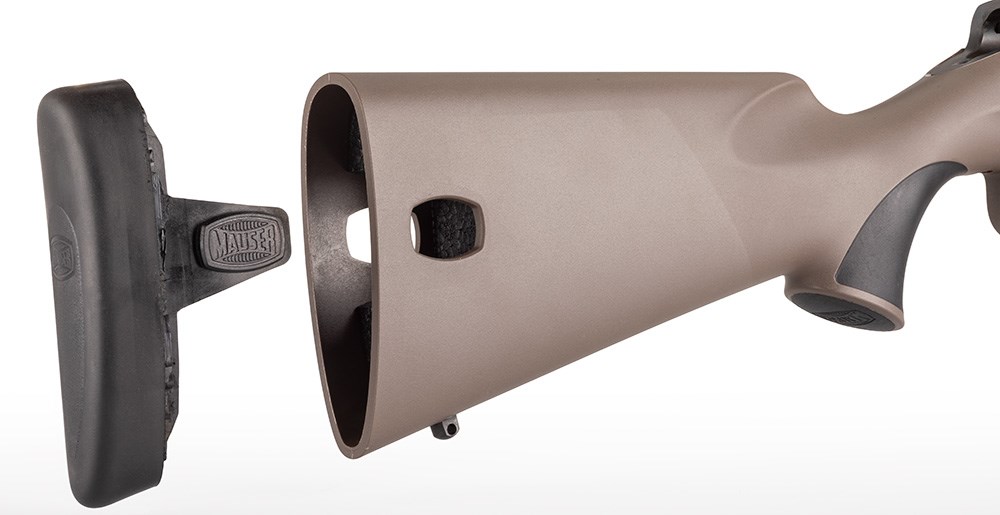 After cleaning up my zero, I reached out to 200 yards from various field positions, including standing, kneeling and prone, to produce a more realistic shooting experience. During this portion of the test, I developed a deeper appreciation for the short 60-degree bolt throw. It took exponentially less work to chamber another round from what some might consider an awkward position. The short throw also aided in left-handed shooting quite a bit. Putting lead on the 8-inch gongs at these distances was no task at all, and with each hit I grew increasingly confident of this rifle's ability to put meat in the freezer.
The live-fire portion of my day concluded when I exhausted all six boxes of ammunition, which I feel was thorough enough to draw a fair opinion of this rifle. My conclusion might be as simple as the design itself: it works. Although I joke, the final synopsis isn't far from those two words. Mauser pulled off an affordable, accurate hunting rifle with a dynamite trigger, all without ruining its namesake. What else could you need?

Technical Specifications
• Type: bolt-action, centerfire rifle
• Caliber: .223 Rem., .243 Win., .270 Win., 6.5x55 SE, 6.5 PRC, 6.5 Creedmoor, .308 Win. (tested), .30-06 Sprg., 7x57mm, 8x57 IS, 9.3x62mm, 7mm Rem. Mag., .300 Win. Mag.
• Magazine: detachable; 5-rnd. cap.
• Barrel: 22"; carbon steel; medium contour; cold-hammer forged; 1:11" RH twist, 4 grooves; threaded 9/16x24 w/cap
• Trigger: single-stage, adjustable pull weight 2 lbs., 4 ozs.-3 lbs.,11 ozs.
• Sights: none; drilled and tapped for Rem. 700 bases
• Safety: 3-position lever
• Stock: straight comb; synthetic; Savanna Tan finish; 14" LOP
• Metal Finish: blued
• Overall Length: 41.5"
• Weight: 6.7 lbs.
• MSRP: $849; mauser.com