by
posted on July 6, 2023
Support NRA American Hunter
DONATE
We had a good idea where the elk would be, or rather, I was following folks who had a good idea of where the elk would be. On a ranch outside Ennis, Mont., they'd pegged the herd in the weeks prior, and I was hoping to reap the benefits via an invite from EOTech Inc. to test out the latest in precision first-focal-plane (FFP) optics, the Vudu 1-10x28mm. I've hunted with a few low-power, variable optics in the past but never out West, and never for elk or mule deer. While I was a bit worried about the lack of magnification in a place where long shots are fairly standard, I had to remind myself that despite having the ability to do so in the past, I've rarely dialed a riflescope's magnification past 8-power when taking shots at game, even at ranges exceeding 400 yards. A 1-10x would prove to be ideal, and it made a believer out of me when all was said and done.
New for 2022, the 1-10x28mm is the latest in the expanding line of FFP Vudu hunting optics from Ann Arbor, Michigan-based EOTech Inc. Introduced in 2017, EOTech's Vudu optics line was designed to bridge a gap between the "battle-proven" holographic optics EOTech is known for, and a new segment of variable-power hunting and competition optics they were looking to enter.

Winning the NRA Golden Bullseye "Optic of the Year" award from American Rifleman magazine in 2017, the initial 1-6x24mm FFP Vudu optic blended features that military and law enforcement users have come to love about the company's holographic sights, like down-range durability and the fast target acquiring "speed ring" reticle, within a variable-power setup that had our editors singing its praises. Continuing that trend and expanding the FFP Vudu line with a 5-25x50mm, a 3.5-18x50mm and now a true 1-10x28mm, EOTech has stepped up to meet the needs of modern hunters and shooters who engage in a variety of pursuits—both in competition and hunting—with a wide variety of firearm platforms. 
Traditionally speaking, hunters have opted for second-focal-plane (SFP) reticle optics on their rifles, meaning the reticle is placed near the rear of the tube, behind the magnification lens, allowing the reticle to stay unchanged as the magnification is adjusted. It is a relatively simple and fast setup that provides quick aiming solutions at practical "hunting" distances. Second-focal-plane systems are also less expensive to manufacture, making them more appealing to the general hunting public, and EOTech's SFP Vudu line is top notch.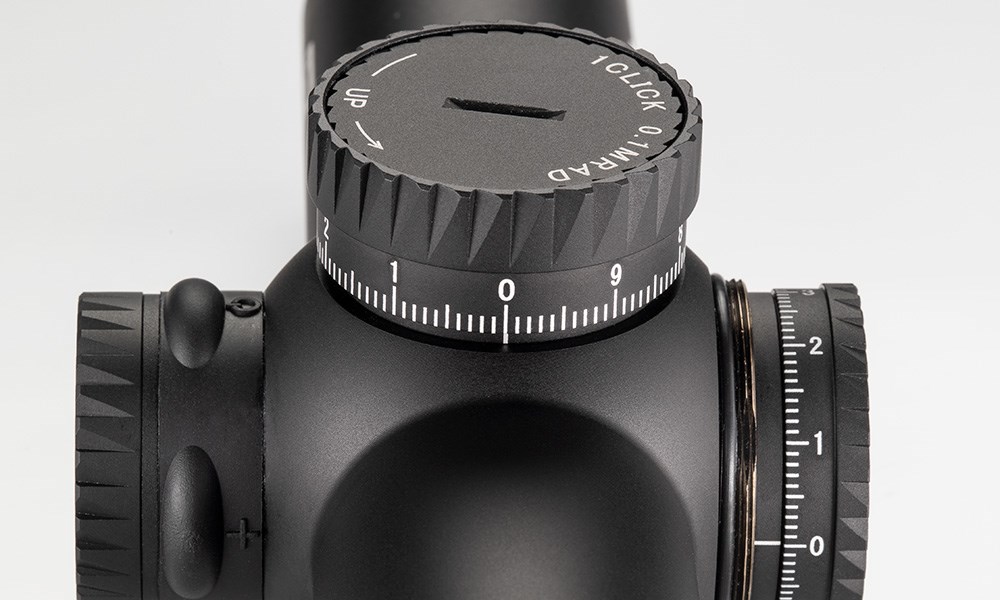 A growing segment of today's modern hunters and shooters, however, is starting to buck tradition, opting instead for FFP optics systems that, when used properly, can provide calculated and repeatable accuracy at extreme distances that would be darn-near impossible to accomplish with a SFP optic. While the "busy" reticles of many FFP optics can seem daunting, learning to utilize one can change your hunting game and extend your maximum range.
Built on a 34mm, one-piece main tube made from aircraft-grade aluminum, the EOTech Vudu 1-10x28mm is a tough-as-nails, low-profile optic that sits beautifully atop an AR, be it a .223 ranch rifle, a .450 Bushmaster or your .308 big-game rifle. But don't let its military pedigree box it in, as the compact Vudu 1-10X was an ideal setup on my Gunwerks Clymer bolt-action rifle in 6.5 PRC in Montana, and at less than 11 inches in total length, with low-profile turrets, a 28mm objective lens and small ocular housing, I can see it shining on a Western lever gun like a Browning Lever-Action Rifle in .358 Win. Mag. for elk and mule deer. 
As for the rest of the construction, it's all as top-end as you'd expect from EOTech. From the sturdy and smooth-turning eyepiece made from a single piece of aluminum and the included magnification throw lever, to the red illuminated reticle with 10 brightness settings and a two-hour auto shut-off, and the XC high density, low dispersion glass and anti-reflective lens coatings that together provide a crisp and bright sight picture, the Vudu 1-10X28mm is precision machine designed to withstand combat-level abuse while providing fast, accurate aiming solutions from danger-close to bragging-rights far. It's shock-, fog- (via nitrogen purging) and water-resistant (though I imagine the same scope would be labeled as "waterproof" by other manufacturers), and the MOA windage and elevation adjustments tracked with precision and made sighting in a breeze. If all that isn't enough for you, EOTech is willing to back up their entire line of Vudu optics with a "NoBS" warranty, meaning if there is an issue with materials or workmanship, if your scope ever fails on you, EOTech will fix it or replace it, free of charge, regardless if you're the first owner or the last, with no proof of purchase required. If that alone doesn't exude confidence in you, take a Vudu for a spin and adjust accordingly.
Okay, so the Vudu 1-10x28 is a solid optic with great glass—fine. But why should you be looking at a 1-10x, first-focal-plane optic like this for a hunting rig? Well, it all boils down to the reticle, and EOTech's FFP SR4 (MOA), SR5 (MRAD) and LE5 (MRAD) reticle offerings are superb. At 1 power—and EOTech's Vudu 1-10x is a true 1 power—shooters can take advantage of the "speed ring" reticle. If you've ever looked through one of the company's Holographic sights, or played one of the first-person-shooter video games in the last 10 years, then you're probably familiar with this reticle. It's basically a large circle with small studs protruding from the top, bottom, left and right. This reticle is awesome for fast target engagement at close range. No need for precision holds here, let your brain do the work at close range and simply center the target within that circle and pull the trigger. It's amazingly fast, and like a standard aperture sight it's close-range deadly, suitable for my shooting from 5 yards out to about 100. If I was hunting in dense woods and jumped a deer, I wouldn't hesitate to take a shot with that reticle when the buck stopped to look back at 80 yards.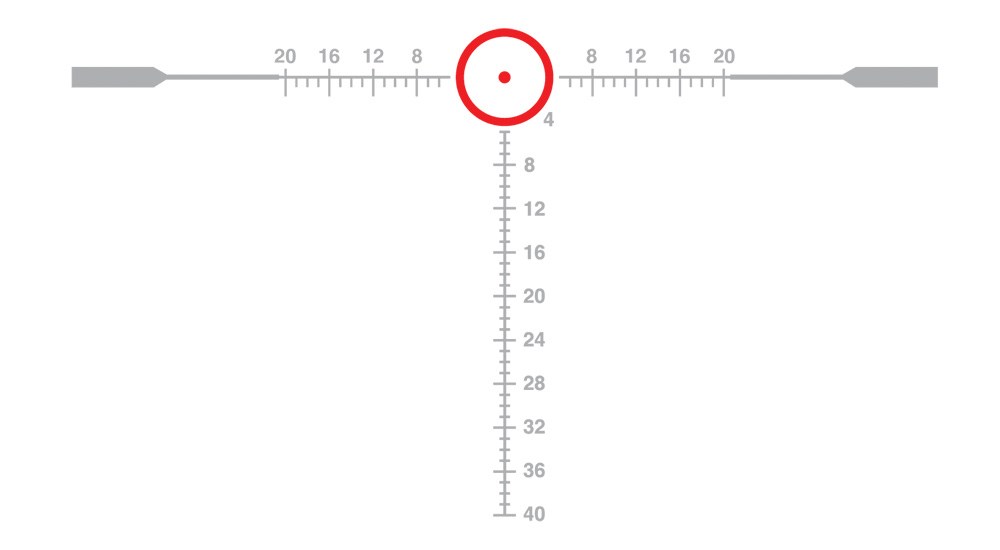 EOTech's Circle Dot SR4 FFP reticle is ideal for long-range hunting. At higher magnification, the reticle's MOA subtensions allow for precision engagement.
Start cranking up that magnification and as you move from 1 to 3 power, you'll notice the reticle getting larger. Keep twisting the eye piece past 6 power to 10, and that ring will eventually disappear into the edges, revealing a much more detailed, and potentially confusing, long-range reticle in its place. On my test model was the SR4 reticle with MOA stadia lines etched into the glass. This is where precision shooting is accomplished, and I'm talking calculated, repeatable precision at long range. Despite your magnification, be it 6X or 10X these stadia lines will always subtend the same distance, meaning your holdover at 350 yards is going to utilize the same aiming point at 6X as it does at 10X. If you know your elevation and windage data in MOA, you should have no problem using the SR4 reticle to make precision engagements.
My scope was dialed to 3X when the Montana ranch country we were stalking erupted with elk. We knew we were getting close, but hadn't realized we'd snuck into the center of the herd of hundreds of gazing eyes until it was too late to go back. Scanning the alert heads of cows and raghorns that arched in a circle around us, we quickly spotted the herd bull. Luckily, he was busy tending to his harem and paid us no mind. The many cows, however, didn't offer such indifference. Dropping to my knee, I cranked the Vudu to around 6X or 7X, and as the cows finally cleared from around the bull, I settled the illuminated SR4 reticle on his shoulder and fired. At less than 200 yards and with the flat-shooting 140-grain Berger Elite 6.5 PRC bullet in battery, I didn't need to think about a holdover. Had that elk taken off like a bat outta hell and stopped at 350 yards as a fellow hunter's bull did mere minutes later, I'd have been ready to crank the zoom and place the bull's shoulder in the 6 o'clock position of the outside ring of the illuminated center circle dot to compensate for 4.3 MOA of drop—nearly 16 inches—and pull the trigger with confidence.
Technical Specifications
• Type: variable power, FFP riflescope
• Magnification: 1X-10X
• Objective Lens Diameter: 28mm
• Eye Relief: 3.9" (1X), 3.62" (10X)
• Field of View @ 100 Yards: 116.6' (1X), 11.7' (10X)
• Reticle: SR4 (MOA) (tested), SR5 (MRAD), LE5 (MRAD); illuminated
• Adjustments: 100 MOA total elevation travel, .25 MOA per click
• Coatings: anti-reflective
• Dimensions: 34mm tube diameter; length 10.63"; weight 21.3 ozs.
• Construction: one-piece, aircraft-grade aluminum tube; XC high-density, low dispersion glass; anodized finish
• Battery: CR2032; 2 hr. auto shut off
• Accessories: removable throw lever, cleaning cloth
• MSRP: $1,799; eotechinc.com