by
posted on August 27, 2021
Support NRA American Hunter
DONATE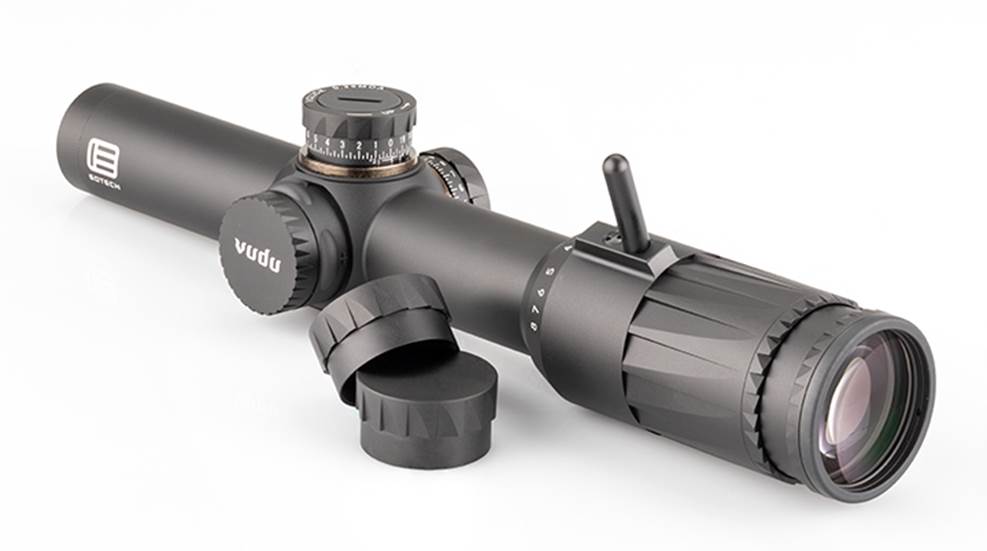 Unless you want a scope for a long-range rig, it's tough to beat the versatility of a 1x-8x-24mm Illuminated Reticle model such as EOTech's Vudu 1-8x24 SFP.
If you've heard of EOTech, it's probably because the Ann Arbor, Mich., company's holographic red-dot sight was a favorite of special forces on their M4 rifles. Like many other top-notch brands, EOTech's Vudu line is made to its exact specifications by Japan's Light Optical Works. EOTech is proud of this fact.


But rather than judging a scope by its exportation stamp, I tested the Vudu rigorously. Key indicators of a scope's quality lie in its resolution, brightness and in the preciseness of its adjustments.
The Vudu features a 30mm, T6 aluminum tube that affords the scope a 116/116 MOA elevation/windage adjustment range (this was measured and was more than its 100/80 MOA listed specs). I clamped the scope in a vise and centered its crosshair on a 1-inch-square-marked target at 100 yards. I dialed 32 clicks up, 32 left, 32 down and 32 right and then saw that the crosshair was centered exactly where it started. I maxed out the adjustments in both directions, then ran the same test. You'd be surprised how many scopes fail this test. The Vudu passed.
Its oversized, hand-adjustable control knobs feel like only the best scopes in the world feel. Each click is firm, consistent and precise so you can count clicks by feel, sight or sound. Each turret is demarcated with MOA numbers, individual click hashes and revolution indicators so the shooter never becomes lost. Both low-profile turrets feature zero resets.
The turret on the left side of this 10.6-inch telescope houses one CR2032 battery to run the Vudu's illumination system. It features three rubberized buttons for on/off, dim and bright. I love EOTech's chosen reticle system where only a fine dot in the crosshair's center is illuminated. It's bright enough to use in daytime but precise enough to help at longer distances. Perhaps the biggest advantage of a 1x scope with an illuminated reticle is at short range: It can be used as a red-dot sight while keeping both eyes open.
The illumination automatically powers off after 120 minutes of inactivity to save juice. A single battery is touted to last 500 hours. Time will tell whether my test unit bears this out, but it's going strong so far.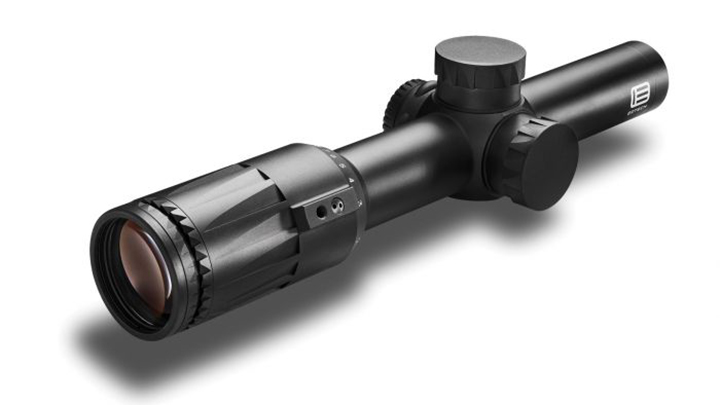 I also commend EOTech for choosing such a simple but useful ballistic reticle that consists of a main crosshair and four simple hashes below it for quick drop compensation. The reticle is in the second focal plane, which I believe is the right choice for hunters.
For my torture test, I mounted the Vudu on a rifle and, after zeroing it, stood the rifle on its butt and let it fall over on grassy ground three times before rechecking its zero. It held. I also froze the scope then submerged it in water. It showed no signs of damage.
To test resolution and brightness, I compared the Vudu alongside other scopes on both deer and targets at dusk. Clarity-wise, it's among the best optics in the world. While there are some hunters who hesitate to buy a 24mm optic believing it's inherently dim, the truth is a 40mm is brighter than a 24mm mathematically, but only if its lenses and coatings are equal. In my experience, this 24mm Vudu is bright enough to use during all legal shooting hours, and it's brighter than many cheaper 40mm scopes. It's also vastly more versatile, and that's exactly why it sits atop my most-used rifle, a .308 that stays in my ATV because I never know when I'll need to dump a coyote at 400 yards or stop a boar at 5 yards.
Indeed, for dangerous game where you hope for a 75-yard shot but expect a charge, this scope—which can be spun down to 1x in an instant, thanks to its throw lever—is perfect. It's also tops for deer, bears in the timber, hogs atop an AR, turkeys atop a shotgun or anything else short of 800 yards. Sure, $1,200 isn't cheap, but if you're looking for a do-all hunting scope with a balance of quality and value, EOTech's Vudu 1-8x24 SFP can't be beaten. 
Technical Specifications
• Type: variable-power riflescope
• Magnification: 1X–8X
• Objective Lens Diameter: 24mm
• Eye Relief: 3.9"-4.1"
• Exit Pupil: 24mm (1X), 3mm (8X)
• Field of View @ 100 Yds: 105 ft @ 1x; 13.2 ft @ 8x
• Reticle: Vudu HC3 w/illuminated center dot; second focal plane
• Coatings: anti-reflective coated lenses
• Dimensions: tube diameter 30mm; length 10.5"; weight 21.2 ozs.
• Construction: aircraft-grade aluminum one-piece body with anodized finish; XC high-density, low dispersion glass; water-resistant, fog-resistant, shock-resistant
• Accessories: lens cloth, CR2032 battery
• MSRP: $1,399; eotechinc.com