by
posted on August 11, 2018
Support NRA American Hunter
DONATE
What's a Donair—eh? A restaurant dubbed "King of Donair" in Halifax, Nova Scotia, Canada claims to be the inventor of this east coast donair delicacy, but there are others who allege the same. Maritimers are great storytellers, and rumor has it a Greek immigrated to Atlantic Canada and opened a traditional restaurant with the Mediterranean flavors of his native country. The old standbys at home didn't seem to hit the mark with east coast Canadian appetites, so recipes were adapted using beef and spices preferred by locals to create a unique meal. Add a sweet garlic sauce to the mix, and you have an authentic Canadian donair.
You can travel across Canada and find donair shops from coast to coast. Meat is often cooked on a spinning grill, where pieces can be carved off the spit as the rest of the meat chub continues to cook. The recipe is simple to make, but it's critical to emulsify the meat by grinding it three or more times or using a food processor to break the meat down into a paste.
The original recipe calls for lean ground beef with the spices, but game meat works exceptionally well. Tightly pack the meat in a loaf and bake in the oven. You can use foil to line the pan to help maintain moisture and make cleanup a cinch. The time required to cook will help ensure the right density and texture of the donair meat. When the donair meat is finished being baked, it can be used in a traditional pita sandwich, on pizza, as sandwich meat, or just a snack.
Elk, moose and venison are all great options for making donair meat; if your venison is extremely lean, you can adjust the recipe to use some regular ground beef to provide a little fat.
Donair Meat
Ingredients
3 lbs. ground venison (triple ground)
¾ cup breadcrumbs
1 tablespoon sweet paprika
2 teaspoons pepper
2 teaspoons oregano
2 teaspoons onion powder
1 teaspoon garlic powder
1 teaspoon cayenne pepper (use ½ teaspoon for mild heat, 1 teaspoon for regular, 2 teaspoons for hot, depending on your taste)
1 teaspoon salt
*Grind your game meat three times through the fine blade or use a food processor to break down one pound at a time until the meat looks and feels emulsified.
Directions
1. Combine all ingredients in a large bowl and mix for at least 10 minutes. The more you work the meat mixture, the denser it will be when cooked.
2. Shape the meat into two tightly formed loaves. Bake in a deep baking or casserole dish for 2 to 2½ hours at 300 F.
3. Let loaves cool and slice very thinly. Loaves or sliced meat can be frozen for future use. By reheating the sliced meat in a frying pan, you can add the brown edges and flavors to every slice, just like a rotatory cooker.
Donair Sauce
Ingredients
1 10 oz. can sweetened condensed milk
¼ cup white vinegar
½ teaspoon garlic powder
Directions
1. Stir the milk together with the garlic powder in a bowl.
2. Add vinegar and continue mixing. The quicker you add the vinegar and the less you mix, the thicker the sauce will be.
3. Let sauce sit for one hour in the refrigerator before using.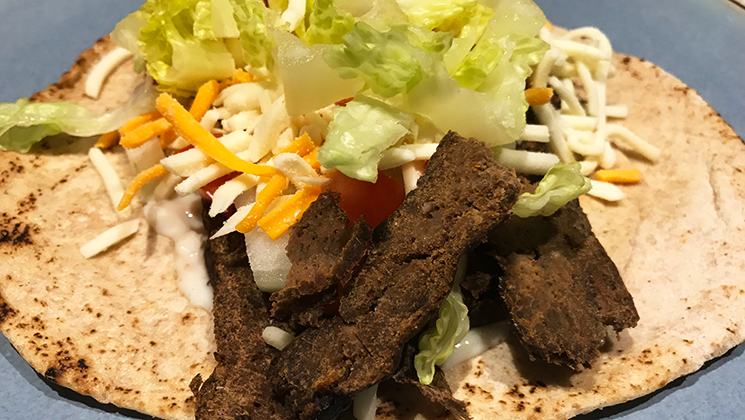 Preparing the Donair
Ingredients
Pita bread
Onions, diced
Roma tomatoes, diced
Iceberg lettuce, shredded
Donair meat, sliced thin
Mozzarella cheese, shredded
Directions
1. Add a ½-ounce of water to a hot frying pan and place a pita bread on top, and cover with a lid. Cook both sides for at least one minute to soften the bread so it will fold without breaking.
2. Heat donair meat in a frying pan.
3. Place a lavish amount of donair sauce on bread. Top with donair meat slices, chopped onions and tomatoes, and finish off with lots more sauce. Some restaurants add chopped lettuce, but the purists will turn their noses up at the green stuff.
A donair should be eaten without utensils and is often wrapped in waxed or parchment paper and foil. Some recommend wearing a rain suit, as it is easier to clean yourself up after enjoying this sometimes-messy meal.