by
posted on September 24, 2022
Support NRA American Hunter
DONATE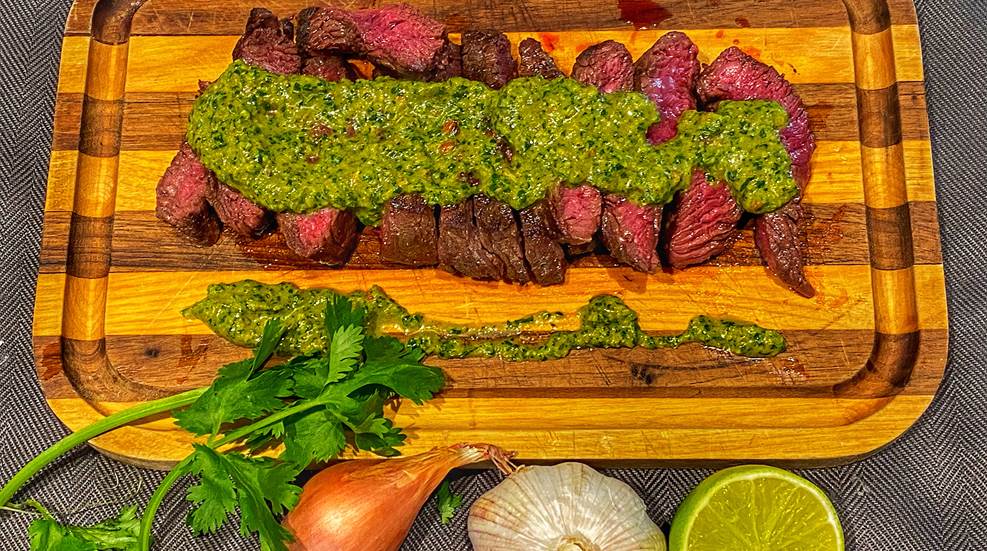 Chimichurri is a blend of fresh ingredients used as a marinade or accompaniment sauce. This South American favorite is a blend of fresh parsley, garlic, red wine vinegar, oregano and olive oil. The sauce takes under five minutes to make with a food processor but adds incredible flavor to red meat, poultry or fish. No cooking is involved for the sauce, and it is best served at room temperature.
A recent trip to Hawaii provided a taste of a chimichurri variation, where cilantro, cumin and lime juice produced a new twist on the blend. We ate axis deer top sirloins with a Molokai version of the chimichurri sauce, Argentinian and Uruguayan chefs may argue it is no longer authentic. However, they would have trouble convincing anyone that it wasn't delicious. Our host, Ms. Christy at Go Hawaii Outfitters, had me hooked after the first bite.
The recipe was duplicated at home with grilled whitetail and elk top sirloins. In Hawaii, the steaks were fried medium-rare in oil outdoors on a Camp Chef stove.
Top Sirloin Steak Ingredients
• (4) 6 oz. top sirloin steaks
• 3 Tbsp olive oil
• 1 clove garlic, chopped
• 1 tsp seasoning salt
Great options for steak seasonings include:
• Hi Mountain Garlic & Pepper Rub or Venison Rub
• Bearded Butcher Original or Chipotle
• Fire & Smoke Society Shake Tasty or The Usual All Purpose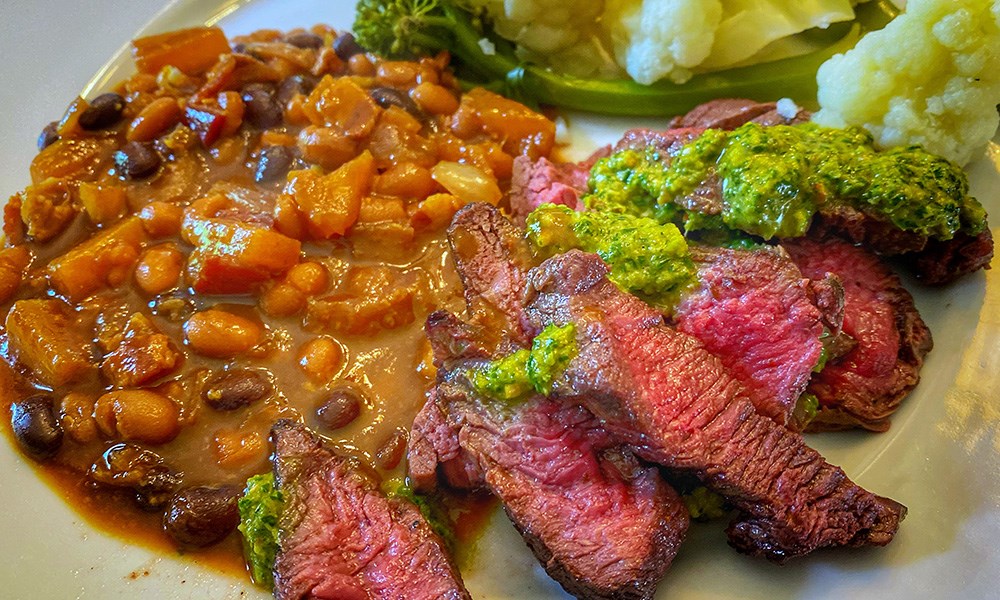 Directions
1. Combine the oil, garlic and seasoning salt in a sealable plastic bag or container. Add the steaks and shake to coat.
2. Preheat a Camp Chef Grill Box or barbecue to 400°F. Place the steaks on the grill and cook for approximately three minutes per side. Remove from heat and rest in foil wrap for five minutes.
3. Cut steaks into thin strips against the grain, and drizzle with chimichurri sauce. Serve hot.
Chimichurri Sauce Ingredients
• ½ cup flat-leaf parsley, chopped
• ¼ cup cilantro, chopped
• 6 cloves garlic, chopped
• 1 shallot, chopped
• 1 lime, juiced
• 1 Tbsp fresh oregano (1 tsp dried oregano)
• ½ tsp cumin
• 1 small red chili, seeded and diced
• ¼ cup red wine vinegar
• 1 tsp salt
• ½ tsp fresh ground black pepper
• ⅔ cup extra-virgin olive oil
Directions
1. Add all ingredients except the extra virgin olive oil to the bowl of a food processor—pulse to process until finely minced. Add the olive oil and pulse gently to incorporate. Traditionally, the ingredients would be chopped fine and combined with oil to make the sauce. Do not blend into a paste; leave the parsley, cilantro and garlic in distinguishable pieces.
*For best flavor, let the sauce rest at room temperature for at least 15 minutes before serving. The chimichurri sauce can be stored in the refrigerator for two or three days. Add a little olive oil to cover before storing in an air-tight container.
For more delicious wild-game recipes, click here.