by
posted on February 8, 2020
Support NRA American Hunter
DONATE
Who remembers eating Salisbury steaks as a kid? The tasty, tender meat was always a favorite when finding it on a menu. Salisbury steak is a North American phenomenon that has stood the test of time.
The steaks aren't actually steaks, but rather a steak-shaped patty of ground meat. The idea would have been a great way to turn an inexpensive portion of meat into a higher-priced item. Let's face it, have you ever seen steak cheaper than a burger on a menu?
Hunters can make Salisbury steak with any venison. The breadcrumbs and tomato sauce help bind the meat together and develop a firm texture. A little sugar helps brown the meat, while beef bouillon may trick your family into thinking they aren't eating venison.
The gravy is an integral part of the dish, and the tomato sauce and beef broth certainly create a hearty finishing sauce. If you have some extra ground meat in the freezer, try whipping up a batch of Salisbury steak—it's easy to make and a great dish to bring to hunting camp.
Ingredients
Meat Mixture
• 1½ lbs. ground elk (venison)
• ½ cup seasoned breadcrumbs
• ¼ cup tomato sauce
• 1 tablespoon sugar
• 1 tablespoon dry mustard
• 2 tablespoons Worcestershire sauce
• 2 tablespoons beef bouillon, crumbled or powdered beef base
• salt and pepper
• 1 tablespoon butter
• 1 tablespoon olive oil
Gravy
• 1 large onion, thinly sliced
• 2 cups beef broth, more if needed for thinning
• ½ cup tomato sauce
• 2 tablespoons Worcestershire sauce
• 1 tablespoon cornstarch
• salt and pepper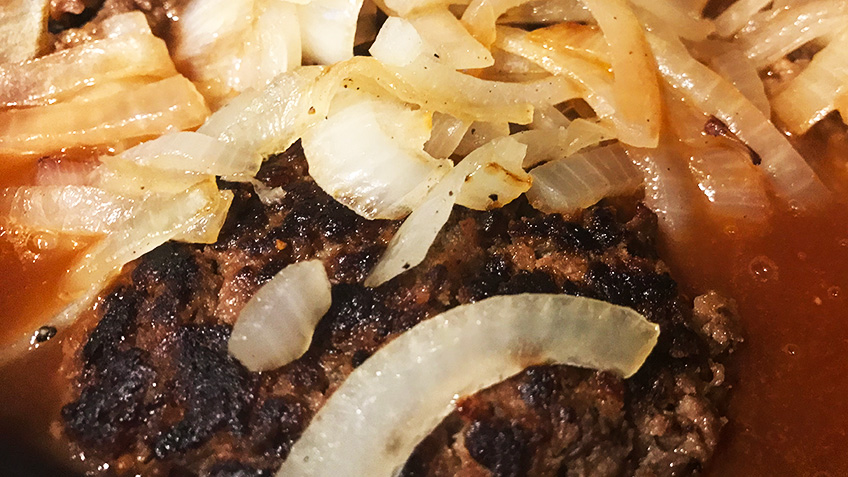 Directions
1. In a large bowl, combine the venison, breadcrumbs, tomato sauce, sugar, dry mustard, Worcestershire sauce, beef bouillon, salt and pepper. Mix the ingredients, then form six elongated patties about ½-inch thick to look like a steak.
2. Heat the butter and oil in a large cast-iron frying pan and fry the patties over medium heat until browned. Remove the steaks from the frying pan.
3. Make the gravy in the same frying pan by adding the sliced onions and cooking until brown and soft, about 10 minutes. Add half the beef broth, tomato sauce and Worcestershire sauce. Whisk the cornstarch into the other half of the beef broth and add to the gravy to simmer and thicken.
4. Place the steaks in the gravy and spoon some of the onions and mixture over the meat. Bring the contents back to a simmer for three to four minutes and serve.
For more delicious wild-game recipes, click here.