by
posted on January 7, 2023
Support NRA American Hunter
DONATE
Tikka masala sauce has an interesting history, created by a British/Pakistani chef Ali Ahmed Aslam. The sauce is incredibly flavorful and aromatic and works well with poultry, red meat, fish and vegetables.
Tikka is an Indian dish of small pieces of meat or vegetables typically marinated in seasoned yogurt and grilled. Masala refers to the mix of spices that are ground and made into a paste for cooking.
Venison has never been regularly paired with tikka masala, but it works exceptionally well. The sauce is rich with butter and cream, and the unique blend of spices adds comfort and warmth. Make the sauce in a pressure cooker (Instant Pot) for deep flavors in less time.
Venison neck meat is perfect for braising or cooking in a pressure cooker for tender, small pieces of meat. Other roasts and cuts like shank would work for this recipe as well. It is not the traditional grilling with yogurt, but makes an extremely tasty meal with a modern spin.
Tikka Ingredients
• 3-4 lbs. venison neck roast
• 2 cups beef broth
• 1 yellow onion, quartered
• 2 celery ribs, chopped
• 2 carrots, chopped
Directions
1. Place the onion, celery and carrots in the pressure cooker and place the neck roast on top. Add the beef broth and pressure cook on high for 45 minutes.
2. Allow the pot to release for 15 minutes naturally. Remove the neck roast and chop into small pieces. Set aside to add to sauce.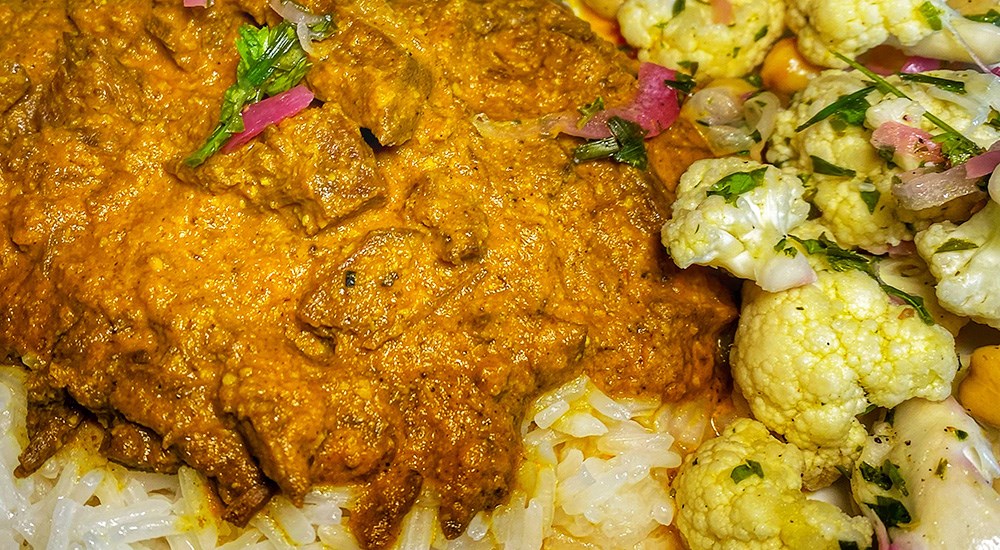 Masala Sauce Ingredients
• ¼ cup unsalted butter or ghee (clarified butter)
• 1 medium onion, coarsely chopped
• 1 Tbsp garlic, minced
• 1 Tbsp fresh ginger 1-inch piece, minced or grated
• (1) 14.5 oz. can diced tomatoes
• ½ cup raw cashews
• 1 tsp salt
• 1 tsp turmeric powder
• 1 Tbsp garam masala
• 1 Tbsp ground coriander powder
• 2 tsp ground cumin
• 1 tsp paprika
• ½ tsp ground cardamom
• 1 tsp curry (optional)
• ½ cup water
After Pressure Cooking
• 2 tsp dried fenugreek
• 1 Tbsp butter
• 2 Tbsp liquid honey
• ½ cup heavy cream
Directions
1. Push the "Sauté" button on your pressure cooker and set it to "High." Once heated, add butter and chopped onions, and cook for 3 to 4 minutes, until soft.
2. Add minced garlic and ginger, and sauté for one minute. Add tomatoes, cashews and spices and cook for 2 to 3 minutes. Add water and turn off the "Sauté" function.
3. Following instructions, secure the lid and pressure cook on "High" for 5 minutes, allowing the pressure to release naturally.
4. Use an immersion blender to puree the sauce. A blender can be used but let the sauce cool before blending.
5. Stir in the dried fenugreek, butter, honey, and cream, leaving the cooker on the "Keep Warm" function after releasing pressure.
6. Bring it together: Stir the chopped venison into the sauce and allow to warm for serving. Serve with naan bread or rice.
*The sauce can be made on a stovetop by following the same directions above but simmering the contents for at least 15 minutes, stirring often.
*The sauce can be frozen and taken to hunting camp for a quick and flavorful meal.
For more delicious wild-game recipes, click here.