by
posted on May 28, 2022
Support NRA American Hunter
DONATE
Steak Diane is a famous dish served in many high-end restaurants. The sauce, which makes the dish, has diverse flavors with lots of depth. The cream and butter make it rich, and the cognac or brandy adds sophistication. The veal demiglace is a vital ingredient, as it has much more flavor than beef broth or consommé. The demiglace can is available in most grocery stores where you find canned soups, and there are powder mixes with gravies.
Tenderloin is the cut of choice for Steak Diane, but most venison is tender when cooked rare or medium-rare. A top sirloin or loin steak (New York strip or rib steak) are great substitutes that will not disappoint.
Steak Diane is not difficult to make but is sure to impress family and friends, and will make you want to find more prime cuts of venison to prepare again soon. Plus, the sauce can be made in under 15 minutes.
Ingredients
• 1 Tbsp butter
• 1 Tbsp extra-virgin olive oil
• (4) 6-oz. center-cut venison tenderloin, ¾-inch thick (loin or top sirloin)
• Kosher salt and freshly ground pepper
• ½ cup onion, minced
• 1 garlic clove, minced
• 1 cup mushrooms, diced
• ¼ cup cognac or other brandy
• 2 tsp Dijon mustard
• 2 tsp tomato paste
• ⅓ cup heavy cream
• ⅓ cup veal demi-glace (beef stock or consommé)
• 2 tsp Worcestershire sauce
• 1 Tbsp scallions, finely chopped
• 1 tsp flat-leaf parsley, finely chopped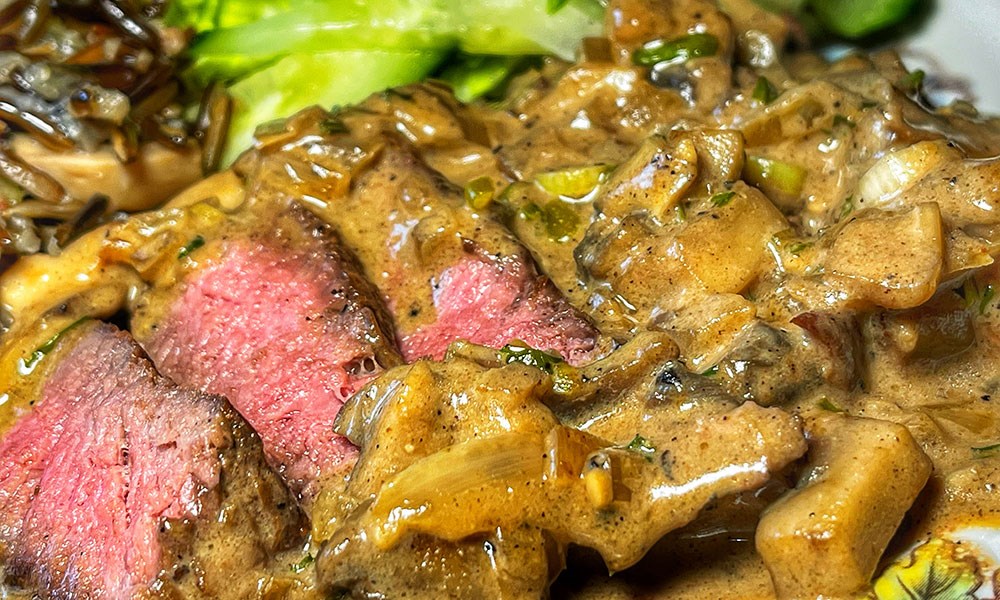 Directions
1. In a large skillet, melt butter with olive oil. Pat the meat dry with a paper towel. Season meat with salt and pepper, and cook over high heat until lightly browned on the bottom, about one minute (do not turn or move steaks). Turn steaks and cook for one minute on the second side, then remove and tent in foil.
2. Add shallot and garlic to skillet and cook over medium-low heat, stirring, until fragrant, about 30 seconds. Add mushrooms and cook until softened, about two minutes—transfer contents into a bowl.
3. Remove the pan from heat and add the cognac. Carefully ignite it and ensure there is nothing overhead. Let it burn for 20 seconds and stir the flames out. Add the mustard, tomato paste and cream, and stir until simmering on the edges. Stir in the veal demiglace, Worcestershire sauce, scallions and parsley, and stir to heat. Add the mushrooms and shallots.
4. Add meat and any juices to the pan and bring to a simmer for about one minute. Plate the meat and cover with sauce. Steaks can be sliced or served whole.
For more delicious wild-game recipes, click here.