by
posted on October 24, 2020
Support NRA American Hunter
DONATE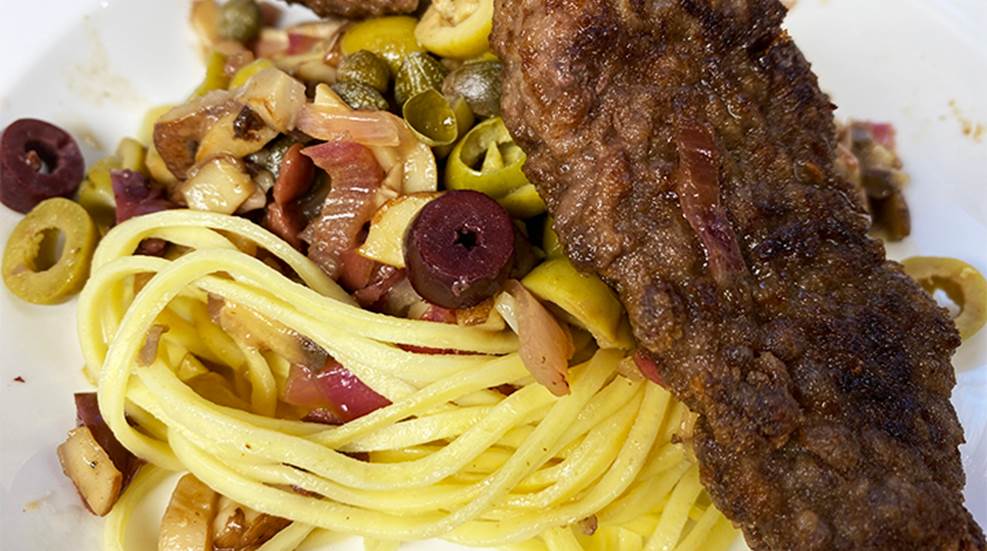 Scallopini is a simple dish to make with any venison. Scallopini, from the word "scallop," means a thinly sliced piece of meat. The thin slices of venison can then be pounded with a meat mallet to use in this recipe. The meat is sliced thin, so it needs to be cooked quickly over high heat.
Venison scallopini is perfect for hunting camp. There are few ingredients, and it only takes 10 minutes to prepare and another 10 minutes to cook. Serving the browned meat over pasta is a great way to ensure stored energy for active hunters.
Dredging the cutlets in flour before cooking provides a delicate golden-brown crust. Shallots, mushrooms and butter give it a rich taste, and a squeeze of lemon into the sauce keeps it traditional. Serve the meat over pasta, top with olives, capers, fresh herbs, and drizzle the sauce with shallots and mushrooms over the top.
Ingredients
• 2 lbs. venison loin (cut thin and pounded to ⅛- to ¼-inch thick)
• salt and pepper
• ½ cup flour
• 3 Tbsp canola oil
• 4 Tbsp butter, divided
• 2 shallots, diced
• 1 cup mushrooms, diced
• 1 cup beef broth
• juice from one lemon
• 1 cup pitted kalamata and green olives, sliced
• 2 Tbsp capers (optional)
• Italian parsley
• cooked spaghetti or angel hair pasta
Directions
1. Cut the venison loin into ¼-inch steaks and pounds thin with a meat mallet to form cutlets.

2. Season the cutlets with salt and pepper, then dredge in flour. Allow the cutlets to sit for a minute and if moist spots show through the flour, dredge again.

3. Cook pasta according to directions on the package. Fresh pasta cooks quickly and is always a good option.

4. Heat a Camp Chef cast iron frying pan over medium-high heat and add 2 tablespoons of oil and 2 tablespoons butter. Remove the cutlets from the flour and shake off excess. Place the cutlets in the hot oil and butter and cook for 60 to 90 seconds per side. Cook the meat in batches to ensure they brown and the pan stays hot. Set aside when done.

5. Turn the frying pan heat to low and add the remaining butter, shallots, and mushrooms. Cook until the shallots soften about 5 minutes. Add the beef broth and juice from a lemon and stir.

6. Serve the cutlets over a bed of pasta, top with black and green olives, capers and parsley, and drizzle the sauce over the top.
For more delicious wild-game recipes, click here.