by
posted on October 30, 2021
Support NRA American Hunter
DONATE
Sometimes you need to be creative with the breakfast. Making a pizza crust from dehydrated potato hash browns and topping it with venison breakfast sausage with white gravy might just become a new standard recipe in your household. Use your favorite cheese and some fresh herbs for the topping. Add a fried egg or freshly sliced tomatoes to elevate this breakfast feast.
The ingredients are easy to pack, and the pizza can be built in a cast iron frying pan or Camp Chef cast iron pizza pan.
Hash Brown Crust Ingredients
• (1) 4.2-oz. carton freeze-dried shredded hash browns
• 2 eggs
• ¼ cup flour
• 2 Tbsp oil
Directions
1. Follow the instruction on the freeze-dried hash browns to reconstitute. Drain any excess moisture and mix in the eggs and flour.
2. Add the oil to the cast iron pan and distribute it evenly to cover the bottom. Add the hash brown mixture and use your fingers to push it into an even patty in the pan.
3. Preheat the oven to 400°F and bake the hash brown crust for 12 to 15 minutes. A longer bake will produce a crisp bottom.
Venison Breakfast Sausage Ingredients
• 1 lb. ground venison
• 1 tsp salt
• 1 tsp sugar
• 1 tsp ground sage
• ½ tsp ground black pepper
• ½ tsp ground allspice
• ½ tsp garlic powder
• ¼ cup water
Directions
1. Mix all the sausage ingredients.
Venison Sausage Gravy Ingredients
• 1 lb. breakfast sausage meat—made fresh
• 2 Tbsp flour
• 2½ cups half and half cream
• 1 Tbsp butter
• 1 tsp fresh thyme, chopped
• 1 tsp fresh oregano, chopped
• 1 tsp fresh rosemary, chopped
• ½ tsp ground black pepper
• salt to taste
• 2 Tbsp oil
Directions
1. Add the oil to a cast-iron frying pan over medium-high heat. Brown and crumble the sausage meat.
2. Add the flour and stir it into the meat, and cook for one minute. Add the half & half slowly as you stir it into the meat mixture. Reduce heat to medium-low, stirring often, until it forms a white, thick gravy. Add thyme, oregano, rosemary and black pepper.
Constructing the Pizza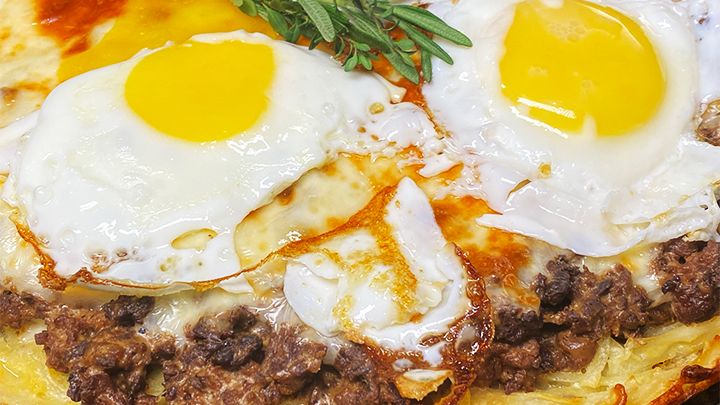 Ingredients
1½ cups mozzarella cheese, shredded
3 to 4 eggs (optional)
hash brown pizza crust
venison breakfast sausage and gravy
Directions
1. Remove the hash brown pizza crust from the oven when it reaches desired crispness.
2. Spoon the sausage and gravy over the crust evenly. Add the mozzarella cheese evenly distributed over the top.
3. Place the pizza in an oven preheated to 400°F for 12 minutes. If the cheese does not brown, broil to finish.
4. Fry four eggs to add to the top as an option, or slice tomatoes.
For more delicious wild-game recipes, click here.