by
posted on July 2, 2022
Support NRA American Hunter
DONATE
Braising, from the French word "braiser," is defined as a combination-cooking method that uses wet and dry heat. Meat is typically browned at a high temperature, known as the Maillard reaction, which is more about flavor and aroma than color. The browned meat is then simmered in a Dutch oven or covered pot, partially covered in liquid. Wine, beer, tomatoes and broth are common liquids used in braising, but there are many options. Spices add to the flavor of the dish.
Cooking is typically done at lower temperatures for more extended periods. The long, slow process creates tender meat with great depth of flavor and aroma. Meat usually stays moist from being cooked in liquid with the dry heat in the oven and air space in the pot.
Braising is an excellent way to prepare wild game, tenderize tougher cuts or accentuate specific flavors. If you have family or friends who insist meat is well done, this cooking method is sure to please.
Ingredients
• 2 lbs. venison round, cut into 1-inch cubes
• 3 Tbsp cooking oil
• 1 tsp seasoning salt
• 2 tsp smoked paprika
• 2 tsp chili powder
• 1 large onion, chopped
Sauce Ingredients
• ¼ cup white vinegar
• ¼ cup Worcestershire sauce
• ¼ cup brown sugar
• ¼ cup molasses
• (1) 15 oz. can tomato sauce
• 2 cups water
• 4 cloves garlic, chopped
• 2 Tbsp hot sauce (Aubrey D.'s or other)
• (1) 6 oz. can tomato paste
Sauce Directions
1. Combine the vinegar, Worcestershire sauce, brown sugar, molasses, tomato sauce, water, garlic, and hot sauce, and whisk until smooth.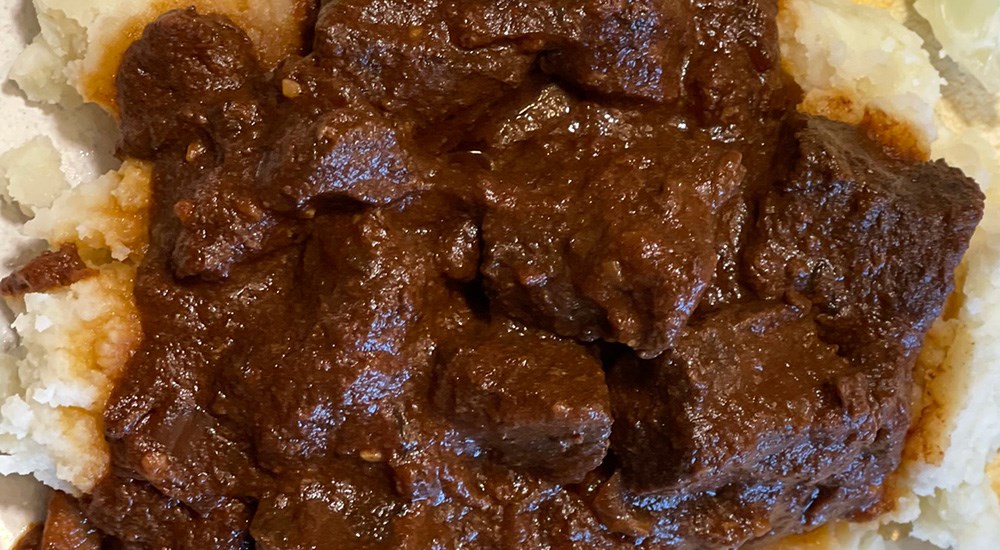 Directions for Braised Venison
1. Preheat the oven to 350°F.
2. In a large Camp Chef Dutch oven, or oven-safe pot with a lid, add cooking oil and bring to medium-high heat. Add the venison cubes and sprinkle with salt, smoked paprika and chili powder. Stir every 30 seconds until meat is browned. Add the onions and sauté for one minute.
3. Add the sauce to the meat and stir. Place the lid on the Dutch oven and bake for 1 hour.
4. Remove the Dutch oven from the oven and add the tomato paste. Stir until the paste blends with the sauce, and return to the oven for 30 minutes, uncovered.
5. Remove Dutch oven and stir contents. Check the contents to ensure it does not dry out. The meat should be tender and coated in a thick barbecue sauce. If the sauce has not reduced and thickened, return to the oven and bake for 30 minutes.
6. Remove from the oven and let the contents cool for five minutes. Serve over mashed potatoes or rice.
For more delicious wild-game recipes, click here.