by
posted on January 4, 2020
Support NRA American Hunter
DONATE
It's funny who you meet in hunting camps, and last spring, while looking for big black bears, the owner of a major Belgian brewery shared camp with me. We drank some wonderful brews in the evenings after the hunting was done, and I was treated to European insight on using beer daily like you'd take a multivitamin. They even offer beer in McDonald's restaurants.
The bottom line is you can make almost anything with beer to replace water or other liquids. A rich-broth Belgian stew is often referred to as a carbonnade. It is traditionally made with beef shins or shanks and braised in beer until tender. With bacon and butter added to the mix, the recipe is simple, yet tastes like you've spent days cooking the meat to perfection.
Venison is fine-grained meat that is usually tender. Shanks, neck or other cuts that can use a little extra attention are perfect for making a deer and beer stew that will have you looking for new dark or unique varieties of brew to develop flavor. Check out the Belgian Brew Factory online to see the options in dark and black beer.
Ingredients
• 3 lbs. venison, cut into 1-inch cubes
• 6 slices thick bacon, sliced ¼-inch
• 2 tablespoons butter
• 2 tablespoons olive oil
• 2 large yellow onions, chopped coarsely
• 2 tablespoons dark maple syrup
• 6 cloves garlic, minced
• 16 oz. dark ale, stout or porter (or more) as needed leftovers for the cook
• 2 bay leaves
• 1 teaspoon dried thyme
• 1 teaspoon dried rosemary
• 1 teaspoon dried lavender
• 1 teaspoon apple cider vinegar
• 1 cup chicken stock
• 1 tablespoon flour
• ¼ cup fresh parsley, finely chopped
• salt and freshly ground pepper, to taste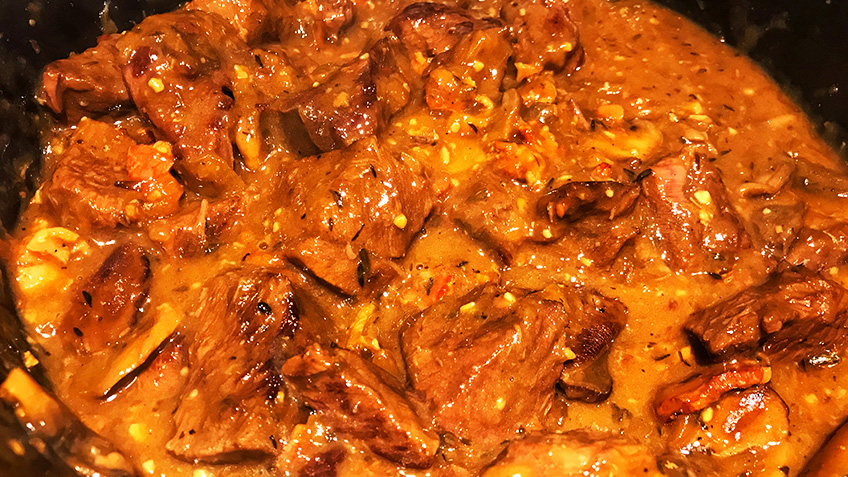 Directions
1. Heat a 12-inch cast-iron Camp Chef Dutch oven over medium-high heat. Add the bacon and cook until the moisture in the pot starts to disappear and add the butter. Reserve the cooked bacon but keep the bacon grease and butter hot to brown the venison. Cook the meat in small batches to prevent moisture buildup in the pan. Reserve meat as it is browned. Sear the meat on all edges, add salt and pepper to taste.
2. Add the olive oil to the Dutch oven and add the onions and maple syrup. Cook over medium heat until the onions turn translucent and start to caramelize. Add the garlic.
3. Add the beer and bring the contents to a simmer. Use a spoon to release the flavor and color from browning the meat. Bring the contents to a boil, and add the reserved bacon and venison. It's important to cover the meat with liquid, so add more beer, as well as bay leaves, thyme, rosemary and lavender, and place the lid on the Dutch oven and lower to heat to allow the contents to simmer for 2½ hours.
4. Mix flour into chicken stock and blend well before adding to the stew, simmer for two minutes to thicken. The beer gravy will have reduced and built incredible flavor. Add the vinegar and stir well.
Serve the stew over buttered egg noodles or mashed potatoes and garnish with chopped parsley. Don't forget to pair your meal with a dark, bold beer that can stand up to the stew.
For more delicious wild-game recipes, click here.