by
posted on August 14, 2021
Support NRA American Hunter
DONATE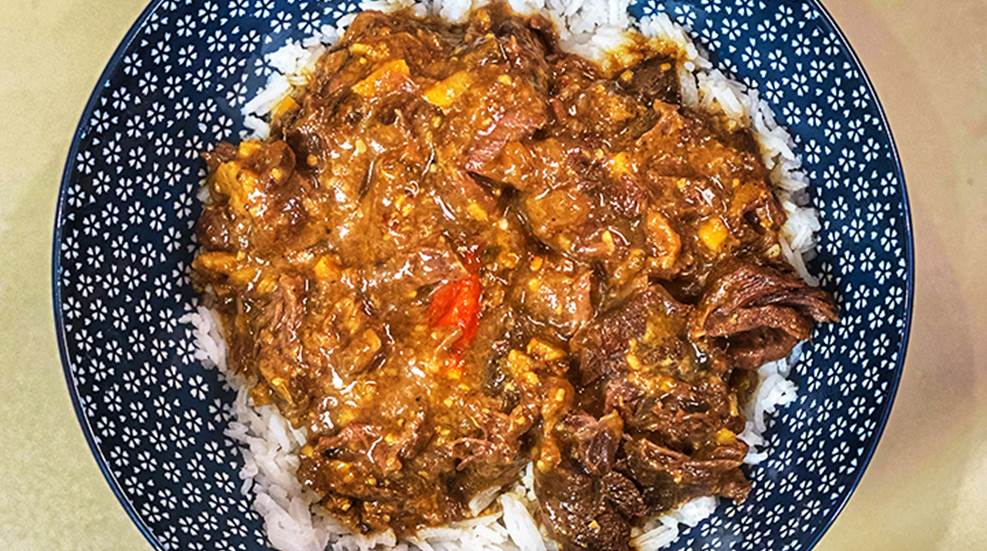 Hunters who have embraced shanks are always looking for new and exciting ways to prepare these flavorful cuts of meat. The connective tissues in the shank render down to collagen and gelatin. The result is fork-tender meat with a boost of flavor from the rendered products to tantalize your tastebuds.
The secret to enriching any shank dish is to brown the meat first. This step locks in the taste, then cook or simmer for an extended period to break down the connective tissues to render correctly.
The result is sweet and spicy meat and sauce that can be served over rice or noodles. The unseen benefit is that gelatin—the protein derived from collagen—has several health benefits. The amino acids help with brain function, giving hunters an edge. Gelatin is also recommended for good joint health. Hunters hiking and climbing will benefit from their harvest to further the quest with healthy knees and fewer aches and pains. Try it! What have you got to lose?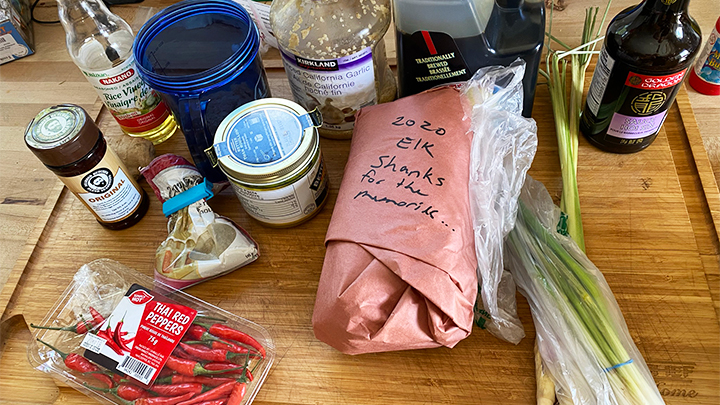 Ingredients
• 3 lbs. elk shank cut into 1½-inch rounds (bone-in or removed)
• 3 Tbsp all-purpose flour
• 1 tsp salt
• ½ tsp freshly ground black pepper
• 3 Tbsp vegetable oil
• 5 garlic cloves, minced
• 2-inch piece of ginger, peeled and minced
• 1 stalk lemongrass, cut into thirds
• 4 Thai chili peppers
• 1 cup chicken broth
• ½ cup soy sauce
• ¼ cup hoisin sauce
• ½ cup rice vinegar
• ½ cup light brown sugar packed
• 2 Tbsp Sriracha sauce
• 3 green onions, thinly sliced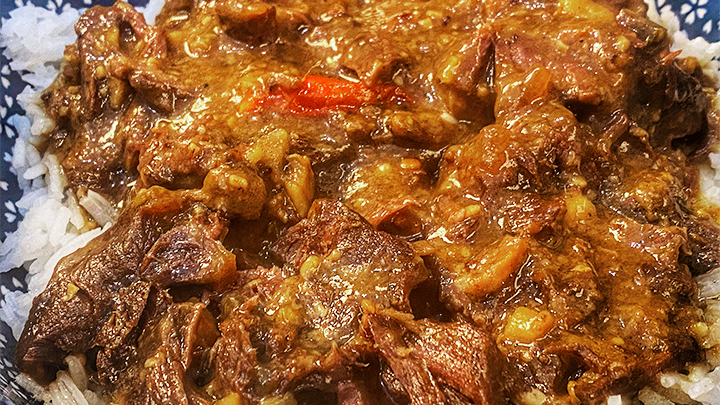 Directions
1. In a sealable bag or container, mix flour, salt and pepper. Dredge shank pieces in the flour mixture and shake off excess.
2. In a Camp Chef cast-iron Dutch oven, add the vegetable oil and put it on medium heat. When the oil is hot, add pieces of shank and sear until brown on both sides. Do not overcrowd the oven and set aside browned pieces until the entire batch is complete.
3. Return all the browned shanks to the Dutch oven and add the minced garlic and ginger. Cook until fragrant. Pound the lemongrass with a meat mallet to release the flavor and add it to the mix. Add Thai peppers and chicken broth and keep over medium heat.
4. In a bowl, whisk together soy sauce, hoisin sauce, rice vinegar, brown sugar, and Sriracha, and slowly add to the shanks. Add green onions and bring the liquid to a rolling simmer.
5. Place the lid on the Dutch oven and simmer the contents for 4 to 5 hours. The meat is fork-tender when done, and the connective tissue disappears or looks like gelatin.
*This recipe can also be made in a Weston Slow Cooker, found at westonbrands.com. Enter code BFENSON21 at checkout to receive 25 percent off.
For more delicious wild-game recipes, click here.