by
posted on August 1, 2020
Support NRA American Hunter
DONATE
Once a hunter embraces shank and learns the art and science of braising meat, the braided lower legs will never be ground or discarded again. Shank looks like a twisted mess of gristle and tough connective tissue. However, the silvers that bind the different muscles turn to collagen and gelatin when slowly cooked in liquid. The result is a flavorful dish with meat that melts in your mouth.
Braising meat requires time for the heat and liquid to render the connective tissue into part of the broth. Browning the meat first helps to build additional flavor anytime you braise. Root vegetables are common with braised meat in places like Germany and many African countries. The roots stand up well to cooking but should be added later to prevent them from falling apart.
Beer is a great liquid to braise meat in, as it has a rich barley flavor that provides yet another tone to the dish. You can also use beef broth, white or red wine, or crushed tomatoes. Fresh herbs help to round out a properly braised meal that will make any hunter feel like royalty. Hail to the shank!
Ingredients
• kosher salt and freshly ground pepper
• 2 elk shanks, boneless, cut against the grain into 1½-inch pieces each
• 2 Tbsp extra-virgin olive oil
• 2 medium onions, (1 quartered, 1 chopped)
• 4 medium carrots, coarsely chopped
• 2 purple topped turnips, cut into ½-inch fingers
• 1 medium rutabaga, cut into ½-inch fingers
• 2 parsnips, coarsely chopped
• 6 garlic cloves, minced
• 1 can Guinness  
• 2 bay leaves
• 2 thyme sprigs
• parsley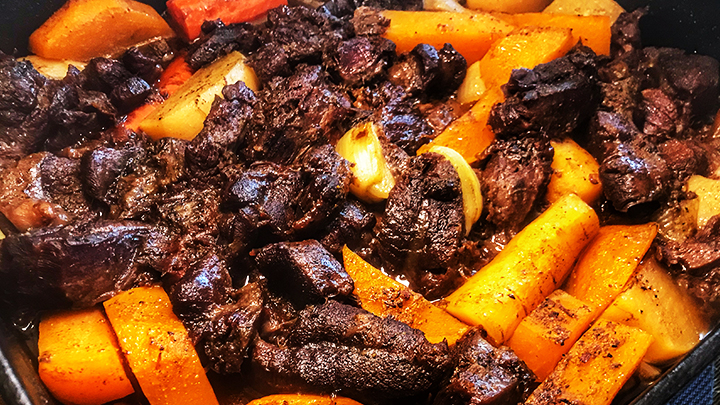 Directions
1. Season shanks with salt and pepper. In a large Camp Chef cast-iron Dutch oven, or roasting pan, heat the olive oil until shimmering. Add the seasoned elk shanks and cook over medium-high heat until browned all over, about 10 minutes.
2. Add garlic, 1 onion, 2 carrots, bay leaves and thyme. Pour one can of Guinness over the shanks. Add water if required to submerge the meat, and cover with a lid. Braise in a 350°F oven 3 hours.
3. Remove the onion, carrot, bay leaves and thyme from the braised meat. Add remaining chopped onion and carrot, turnips, and rutabaga. Add extra water or beer, if required. Cover Dutch oven with a lid and return to the oven for one hour or until the meat is fork-tender.
4. Serve equal portions of root vegetables with meat and garnish with parsley. 
For more delicious wild-game recipes, click here.