by
posted on December 13, 2021
Support NRA American Hunter
DONATE
The temperatures are beginning to drop, and more often than not, the forecast seems to call for either wind or rain. These two weather signs can only mean one thing … it is duck-hunting season!  Hunters of all ages and walks of life can be found zipping up their waders, donning their best rain gear, and tromping through the fields and wetlands to their trusty ol' duck blind in hopes of filling their daily bag limit. When it comes to waterfowl hunting, there are countless options as far as gear goes, but here today we are going to focus on two: shotgun and ammunition.
Fresh from Browning one fateful afternoon arrived the Browning Maxus II Hunter. Unboxing this shotgun brought about a wave of guilt.  Why, you may ask? Well, folks, when you open up any gun that has that classic, understated beauty and you know it's only a matter of time before it meets the inevitable mud and rain of a late Fall/early Winter waterfowl hunt, you may cringe. Of course, that feeling soon passes because a gun is a tool, and they are made to endure the conditions of the hunt.  Personally speaking, I will never buy a gun just to admire from afar so it was only a matter of time before this Maxus became acquainted with the elements.

Constructed of Turkish walnut with a satin finish, this 12-gauge semi-automatic offering from Browning comes in your choice of two different barrel lengths: either a matte-blued 26-inch or 28-inch variant.  At the muzzle-end of the gun, you will find a fiber-optic front sight that stood out quite well against the cloudy sky at our range session. While the temperatures at the time of testing did not call for gloves, we threw some on anyway in anticipation of cooler weather in the future. Being able to safely handle any firearm in different types of dress is of utmost importance, and Browning addressed this concern by manufacturing the Maxus with an enlarged bolt handle and release. These two parts were easy to manipulate both bare-handed and with bulky gloves, eliminating any concern once the weather began to turn.

Another feature of this shotgun that stands out is the incorporation of the Speed Load Plus system. This system automatically brings the first shell you load into the magazine right up into the chamber, should you happen to find yourself empty as a clueless Mallard closes in on your blind and need to load up quickly.

Knowing this firearm would inevitably find itself in wet conditions, Browning incorporated a nickel Teflon coating on the cocking handle; bolt slide and release button; shell carrier; and bolt. The chamber and bore were not left out of the equation, receiving a chrome finish.  These two finishes on the aforementioned parts serve to protect against corrosion, durability, and promise to keep that gun running nice and smooth for many years to come.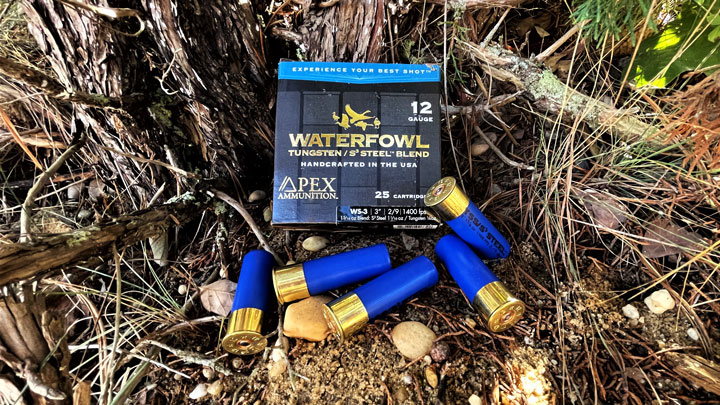 When it came time to choose what shells we were going to feed our duck gun, we chose a couple offerings from Apex Ammunition. Apex Ammunition is a Veteran-owned company here in the United States.  Founded in 2017 by three good ol' boys from Mississippi, each and every round is crafted with care, attention, and passion. Multiple deployments amongst the crew could not put a stop to the hard work and dedication that had already laid the groundwork for success, and with the support of family, friends, and loved ones many a feathered friend have fed hungry bellies due to the quality and uniqueness of their product.

The first shells we fed through our Maxus II Hunter were the TSS/S3 Steel Blend. A combination of their Tungsten Super Shot (TSS) paired with their S3 Steel Shot creates a hard-hitting and condensed pattern of bad news flying towards any winged creature unfortunate enough to fly overhead. Available in either 12 gauge or 20 gauge, as well as a variety of options for shot size, you are sure to find one to fit your needs. The second offering we loaded up was the TSS Waterfowl loads.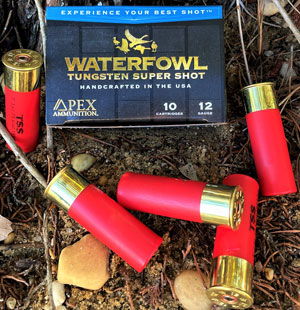 We obviously chose 12 gauge for the Maxus II Hunter, but Apex also offers this option for your 20-gauge and 28-gauge duck guns as well, all three with varying options for shot size. The magic ingredient in the TSS loads is Tungsten, which if you didn't know, is the highest-density non-toxic metal to be approved by U.S. Fish and Wildlife Services. The magic behind the TSS loads is simple, yet effective. With Tungsten, shot size is reduced due to a higher density, while still retaining that heart-stopping thump when it meets game.  Traditional lead loads have a density of around 11.3g/cc while Apex's Tungsten loads boast densities of around 18g/cc. Higher density + reduced size = more pellets per shell. Each offering fed flawlessly through our Maxus II Hunter, and from the looks of successful hunts prior, if we don't see feathers falling this hunting season, the nut behind the trigger will surely prove the faulty component.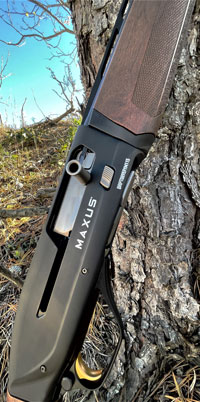 The features seem never to end with the Maxus II Hunter, as was evident when we decided to test out the Turnkey Mag Plug. How many times have you been afield, or at the range needing to remove an optic or swap a battery, and needed a certain tool that was nowhere to be found?  Browning kept things simple when it came to the removal of their magazine plug. You can forget your range bag, you can forget your tool kit, but chances are you aren't going to forget the keys to the truck that brought you to your hunting spot. The magazine plug is easily removed, as the name states, with the turn of a key. Yes, your car key (or screwdriver, should you have one handy) can be used to easily remove the plug so you can toss in a couple of extra shells. Sounds to me like they deserve an automotive endorsement for that good of an idea.

Additional items you can expect to receive when purchasing this gun are: a handy ABS Case with cutouts on the interior fitting each part of your shotgun, and various accessories such as choke tubes and wrench. Speaking of choke tubes, the Maxus II Hunter comes with three different options: Full, Modified, and Improved Cylinder. These Invector-Plus tubes keep that shotgun pattern nice and consistent, which is key when taking game … no one wants to be visiting the dentist because they combed down on a mouthful of shot instead of enjoying a freshly roasted goose from the morning's hunt.
Should you find yourself in the market for a new shotgun for an upcoming waterfowl, upland, or turkey hunt, be sure to check out the Maxus II Hunter from Browning. You are sure to be pleased … the birds, on the other hand, maybe not so much. MSRP: $1,669.99; browning.com