by
posted on January 12, 2011
Support NRA American Hunter
DONATE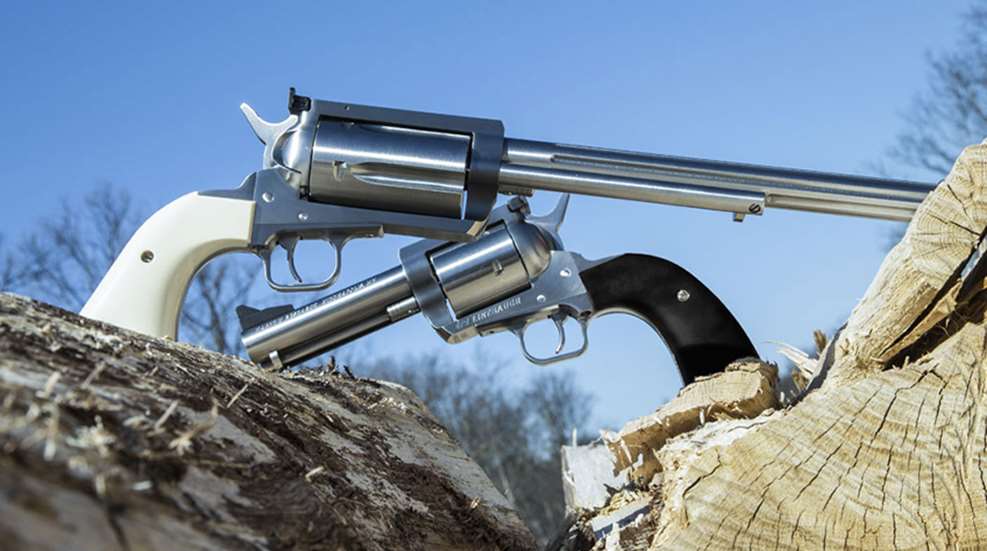 Magnum Research entered the revolver building business in 1999, with the introduction of the BFR—the '"Biggest Finest Revolver"—chambered in the ubiquitous .45-70 Government. As you know, it takes a large cylinder and equally large frame to house that cartridge in a revolver, and so the BFR has comic book proportions. Fast-forward to 2010, and Magnum Research still produces extended-frame, single-action revolvers for the .45-70, .460 S&W and even the old warhorse .30-30 Win., to name but a few. But now the company also offers a much less cumbersome revolver chambered in five standard-length handgun calibers. The handgun is comparable to the Ruger Super Blackhawk in stature.
Constructed entirely of 17-4PH stainless steel, the BFR also looks like Ruger's single-action Super Blackhawk, albeit beefier in key areas such as the bottom portion of the frame as well as the top strap. This additional steel makes the BFR among the strongest revolvers ever made. The counter-bored, un-fluted five-shot cylinder features a free-wheeling pawl, making loading and unloading a snap. The transfer bar safety system is borrowed directly from Ruger, allowing for safe loaded carry in the field. The barrel features a fast 1:15-inch twist rate and is sourced from Badger Barrels. The frame comes pre-drilled and tapped for a scope base and rings.
Magnum Research also offers custom BFRs in a variety of less mainstream calibers from the Precision Center, its in-house custom shop. Customers can specify barrel length, and the action gets some extra attention. Precision Center guns also receive an 11-degree crown. I ordered my BFR in .500 JRH, the brainchild of Jack Huntington, a gun builder out of northern California. Jack wanted a full-power, no compromise .50-caliber cartridge that would fit in a standard-frame-length revolver with a maximum case length of 1.4 inches.
I ordered my BFR with a 6.5-inch barrel and black Micarta grips. But I was also glad to receive the standard rubber grips as I'd be spending some time on the bench with this hand cannon. The big revolver balanced well with the 6.5-inch barrel, and the trigger exhibited no creep and broke at a crisp 3 pounds.
At the range it became apparent that this Big Fine Revolver possesses accuracy potential that I infrequently witness. With sandbags, an Ultradot 30 red-dot sight and loads from Grizzly Cartridge Company, the worst 50-yard group I measured was 1 5/8-inch—with one load I was able to shoot less than 1 inch. I have rifles that don't shoot this well. Recoil is serious but manageable with all the loads tested, save for the 425-grain Buffalo Bore loads, which release a small earthquake every time a primer is struck. This is a load you would want when facing something large, furry and angry bearing down on you.
I enjoy hunting wild boars as there are no seasons or limits associated with them, and one can consequently hunt them year-round. I consulted a good friend, Milton Turnage of North Carolina's Hog Heaven Outfitters, for a recommendation, as his wild hogs had all but gone nocturnal due to the summer heat. Milton steered me to Wooley Swamp Farm of Snow Hill, N.C., a family-operated outfit. Proprietor David Madures personally guided my hunt that culminated in the killing of a large sow. The BFR's 350-grain hollow-point passed through both lungs and exited the off-side, leaving a blood trail even a bat could follow. She stumbled 15 yards before piling up. This is plenty gun for a pig.
My only criticism of the BFR is rather subjective. The grip frame is standard Ruger plow-handle. I am a self-professed Bisley man. That said, the Bisley grip frame is not for everyone, and if you ask 10 handgunners their preference they will likely come down on one of the two sides evenly.
So, it's not a flaw, just a preference. The rubber grips did a fine job at limiting discomfort with the top-end loads, and they give the BFR a rather utilitarian look.
By the time you read this article, the .500 JRH version of the Biggest Finest Revolver will be part of the regular lineup and not a Precision Center offering. While not as pretty as some other factory revolvers, for pure functionality and field use this is a hard combination to beat. The BFR in .500 JRH may not be the best choice for the neophyte, but it is a great choice for someone wanting the most power in a portable package at a reasonable price. Bang For the Revenue, indeed.
Technical Specifications
Type: single-action revolver
Caliber: .44 JRH; .44 Rem. Mag; .454 Casull; 50 A&E; .480 Ruger/.475 Linebaugh; .500 JRH
Barrel: 6.5" (tested) or 7.5"; 1:15" twist rate
Sights: fixed front/adjustable rear
Capacity: 5-shot
Weight: 3.5 lbs.
Trigger Pull: 3-4 lbs.
Grips: rubber (standard); ivory polymer; black Micarta (tested)
Accessories: Weaver-style scope base, taller front sight, soft case
MSRP: $1,050; magnumresearch.com