Support NRA American Hunter
DONATE
As I was growing up in south-central Colorado, every couple of years my family was invited by friends to drive a few hours away to an area 10 miles south of Raton, N.M., to a shooter's paradise known as the NRA Whittington Center (WC). I never really saw the practicality in it. In my ignorance, not once did I bother to go see what all the fuss was about. But that all changed when I finally went to the WC in late December of last year.
Driving to my destination along U.S. Highway 64, it seemed like the Whittington Center was in the middle of nowhere, but as the facility's literature cleverly points out, it's actually in the middle of "everywhere." From the parking lot, I thought I understood everything I previously had chosen to skip, as I could see several types of shooting ranges stretching beyond the visitor center. However, I soon learned what I could see before me was just the beginning.
Named after former NRA president George R. Whittington, the 33,000-acre (52-square-mile) complex was purchased in 1973 and opened four years later. As a 501(c)(3), the nonprofit organization is completely independent and tied to the NRA in name only.
Its natural geography in tandem with basic celestial movements are key to why this massive plot of land was selected to serve its unique purpose. The Sangre de Cristo Mountains run east-west on the property, providing a natural backstop for bullets fired from the plethora of ranges built facing north and south. This means all ranges—18 of them—lie perpendicular to the sun's arc across the New Mexico sky, so shooters never have to worry about glare or direct sunlight ruining what could be a miraculous 2-plus-mile (2.07 miles to be exact) shot. Yes, that's right: There are ranges at the WC that literally stretch for miles. The far more well-known range at the WC is one on which shooters may fire a shot at the famed "White Buffalo" target that sits at 1,125 yards.
As for shotgun ranges, the WC's Shotgun Center has 11 trap ranges, four skeet ranges, two five-stand ranges and a 12-station sporting clay range, making it one of the largest shotgun ranges in the nation. Other ranges include Hunter's Pistol Silhouette, IPSC, Black Powder, High Power Rifle, Sight-In, Small Bore, High Power Rifle Silhouette, Long Range Pistol Silhouette and Small Bore Rifle Silhouette; all allow the use of various firearms across a wide spectrum of known shooting distances. Bowhunters should know the WC also has a Multi-Purpose range for archery shooting as well. Rumor has it the WC is in the process of adding 2.5-mile and 3-mile targets for precision rifle classes offered through Whittington U.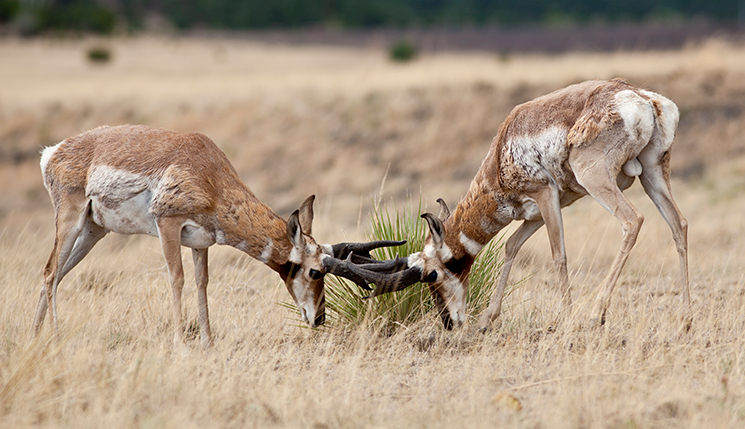 The "Whittington U Precision Academy" at the WC provides courses in precision shooting during the summer. Students in the entry-level course, the "School of 1,000 Yards," gain practical experience shooting at distances ranging from 100-1,200 yards utilizing any centerfire cartridge and rifle platform combination they choose. In the follow-up course, the "School of Extreme Long Range," marksmen test the limits of their skills at an incredible 2,000 yards, shooting outside the standard range area in the backcountry using specialized precision rigs that are effective for 2,000-plus-yard shots. Each of these courses allow students to become accustomed to shooting on the Known Distance, High Angle and Unknown Distance ranges to get the most out of their long-range education. Precision Master courses (levels 1-3) are further long-range shooting options for graduates of the previously mentioned courses. The WC also conducts its Defensive Academy for self-defense education.
In addition, the WC offers some of the best guided hunting in the region—for about half of what folks spend elsewhere. For instance, a nearby ranch offers guided elk hunting opportunities for some of the same herds found on the WC (most game animals move back and forth across adjacent property lines) yet charges new-car prices ($15-$20K). The WC offers guided trophy elk hunts for $8-$10K that produce bulls scoring more than 330 Boone & Crockett points every season. The WC also offers guided cow elk, pronghorn, turkey and black bear hunts. During my visit in the offseason (the busiest time of year is summer), I personally saw more antelope than I'd ever seen together before in one area, and I was able to gaze upon prime examples of every animal available to hunt at the WC, barring bear.
What's more, all the shooting ranges combined only take up 10 percent of the total property encompassed by the WC, leaving 30,000 acres of unspoiled land on which to find a trophy. In fact, during guided draw hunting seasons, all ranges (except shotgun) are closed, so noise is never an issue. Of course, no one can guarantee anyone will bag an animal, but the success rate for each listed species is nearly 100 percent.
While I was there, two hunts were being conducted. One was a cull bull elk hunt, which a WC employee had won in a drawing; the other was a cow elk hunt, which was part of a prize package for Thomas Parsons, a "top camper" of a WC summer program. Long story short, Parsons won this hunt and its prize package (a Ruger American rifle chambered in .30-06 along with Leupold optics including a riflescope, binocular and rangefinder) in a long chain of events, and ended it when he took a cow elk on the first day of his three-day hunt.
Prior to touring the facility, I was blissfully unaware of how much I missed every time I passed up the invitation to head to the WC, especially as I lived so close to it previously. The lesson? No one should ever pass up such an opportunity. I, for one, definitely won't be ignorant enough to say "no" again.