by
posted on April 27, 2017
Support NRA American Hunter
DONATE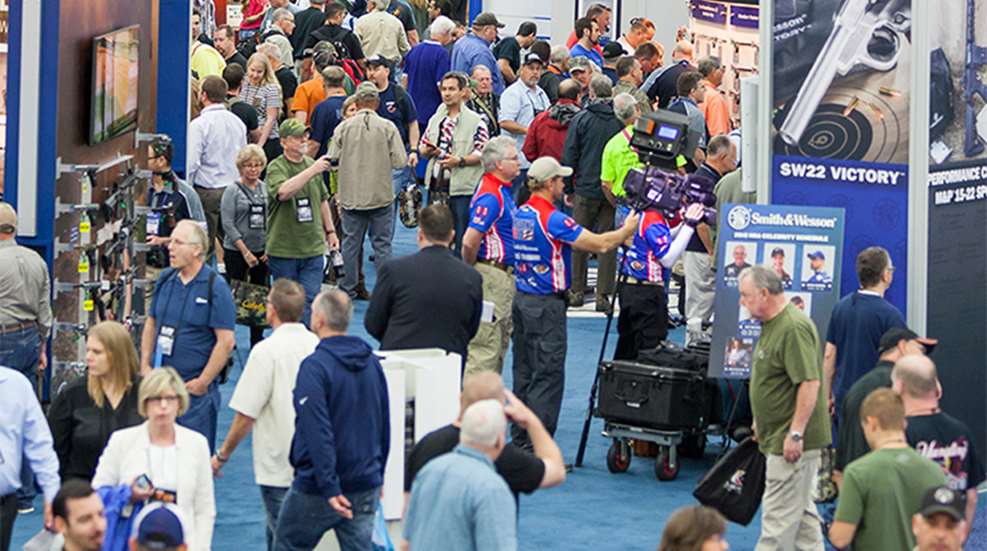 If you've been to NRA Annual Meetings & Exhibits before, you know how much information is packed into a single presentation—let alone an entire weekend's worth of them. There is a wealth of information to be garnered at this year's conference, for hunters old and new. But with so many opportunities and so little time, how do you decide which seminars to attend? We'll make it easy: Here are five you can't afford to miss.
Making the Shot of a Lifetime: Positional Shooting Afield
Friday, April 28 at 1-2:15 p.m. (Room B311)
Host of NRA's "I Am Forever," Kristy Titus is also a licensed hunting guide in British Columbia, as well as an ambassador—among other things. Growing up out west, she learned a thing or two about shooting in the field, as well as ways to improve your chances of making the shot of a lifetime. In this seminar, Titus will take a look at one of the most overlooked aspects of hunting: shooting positions. Building a sturdy foundation for shooting from a bench is one thing, but replicating that while on a hunt is a different story. Topics will range from gaining a natural point of aim, the ins and outs of using nature as a rest, how to deploy shooting assists and more.
Mental Dynamics of Shooting
Friday, April 28 at 3-4:30 pm (Room B310)
A great follow up to the aforementioned seminar is one that will be hosted by Gabby Franco, an NRA firearms instructor, author, and commentator, as well as a contestant on the "Top Shot." With 24 years of experience and an Olympic run to boot, she knows what she's doing. It's always a good idea to go back to basics, and this seminar will help do just that. You'll learn to identify and fix shooting anticipation that can hurt your shot, techniques to create a better foundation for shooting fundamentals, and how even an attitude adjustment or a bad day at the range can be used to its full potential.
Craig Boddington's Perfect Shots
Saturday, April 29 at 2:30–3:45 p.m. (Room B310)
Now that you've covered the basics, it's time to apply them. And who better to teach you how to do so than world renowned hunter, Craig Boddington, who has spent four decades hunting across the globe while simultaneously writing over 4,000 articles and 25 books? Craig will recommend rifles, calibers, bullets and other equipment, as well as give tips to help you take both American big game such as deer, elk, moose and sheep, as well as some of Africa's most dangerous game like buffalo, elephant, and the big cats Africa is known for.
Editor's Note: This seminar will be broadcast live via Facebook! You can watch it here.
Hunting Dogs
Sunday, April 30 at 11 a.m.-12:15 p.m. (Room B311)
Field dog training is an important part of the hunt, and no one knows that better than Jennifer Broome, who has over two decades of dog training and is the owner of Quinebaug Kennels. In this seminar, you'll learn how to narrow your selection of dog from breed to breeder, all the way down to which individual puppy you are looking for to take into the field with you as your new hunting partner. She'll show you how to help bring out the potential predator in your dog, making your new pup your best hunting companion, and how to turn that dog into a great family pet, too.
Why Hunting Matters—America and Abroad
Sunday, April 30 at 2–3:15 p.m. (Room B312)
What a better way to round out the weekend at NRA Annual Meetings & Exhibits than to see how all that you've learned culminates into the real reason we are here: to share the hunting experience with those around us. In this seminar, our very own American Hunter Senior Editor for the NRA's Hunter's Leadership Forum (HLF), Karen Mehall Phillips, along with her husband, Phil, will discuss how the NRA's HLF has worked to put a stop to the worldwide anti-hunting movement that threatens wildlife across the globe. By exposing anti-hunting tactics, as well as solutions the NRA is utilizing to prevent their poisonous ideology from spreading, you can leave prepared to fight the culture war we find ourselves in so that we can preserve hunting and the experiences, education and skills the sport provides for future generations to come.