by
posted on February 13, 2023
Support NRA American Hunter
DONATE
Who among us does not harbor fond memories of a mentor in his or her life? Surely we all remember a teacher, a coach or a seasoned co-worker or manager at a place of work who provided us with guidance as we began a new endeavor. More specific to the content of this column, surely all hunters understand the importance of a seasoned guide. The First Hunt Foundation recognizes the all-important mentor factor in our lives, and it seeks to harness that power to introduce Americans to hunting from coast to coast.
That mission just got a big boost from our NRA Hunters' Leadership Forum as it donated $120,000 to the First Hunt Foundation to help the organization develop free, online interactive training mentors may use to recruit, train and retain hunters.
Formed in 2015, the First Hunt Foundation (FHF) provides education and training for new hunters; it does this by recruiting and training hunting mentors. In fact it seeks to become the largest new-hunter mentoring organization in the country, and it's well on its way to doing so as it now boasts 787 volunteers in 35 chapters nationwide.
However, there is no training standard in the R3 community for developing qualified hunting mentors who may act as ambassadors to save hunting. The NRA HLF grant late last year helps fill that gap.
"The NRA Hunters' Leadership Forum is happy to support the First Hunt Foundation," said NRA HLF Director Peter Churchbourne, "We have been long overdue in having a properly designed online training course to help those teaching hunting and shooting skills that are available to everyone. I'm excited the training will be free. Every fish-and-game agency and NGO in the nation will be able to utilize this training to help their people better understand best practices for mentoring and coaching new hunters. I want to thank the generous Hunters' Leadership Forum donors for providing the funds that made this grant possible."
The total cost of the project, says FHF President Rick Brazell, is $160,000. The funds will cover the cost of building the online mentor training that provides help recruiting new hunters and teaching hunting skills but also how to talk about hunting, so mentors may become effective ambassadors of our pastime. Brazell believes the FHF will easily find other donors (individuals, national organizations or companies) to contribute the remaining $40,000.
AllenComm, a corporate training and e-learning company, will develop the training, a module that is expected to run 45 minutes to an hour long. The company is familiar with outdoor-related training efforts. In fact it has developed numerous training programs for the NRA including NRA Hunter Ed Online and the blended-learning NRA Basic Pistol Course (a module I use as an NRA-certified pistol instructor). AllenComm will work with the FHF and many subject matter experts to design and test the online training before it is released to the public in 2023.
"Our vision is to establish the gold standard for training mentors/coaches in the R3 community utilizing best practices for coaching and mentoring across various demographics and needs," said Brazell.
He adds: "We are even more excited that FHF has been awarded a technical assistance grant from the National Mentoring Resource Center to help with development of this training. Having them aboard ensures we are using the latest science and research around mentoring. Having their seal of approval will validate the training's credibility."
---
About First Hunt Foundation
The FHF is an Idaho-based 501(c)(3) nonprofit organization that seeks to become the leader of the R3 movement providing mentoring resources to prospective hunters. The organization has no paid staff; it relies on volunteers donating time, professional resources and money to make new hunters. To accomplish its mission, it sponsors several programs.
The organization's first leg is volunteerism. It likes to say the only payment its volunteers need is smiles on faces. Mentors sign up through an online interactive portal that identifies their interest. All mentors are subject to a criminal background check and agree to a "mentor's creed." But you don't have to become a mentor; you may simply volunteer your time in your area of interest.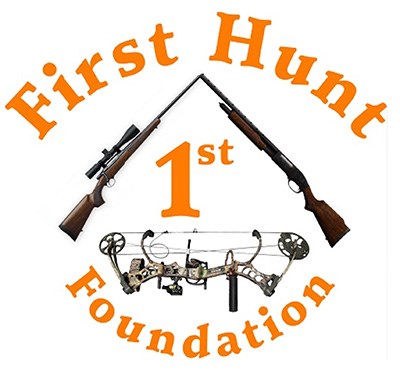 FHF mentors are scattered across 35 states. An online "mentor map" on the organization's website shows their locations; clicking on the pins on the interactive map displays their individual locations so first-time hunters may contact them.
The Hunter Appreciation Program seeks successful first-time hunters to award them a certificate of appreciation. The new hunter need not have participated in an FHF event to receive one. Each certificate is species specific. This aspect of the FHF mission is made possible through grants from the Torstenson Family Endowment of the Rocky Mountain Elk Foundation and Outdoors International. The certificate may seem like a small thing but it can be a big boost to a new hunter. It's the FHF way to congratulate a newbie for joining our ranks. New hunters may complete a form online to request their certificate.
FHF recognizes that all veterans and first responders understand the desire to serve, mission and teamwork. The organization's "Connecting Heroes and Hunters" program connects these heroes to a new mission recruiting new hunters and helping hunters within their ranks to learn about conservation and hunting.
Hunters who wish to learn more about volunteering their time to FHF R3 programs should email [email protected] or contact FHF President Rick Brazell directly at [email protected] or call 208-917-9700.