by
posted on January 1, 2020
Support NRA American Hunter
DONATE
Before Christmas fades in the rearview mirror, let us pause and give thanks for the hunting lifestyle. After all, it certainly has provided each of us innumerable bounties including sustenance, adventure, self-sufficiency, a sense of accomplishment, fellowship … . That last one resonates, yes?
Let us resolve this year to introduce someone to these benefits. It doesn't matter if we recruit a new hunter, retain a current hunter or reactivate an old hunter—they all count. We merely need to make a hunter.
As we have reported so many times, the number of American hunters continues to shrink annually, mainly because hunters in aging generations continue to leave the field and they are being replaced by only a precious few in succeeding generations.
The most sobering part of all this is hunters stand alone when it comes to recruitment. No one will help us replace ourselves.
Don't believe me? Name a facet of modern life besides the gun-and-hunting community itself that actually acknowledges our existence. The cultures of Hollywood, TV shows and TV news all weave in and out of one another and while doing so weave in and out of the cultures of music, sports, politics … and just plain celebrity (because apparently just being famous entitles some folks to honors and benefits). Where does the culture of hunting fit into any of this? About the most hunters can hope to hear occasionally might be something like, "You know, Bob, that big lineman is from South Dakota; he bagged a record buck last month."
We must counter this.
I think it may be as simple as making hunting look cool. That shouldn't be too hard. I think hunting is cool, after all. These days, notwithstanding at least one blowhard I seem to encounter from time to time, most people I meet think what I do is cool if only because so few of us hunt. It's true: 11 million hunters are but a paltry fraction of 330 million citizens. By default, we are an elite group; an elite group has an aura. Use that.
Note the person who listens intently to your stories—the neighbor who expresses interest; a nephew; your college-age niece (and while you're at it make her boyfriend tag along). These examples only scratch the surface, however. They represent perhaps the kinds of converts our community would capture anyway. To be most effective, we must reach beyond our immediate circle. That doesn't mean we can forsake opportunities within our own social network to introduce immediate friends and family; it means, simply, the "lead" we recognize outside our circle must be followed. If we fail to make new converts, our way of life is doomed.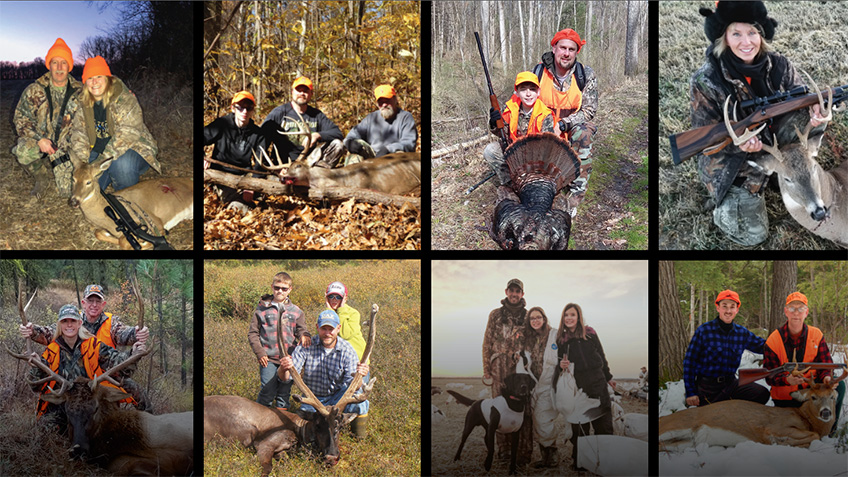 We must rely on a grassroots effort that springs from each of us, not a Hollywood studio. We must do this one on one by providing the gift of hunting to someone new to our lifestyle.
Start with this magazine. Buy an NRA membership for a newcomer and designate American Hunter as that person's Official Journal. The benefit is twofold: a newcomer is exposed monthly to news and information regarding our lifestyle, and NRA membership and Second Amendment defense is strengthened by one.
Let's acknowledge a majority of the digital messaging out there is stacked against our lifestyle—or at a minimum ignores our existence and never will recognize our community. Then it's a simple matter to find the digital content that promotes hunting. Again, start close to home, at AmericanHunter.org, a 24/7 tribute to hunting. Also visit our family-friendly site, NRAFamily.org, an online resource for parents, kids and, frankly, beginning shooters of all ages. With these resources, newbies can learn introductory gun safety, gun handling, outdoorsmanship and self-defense concepts along with leisure and lifestyle entertainment. Many other gun-and-hunting websites are all solid options for reading, too, as are manufacturer websites and content provided by other non-governmental organizations like Ducks Unlimited, where you'll find an absolutely fascinating film series called "DU Films." Check out onX Hunt, BaseMap and other apps available for smartphones that provide navigation, journaling, community chatrooms, brag boards, weather forecasts and more.
What's your favorite movie? If you're like me, "Jeremiah Johnson" ranks high. Give a movie like "Jeremiah Johnson" to a newcomer, and explain the movie is based on a 19th-century, flesh-and-bone mountain man. I devour history books about early 19th-century exploration, from the Lewis and Clark Expedition to the zenith of trapping the American West in the 1830s. If some titles in this genre are your favorites, give one or two of them to your protégé. Pick up any number of Wilbur Smith novels with hunting central to the plot.
We all know clothing can be expensive. The problem is exacerbated when we begin to tell a newbie what might be needed to hit the woods or blind. Retail prices can be overwhelming, but we can soften the blow. Can you afford to buy a kid a pair of boots? Can you spare some little-used clothing to give to the fellow who hasn't hunted in a while, the guy who has only a pair of Carhartts and a flannel shirt? Maybe it's as simple as alerting your protégé to discounts.
Become a clearinghouse for hand-me-down hunting clothing, whether it be for adults or children (especially for children). If it's only been outgrown or superseded by something newer and shinier, it can be repurposed. If you have the room and inclination to do this, you can create constant "product churn" among your buddies via a barter system then share the overall bounty with newbies and those in danger of quitting hunting because they can't keep up with fashion trends.
As the year goes on, as you and your protégé decide what hunt he or she might make first, remember your favorite hunt may not be the most practical at this time. In fact, this is a subject I will address later this year. In the meantime, keep in mind turkey season is approaching. Turkey season has the potential to be a lot less boring and warmer than deer season—perfect for a newcomer. Maybe your best opportunity lies this spring, when you can show a guy how to shoot a 20-gauge 30 yards, show him how to pattern a shotgun then eventually call in a bird he can kill. If you and your daughter's boyfriend who gawks at the 10-point on your wall have decided you will take him deer hunting this fall, by all means take him to the range this spring and summer to let him shoot some of your rifles (your .22, .243, '06). Be sure to sit with him this fall. Never send a newcomer to a deer stand by himself. This year, admit you've killed enough deer for a while and expend the patience to help someone else grow a smile.
Remain alert for opportunities to introduce your protégé to hunters outside your network. As you take him or her to the gun shop, to the range and to hunting shows during the offseason, introduce the newcomer to everyone you meet. He'll learn how we interact with one another, how we tease about missed shots and offer congratulations for a fine trophy. He'll watch us ask others for advice. Eventually, he may meet someone better suited than you to show him the ropes—a surefire sign the plan is working. Maybe a couple of years from now, your protégé invites you to hunt a new spot he's found.
None of these options should pose a financial hardship. An annual NRA membership is $45. A movie or book might be $20. We can search for sales on clothing and boots, and nothing says we can't pass on used items we find in quirky retail spots we all frequent. You're likely already attending a hunting show this winter; purchasing a second admission and second lunch might set you back $40.
Our community has built an entire world to support our lifestyle, and it's all pretty cool, because hunting is cool. But possible converts are not exposed to it—and we must change that. We must because no one else but hunters will do so. Let us resolve to make hunters.