Support NRA American Hunter
DONATE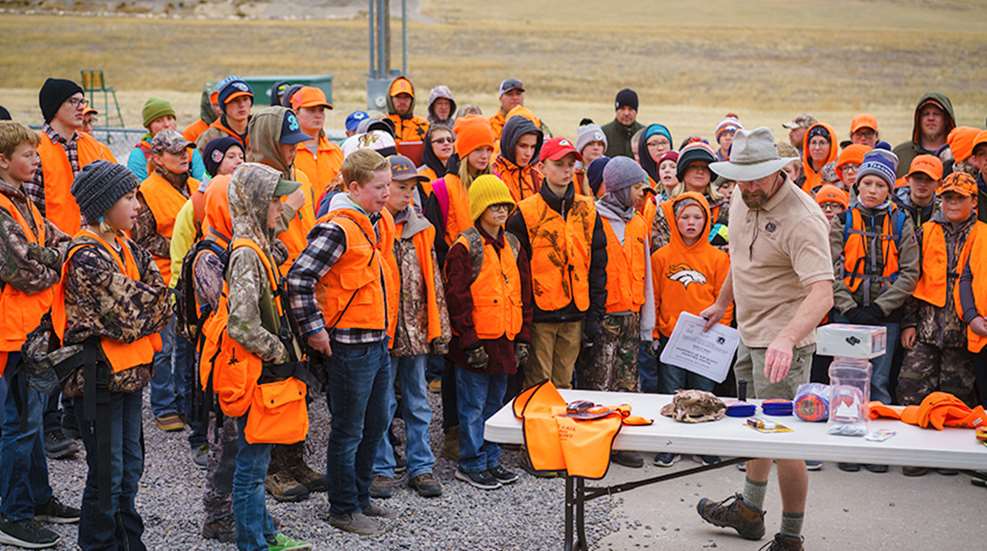 Once upon a time there were millions more American hunters than there are today, and hunting in some places and at some times actually was, literally, unsafe. To combat this, in 1948 New York decided to require that new hunters complete a hunter-safety course before being permitted to purchase a hunting license. But there was a snag: no such course existed. For help the state turned to the leader in firearm training: the National Rifle Association. Thereafter, as all hunters know, hunting went on to become today actually safer than pingpong.
Over the coming years, as more and more states recognized the value of hunter-safety training, more and more of them turned to the NRA to develop their own, state-specific courses. And that's how the NRA became the leader in hunter education.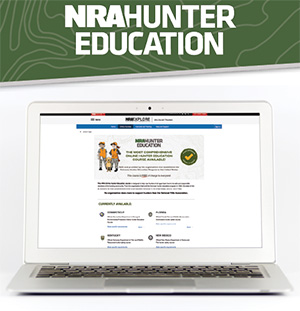 The story is true, and it illustrates just how vital your association has been to hunters over the years. We still are vital to hunters. Today, as all states offer online hunter-ed to augment and in many cases supplant courses in-person, the NRA is first to offer an absolutely free, comprehensive, interactive, feature-laden, online hunter-safety course. NRA Hunter Education online features attention-grabbing videos and graphics, interactive modules, audio recordings and dozens of photos presented in easy-to-access components. What's more, the NRA will tailor the online course to meet any specific requirements any particular state may need. It's a win-win for hunters and state fish-and-game agencies looking for creative ways to assure their future hunters get the goods to get them into the woods.
This is your NRA's gift to hunters and hunting, and most importantly it doesn't cost any hunter or any state a dime. But there is a snag: Most states have not accepted this gift. In fact, it's been a "tough ask" getting states to adopt it; to date only eight have done so. We could have guessed (and conjured conspiracy theories) as to why the other 42 states would not accept this free gift, but now a decision by the U.S. Fish and Wildlife Service (FWS) removes any reason whatsoever for states to refuse it by incentivising its adoption with something no state wildlife agency should refuse: conservation dollars.
That decision was contained in a memorandum distributed in May by the FWS Office of the Solicitor wherein it recognizes the NRA course as a state's in-kind contribution to qualify for matching grant funds via the Federal Aid in Wildlife Restoration Act (also known as the Pittman-Robertson Act, or simply P-R, after its congressional sponsors). P-R funds are collected via excise taxes on firearms, ammunition and archery tackle then redistributed to states to finance conservation and needs associated with it, including hunter education and public-land range development.
However, to receive these funds, states must match federal P-R grants dollar-for-dollar in the form of cash or in-kind contributions. Combined, the federal and state funds go a long way toward conservation efforts. But in an era when hunter recruitment and retention are waning, it's challenging for states to come up with matching funds.
State fish-and-game agencies derive the majority of their funding from the sale of hunting and fishing licenses. When fewer hunting licenses are sold, states find it challenging to meet federal grants with cash of their own. These factors are hard to overcome. Indeed, hunter numbers have shrunk to about 11 million—2 million less than just five years ago and 11 million fewer than about 50 years ago. Naturally, spending by hunters also has fallen … about $10 billion in five years.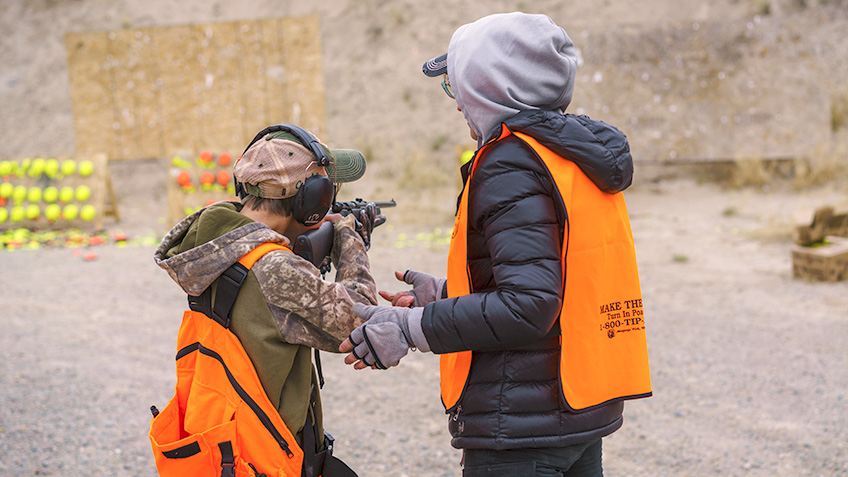 A May memorandum from Larry Mellinger, FWS Attorney-Advisor, Division of Parks and Wildlife, to Paul Rauch, Assistant FWS Director, Wildlife and Sport Fish Restoration, addressed whether a "contribution from a third party that provides an on-line hunter-education course free of charge to States and students" be allowed as a match. Mellinger continued: "Further, so long as an in-kind third-party contribution benefits the federally assisted project being funded, it can be utilized as match based on its fair market value [FMV]. … One possible approach for determining the FMV of an on-line hunter-education course provided to States and students by a third party free of charge would be to consider the cost of similar, commercially available courses."
With this, a state may now be able to claim as much as $30 per student for every free NRA Hunter Education online course completed as an in-kind contribution. How? Because most fee-based online courses currently offered by states charge as much as $30 per course. However, a state may not claim such a fee-based course as an in-kind contribution because the state does not provide the course; a commercial vendor provides it. Further, states can't claim the value from the vendor course because someone is paying for it. The course or course delivery must be free. In-person courses are mostly offered by volunteers, and the time they spend teaching the class is considered valuable—that value is what the states currently use as their basis for their match money. Our course replaces the volunteer-hour valuation and gives a state something much more valuable to use.
Florida—the first state to adopt the NRA course—looks forward to a reset. In a letter to NRA officials in May, Bill Cline of the Florida Fish and Wildlife Commission (FWC) wrote, "Even more exciting is the news we received Tuesday afternoon during the annual International Hunter Education Conference: the U.S. Fish and Wildlife Service reported that each region's division of federal aid is being instructed to work with individual states to justify the value of a third-party provider providing free online hunter education training. In my subsequent discussion with our federal aid coordinator, Florida will be re-submitting our previous request to value the free course at the average cost of the paid courses. Upon approval, this will allow FWC to claim approximately $250,000 per year in much needed in-kind services."
This is a game-changer. Sure, Florida turns out more hunters than Rhode Island, so Florida may indeed benefit by as much as $250,000 while Rhode Island may see a benefit valued at much less. But states like Pennsylvania, New York, Michigan and Texas each turn out more hunters every year than many other states combined. Imagine the number of new hunters each of these states must train annually. Then imagine how each of these states may in fact be able to value the NRA's free gift at something greater than $250,000 annually. Now start adding numbers nationwide and it's easy to imagine this ruling has the potential to generate millions of dollars nationwide for P-R projects. What's more, it has the capacity to free capital in every state for any number of projects languishing on back-burners. How? That $250,000 in matching funds and in-kind contributions that Florida raised on its own that was previously mandated for use only on P-R projects may instead be used on projects the FWC deems necessary to support wildlife and hunting—conservation projects that don't necessarily meet the requirements for P-R spending.
Visit NRAHE.org and note our free, comprehensive online hunter education course. Then note whether your state is among the eight that currently offer it. If it's not, you owe it to yourself, future hunters and your state's conservation coffers to urge your fish-and-game agency to adopt it.