I took my hunter education course in one sitting, an all-day ordeal, on a Saturday the summer before my first hunting season. Fifteen years later, that setting and teaching method seems archaic to me, considering I took my driver's education course online (driving portion aside), completed the majority of the coursework for some of my college classes online, and have a job that requires daily research and communication online.
The rampant progression of the Internet has put the world literally at our fingertips. Life made easy? You bet. Too easy? Maybe. But there's no doubt online access to information about dang near everything has made it easier than ever to educate ourselves. That includes the realm of hunter education.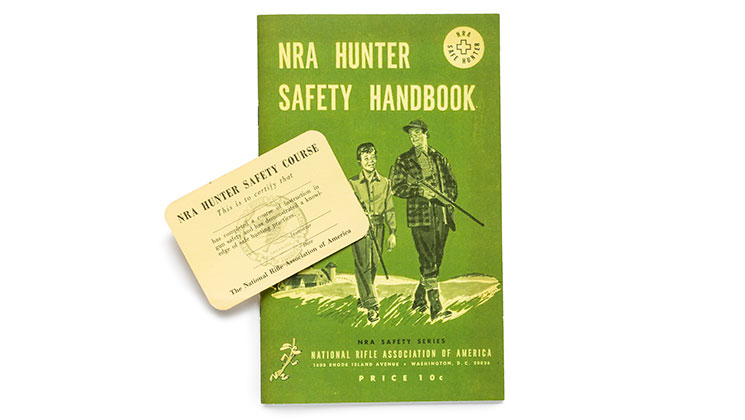 The concept of hunter education started in New York in 1949, when the state mandated a program to increase firearm safety among hunters. Known for its expertise in firearm training, NRA assisted New York in developing and administering a safety program designed specifically for hunters. That program became the foundation for all hunter education in the United States and was used in most states exclusively for almost two decades. Now, nearly 70 years later, some form of hunter education is required by all 50 states before a new hunter can purchase a license.
There's no doubt hunter education has made hunting safer, as firearm accidents involving hunters are at a historic low. However, meeting the hunter education requirement can also pose a hindrance to future hunters. All states offer traditional classroom hunter education, but access to courses can be limited based on instructor and venue availability. It may be inconvenient or even impossible for a would-be hunter to attend a classroom course, particularly if that person lacks transportation. All states offer some form of online hunter education, but the courses use outdated technology and may cost as much as $30.
Enter NRAHE.org, NRA's new, free online hunter education program. Made up of seven primary components, the course is comprised of an introduction explaining why hunter education is important; four educational modules that progress from firearm basics and safe firearm handling to field safety and hunter ethics; a final test; and a voucher demonstrating the course has been completed.
The modules are where NRA Online Hunter Education really shines. Using instructional design—a scientifically proven method of presenting material in the most retainable format—this isn't your average, boring "click-to-progress" program. With interactive modules, videos, audio recordings, diagrams and images, the course is the most comprehensive yet entertaining hunter education program available, and provides the best method for teaching future hunters lessons they will remember in the field. What's more, the material can be revisited any time if students feel the need to review the course later as a refresher.
The first module explains how various firearms operate and spans the gamut of methods for taking game, including rifles, shotguns, muzzleloaders, handguns and bows. The second module explains the safe handling of firearms and equipment, guides students through the components and function of ammunition, and offers a how-to guide on cleaning, storing and transporting firearms. The third module covers aspects of field safety, such as shooting skills, safe hunting practices and proper treestand use, and even includes navigation, survival and first-aid. The final module explains how to be an ethical hunter and why it's important, discusses hunting techniques, and offers tips on game recovery and care. Each module concludes with a "Challenge and Review" section, ensuring students grasp the concepts before moving on to the next module.
After completing the four instructional modules, students take a final assessment to prove they have retained the information that will make them safe, ethical and effective hunters. In addition, NRAHE.org offers a portal for students to register for a local "Skills Day" assessment if their state requires an in-the-field test. Upon passing the final assessment, students are issued a voucher/certificate signifying they successfully completed the online course.
Why did NRA go to these lengths when online hunter education already existed? "We wanted to create the most encompassing hunter education course in the world," said Peter Churchbourne, director of NRA Hunter Services. "The current offerings lack depth and detail, and we knew with the technologies available today we could add the needed content and present it in a modern, engaging and fun way without adding more course time." The concept first began in 2015. NRA staff worked with one of the best instructional designers in the U.S. to finalize the program and get it online in 2017.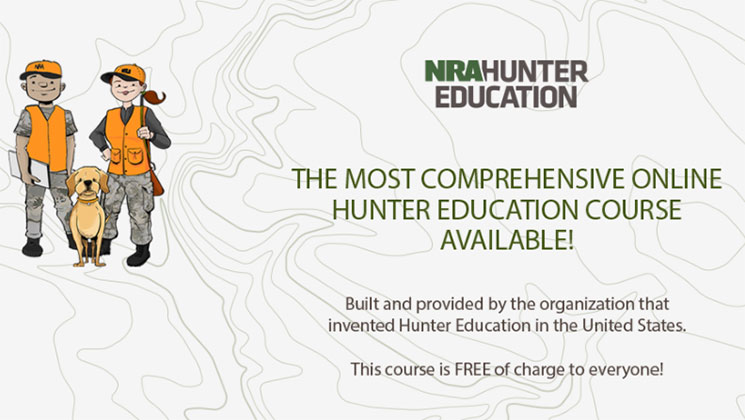 Besides the quality of the instruction and training, there are two more ways NRAHE.org helps future hunters and state game agencies. First, NRAHE.org offers hunter education training that is easy and convenient to access. The program is available via desktop and mobile devices, so students can take the course on the go. Students progress through the course at their own pace; although they can typically complete the course within the time of a normal school or work day, they are able to break it up over as many sessions as they need.
A second benefit is cost. Churchbourne said the course is "a free gift from the NRA that will reduce barriers for new hunters," as it will save both participants and state agencies money, and provide better education. To further increase savings, Churchbourne explained, "We are willing to program any technology and add any state-specific content, at our cost, so that each state can have a custom course. This includes unique certificates, test questions on state-specific content and custom student-information data transfers back to the agency." Because NRAHE.org makes it convenient for future hunters to become certified, participating states will increase the number of hunters in their state and sell more hunting licenses. Churchbourne also noted another modern benefit of the program. "Our program uses 'gamification' to keep the student engaged and interested," he said, "ensuring students learn and retain the course material."
By the end of 2017, Florida, Oregon and Texas had implemented the NRA Online Hunter Education course; Connecticut will join that list early this year. The Florida Fish and Wildlife Conservation Commission (FWC) was the first state agency to recognize the program's benefits and grant licenses to new hunters based on NRAHE.org certification and the completion of a Skills Day.
"This course aligns well with FWC's efforts to recruit, retain and reactivate hunters. The graphics, photos and video clips capture and hold students' attention while the skill-building activities and knowledge checks drive home the important messages about safe, responsible hunting," said Bill Cline, FWC section leader for hunter safety and public shooting ranges. "Entire families who want to learn about hunting and their role in conservation can do that without cost being a barrier. The NRA Online Hunter Education course and the Skills Day FWC requires do an excellent job of preparing new hunters for safe and enjoyable trips afield."
It's not just state administrators who see the positives in NRAHE.org. One student said, "The course was engaging as well as informative and interesting. The efficient structure, concept coverage and overall teaching method was not what I expected from a free course. This course will be my first recommendation to new hunters."
Knowing that the program can be tailored to any state's specifications at no cost to the state or affiliated agencies, and seeing the positive results Florida has experienced, what's preventing some states from implementing the program? Churchbourne said some states haven't reviewed the course and its material yet. Others have signed contracts with vendors that must expire prior to going forward with a new course. Lastly, some states and agencies don't agree with everything done by NRA, so they have decided to abstain from participating in NRAHE.org and the obvious benefits that come with the program.
You can help NRAHE.org reach more hunters by calling your local wildlife agencies and representatives, and requesting they implement NRA Online Hunter Education. After all, the end goal for the program is to see all 50 state agencies adopt the course so every American can access free, high-quality hunter education—just as it was intended when the NRA first began the initiative almost 70 years ago.