by
posted on March 20, 2023
Support NRA American Hunter
DONATE
The German Precision Optics (GPO) Spectra 4.5-27x50i SFP is built for those who hunt game in environments where shooting at extended ranges is often required.
"The Spectra 6X 4.5-27x50i second focal plane is our ultimate long-range hunting scope," said Michael Jensen, GPO, USA owner and CEO. "It has every bell and whistle the most discerning shooter and hunter desires in a second-focal-plane design. And while the quality and features meet or exceed that of more expensive brands, it's offered at a very affordable price." With a second-focal-plane riflescope, the reticle is placed behind the magnification lenses on the erector tube assembly, and the reticle remains the same size as the scope's variable power is turned up or down. This allows for the use of a fine subtension ballistic reticle with an illuminated center micro-dot for longer shots.
The scope's DoubleHD objective-lens system transmits a great deal of light, while the 4.5-27X variable-power range yields ample magnification for both close- and the long-range shots. These features combine with GPO's proprietary iControl microdot illumination for easy shot-placement in low-light conditions. In addition to the above, this scope comes standard with fully-multi coated lenses and 1/4-click Passiontrac Zero-Stop-Lock turrets to efficiently dial elevation and windage. The turrets provide +/- 30 MOA of adjustment range at 100 yards.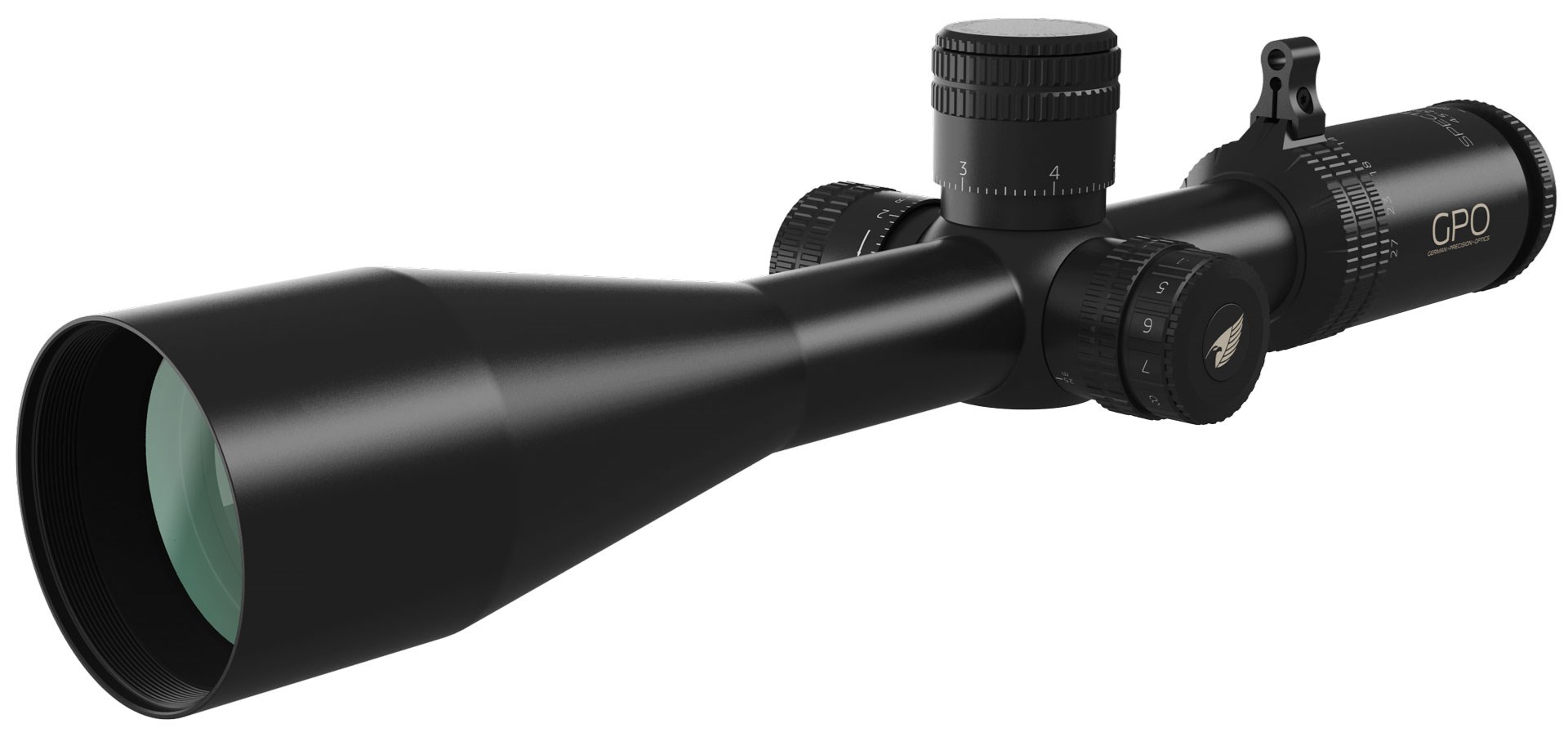 This body is crafted from a one-piece 30mm anodized, nitrogen-filled aluminum main tube, with a removable magnification throw lever, 3rd-turret parallax adjustment, and a fast-focus ocular. MSRP: $1249.99. 
Feature List
GPObright: A proprietary coating process that maximizes light transmission through each surface of an optical element. As light hits an optical surface, normal uncoated high-performance glass can reflect up to 5 percent of that light, redirecting this light so it does not transmit through the optical system. However, when these particular lenses are vacuum coated with GPObright lens coatings, up to 99.7 percent of the available light passes through each optical surface. Furthermore, when every surface of the entire optical system is properly coated, total light transmission can reach up to more than 92 percent, making the optical image of a GPO binocular or riflescope "bright," even in the lowest-light conditions.
Double HD Objective Lens Technology: This is the final product, created when multiple extra-low dispersion lenses are chemically laminated to make a single, multilayer high-performance optical lens. Laminating multiple lenses minimizes light reflection on the surface of multiple lenses, creates enhanced resolution and color-contrast images, and minimizes chromatic aberrations. This process is routinely found in the photographic market, and with the highest-quality photographic lens manufacturers but has now transitioned into premium sporting optics.
iControl Illumination: This assures users have the longest battery life possible by automatically powering down illumination when the electronic module has been stationary for more than three hours, and alerts users when the battery has only 15-percent remaining battery life.