by
posted on January 20, 2022
Support NRA American Hunter
DONATE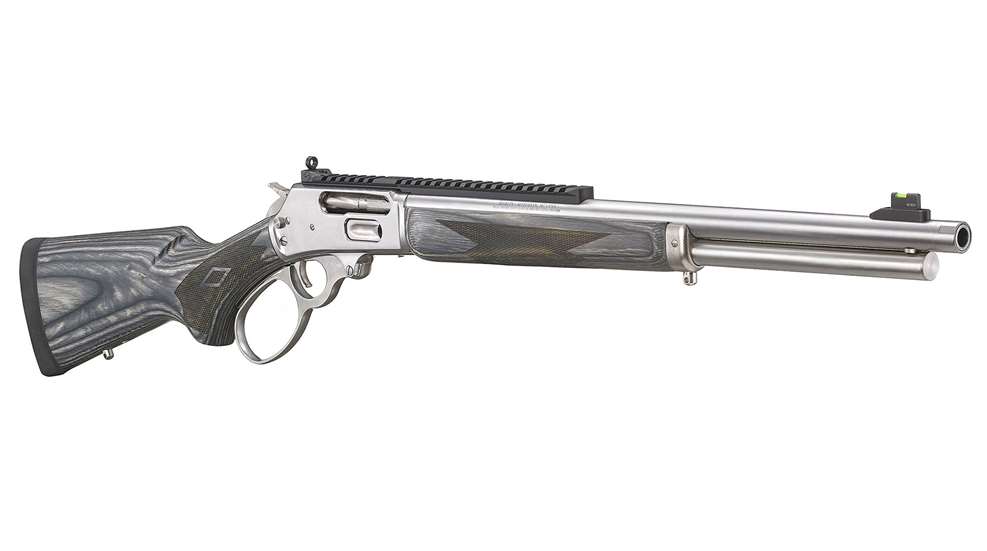 What It Is: A big-bore lever gun with classic style and a rugged disposition.
Why We Love It: It's the first Marlin to be produced at Ruger's factory in Mayodan, N.C., and it lives up to the hype.

Marlin fans have spent the last few years in turmoil. The company slowed production as the sale of Remington loomed on the horizon and no one fully understood what might eventually become of Marlin. But the good news is that the company had a buyer, and that buyer was Sturm, Ruger & Company. With Ruger's business savvy and capital backing Marlin's brand was prepared for a rebirth.
The Model 1895 SBL is the first offspring of that marriage. With its rugged grey laminate stock and stainless steel metalwork this rifle, chambered in .45-70 Government, is capable of taking the largest North American game and is virtually impervious to bad weather. The barrel measures just 19 inches long and comes with a 11/16x24 threaded muzzle. That gives the rifle an overall length of just 37.25 inches and a weight of 7.3 pounds. The Marlin's short overall length and excellent balance make it the consummate woods rifle for deer, elk, black bear, and hogs.
Look closely at the new Marlin 1895 SBL and you'll see that our friends at Ruger have planted a few Easter eggs on this rifle. The traditional Marlin bullseye on the rifle's stock now bears a red center to celebrate the change of ownership and all these rifles have serial numbers that begin with the letters "MR" to distinguish them from the New York-made Marlins. I had the opportunity to handle and shoot an early pre-production rifle and was thoroughly impressed by the quality touches found all throughout the rifle. The stock is well-made with sharp, clean texturing and a good fit to the receiver and the black recoil pad. The stainless finish on the 416 stainless-steel barrel and receiver is mirror smooth, and a fluted bolt adds a classy, modern touch to these guns.

There are also a lot of practical features here, too: Ruger has slimmed the forearm down considerably to make a more svelte rifle and there's a new picatinny rail that offers a stable mounting surface for optics. If you elect not to mount an optic you'll find the iron sights are very good: there's a ghost ring rear and a fiber optic green front bead. The tubular magazine holds six rounds and the cold hammer forged barrel features a 1:20" twist rate.
"We are excited to officially flip the switch and let our customers know that Marlin is back," said Ruger President and CEO, Chris Killoy. "From the quality of the firearm, to clear ways for consumers to differentiate Ruger-made Marlins, we focused on getting every detail right."
Mission accomplished, Mister Killoy.
The Model 1895 SBL has an MSRP of $1,399. For more information, visit marlinfirearms.com.