by
posted on December 20, 2021
Support NRA American Hunter
DONATE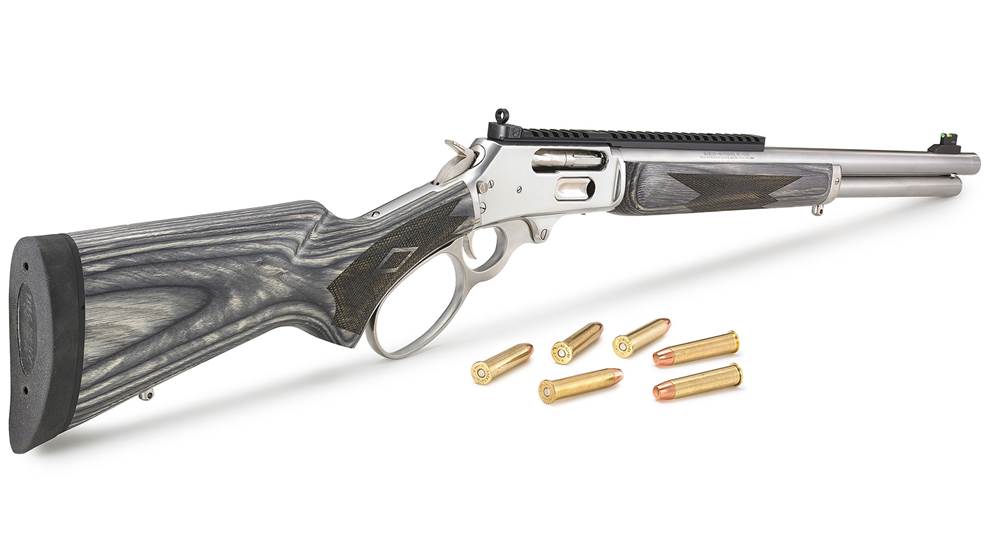 Legacy, tradition and American-made are all words that describe American gunmakers Ruger and Marlin so it's fitting that Sturm, Ruger and Co. was the company that purchased Marlin Firearms assets from the then-bankrupt Remington Outdoor Company in 2020. Ruger's goal: to make Marlin better than ever—and it's doing just that. Today it announced the unveiling of its first-ever Ruger-made Marlin rifle: the classic lever-action Marlin 1895 SBL (Stainless Big Loop), packed with upgrades and innovations hunters and shooters will appreciate.
Ruger's big undertaking involved delivering both new and improved features on the Marlin 1895 SBL backed by Ruger's reputation for rugged, reliable firearms. The first step was to get Marlin's centerfire lever-actions back on the market by December 2021 with immediate focus on the 1895 SBL in .45-70 Goverment. But while Ruger purchased Marlin's equipment, rights, design, branding, inventory and machinery, the process entailed far more than the flip of a switch.
"Our biggest thing was to meet or exceed [expectations] in catering to Marlin aficionados," said Ruger Public Relations Manager Paul Pluff. "We added better machines, rebuilt fixtures and created new ones." As for how Ruger can sell the quality product it sells for a fair price, note that without doing this, in the long run, Rugers—and now Marlins—would cost more or not work as well. As Pluff explained, "Every part was reviewed with a fine-tooth comb, understanding that removing material at stress points tightens tolerances. Can we do it better? What will this cost? How tight must we create every part to make Marlin better than before?"
I got to test the rifle on a hunt with Pluff and a few friends two weeks ago in Texas with outfitter Steve Jones of Backcountry Hunts. We had the option of chasing a Carmen Mountain whitetail, an aoudad or a mule deer using Hornady LEVERevolution ammunition, designed specifically to provide higher ballistic coefficients for lever guns, thanks to the Flex Tip technology of its FTX and MonoFlex bullets. I was not surprised at how my whitetail dropped at 115 yards, considering the rifle's accuracy and the .45-70's terminal performance. It was the same with Pluff's whitetail at 200 yards. While other chamberings are superior at longer ranges, I thought of the thick, brushy areas particularly back East where hunters are lucky to see out to 200 yards, and certainly they will put the fast-handling rifle to good use.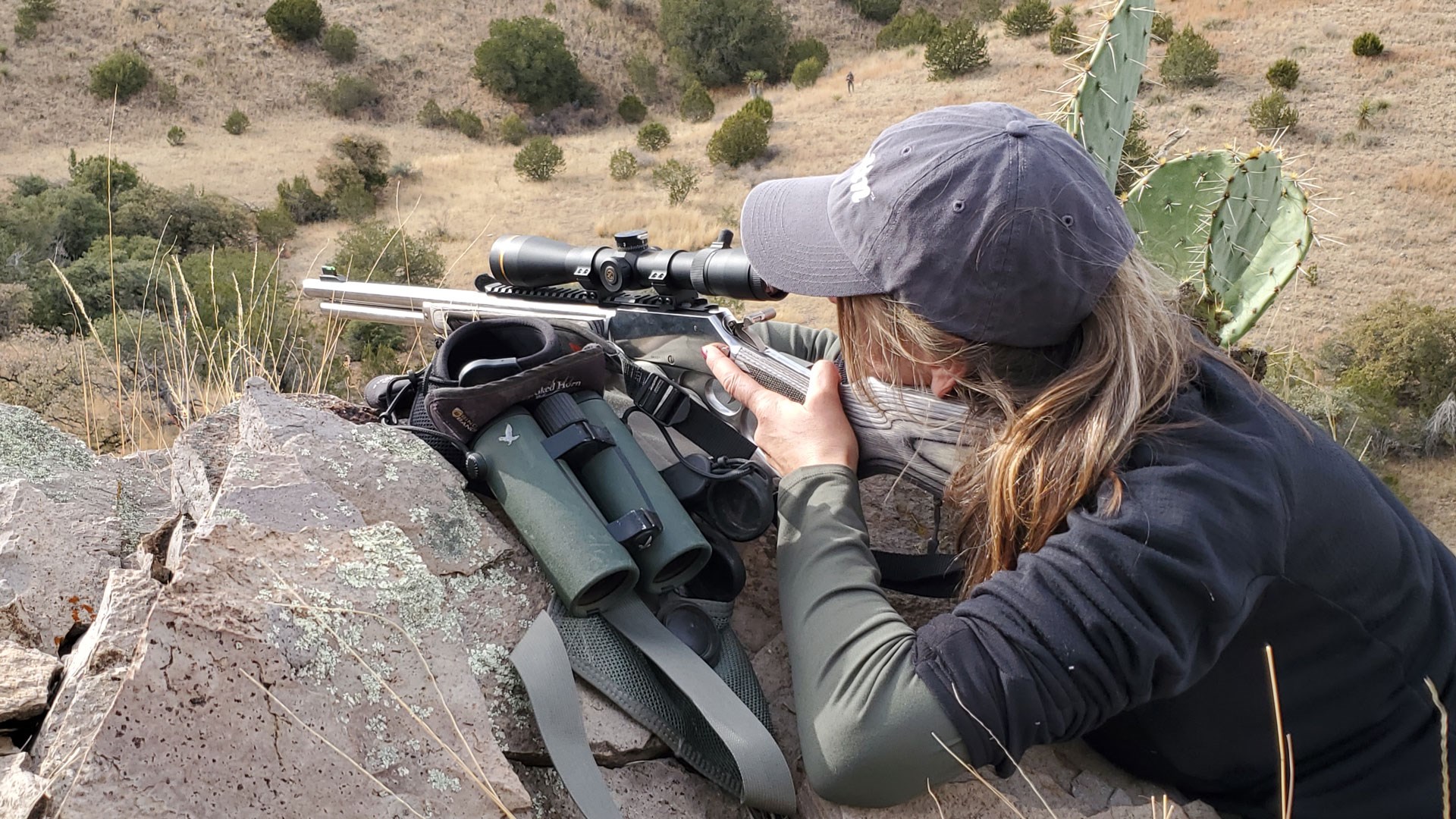 While Ruger is continuing with Marlin's forged receivers, the first big difference is that the 1:20-inch twist-rate barrels are being produced using the cold-hammer-forging process for which Ruger is known (versus the button- and broach-rifling methods). This aids accuracy and consistency, and barrels better handle heat and stress, improving barrel life. During production, the "hammers" pound on the barrel as a mandrel inside the hole of the blank creates rifling with the desired twist rate, as rifling lands and grooves are formed into the surface in reverse relief. (Worth noting, cold-hammer forging is part of the reason the Ruger American rifle is so accurate—especially for the money.)
The fact the rifle's 19-inch barrel has a cap for a sound suppressor is also a big deal. Explaining the importance of the end cap, Pluff noted, "The Marlin lever-action 1895 SBL comes with a finely-machined barrel end cap that not only completes the attractive polished aesthetics but protects the 11/16X24 TPI barrel threads, which will allow for the addition of a suppressor or muzzle brake of the owner's choice."

Pluff also emphasized how heat-treating critical stainless parts prior to machining creates a better product, though it changes machining "tack times" (the number of pieces that can be produced per hour—something Ruger has down pat). For background, tack time changes the variance rate. The more overhead you have and the less you can produce, the higher cost of the gun.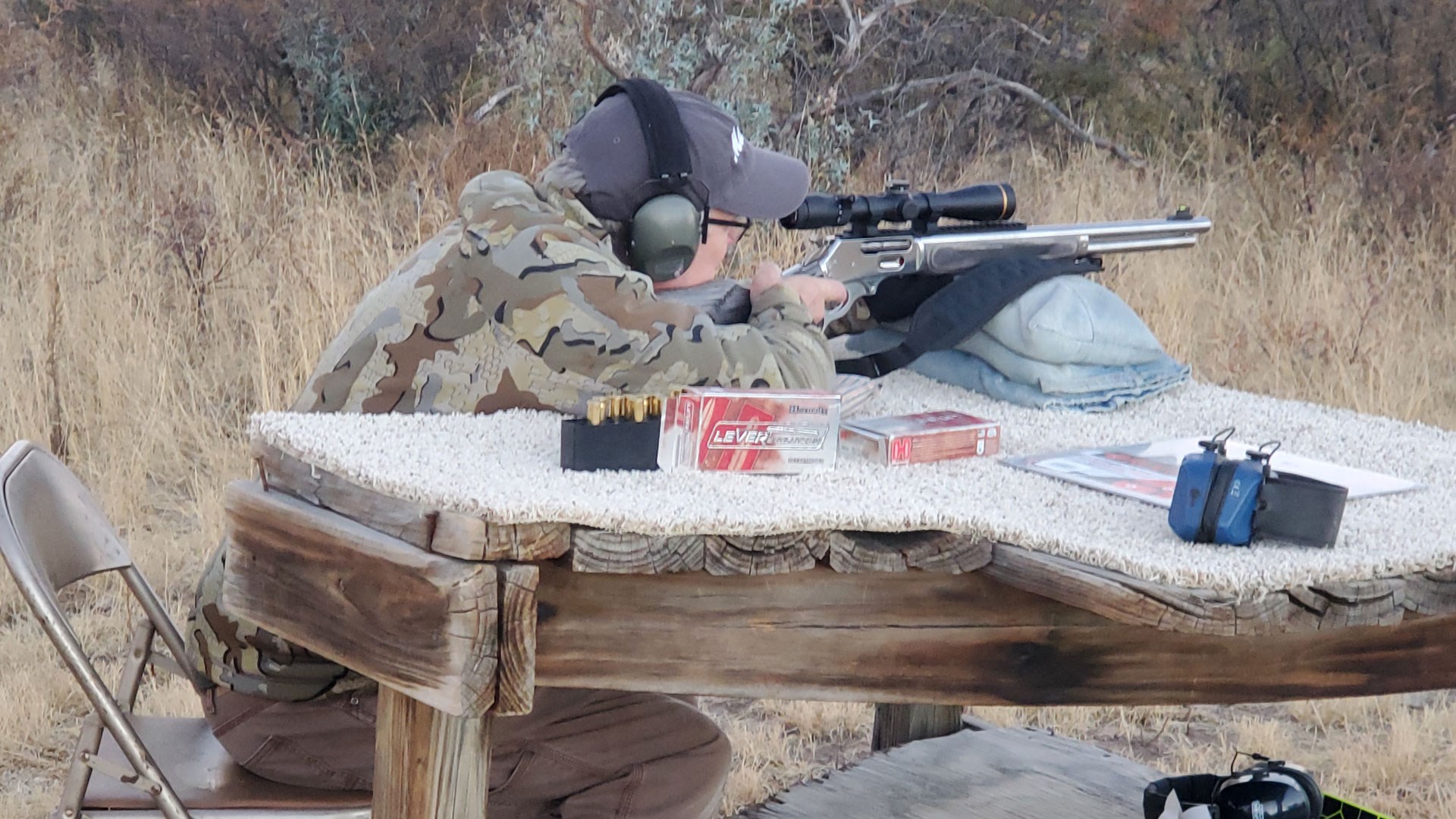 Addressing engagement with the sear, hammer notches are now cut with a wire-EDM (electrical discharge machining) machine, which permits cuts that can't be made on a CNC (computer numerical controlled) machine, such as those inside the receiver. The result is probably the most rugged Marlin rifle ever made. A heated electrical wire melts away excess materials, ideal for operations that require tight tolerances. Usually, "EDM-ing" creates a finer part. In contrast, Remington used an old broaching machine to cut notches, leading to inconsistent trigger pulls from gun to gun. The previous trigger pull of 5 to 7 pounds was replaced with a 6-to 6.5-pound trigger that breaks clean and hard. The rifle feeds easily and the big loop lever is nice for people like me whose hands tend to need gloves, even on warmer days.
In addition, the Ruger-made Marlin features are:
Tumbling of parts that interact with one another to make a smoother action and remove burrs, and they are gauged at every step to meet specs
Softening of the sharp edges on the lever, trigger, hammer and loading port
Improved machining to create a cleaner surface prior to polishing so there is less sanding and polishing of metal to remove machine marks
Heat-treating of all stainless-steel parts prior to machining
Improved thread timing on the barrel and receiver
Improved barrel torque process is more precise, providing for straight front and rear sights every time,
The chamber has fewer parts to machine. The receiver and "finger lever" slugs are heat-treated first, and the finger lever is machined to fit together better. Ruger provided the following overall specs:  
Chambered in .45-70 Gov't
Polished stainless steel with a 19-inch barrel with a threaded muzzle (11/16-inch X 24 threads)
Black-and-gray laminate stock
Six-shot tumbler magazine (total capacity is seven)
Low-profile HiVIZ optic front site with tritium ring and HiVIZ rail with fully adjustable rear sight ideal for fast target acquisition and follow-up shots
Big loop lever
Forged machined receiver for added strength and durability
Updated nickel-plated bolt with spiral flutes that add a distinct look and make for a smoother, improved action
Thicker recoil pad to minimize felt recoil
Weight: 7.35 pounds
Crossbolt safety
MSRP: $1,399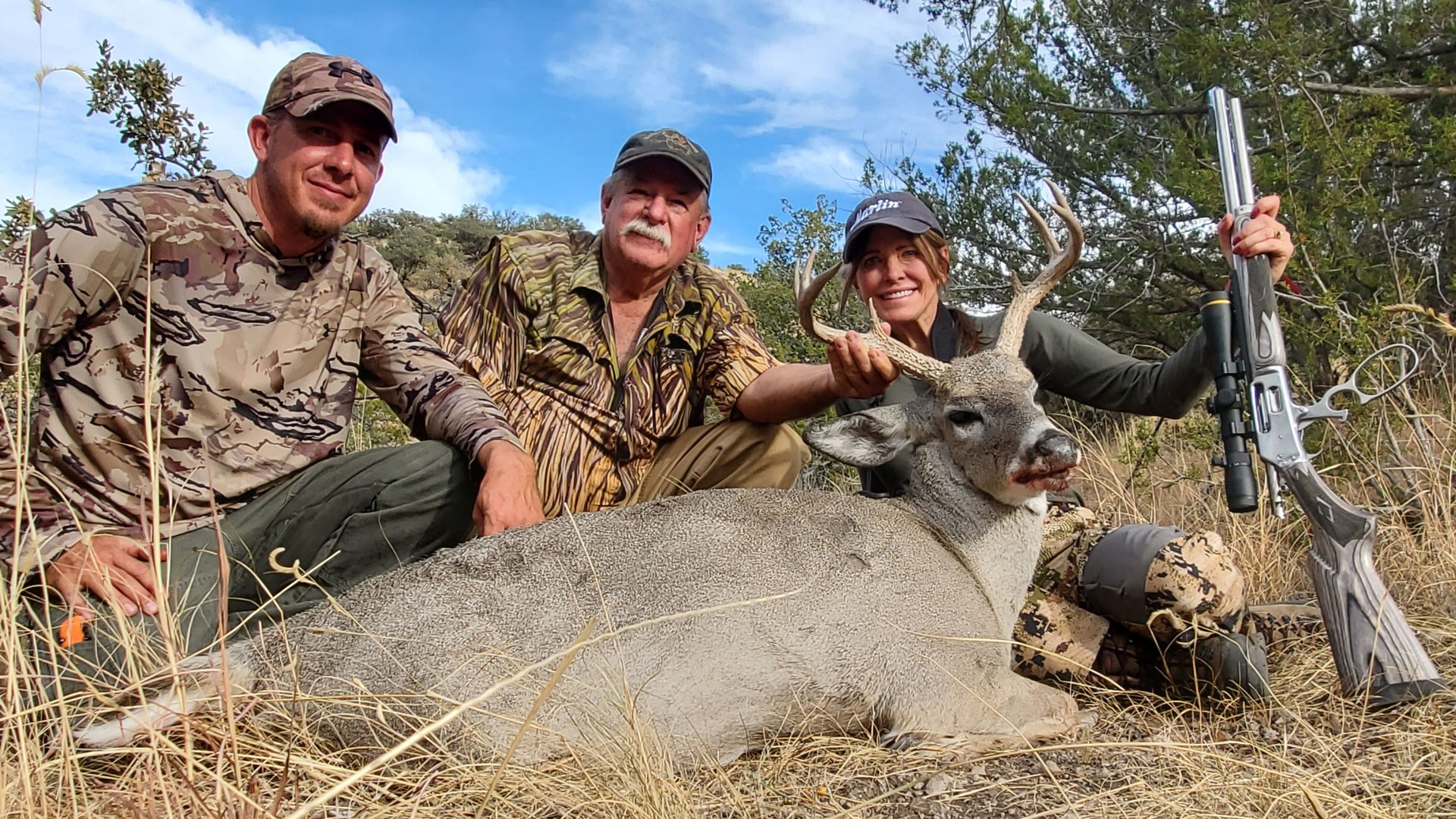 Ruger also eliminated the shim between the barrel and receiver for a better fit, and the receiver interacts better with the stock. With Remington production, some stocks cracked and/or chipped during the proofing stage. It used older stocks for proofing and swapped them out before packaging. By comparison, Ruger put 50 proof rounds through one rifle with zero cracking and chipping.
"The engineers compared every step not just to Remington's production, but they went back to the original New Haven, Conn., product and eliminated tolerance stackups," said Pluff. "Consistency comes up when you eliminate hand-fitting." Ruger also addressed complaints over a gritty trigger and went to a tumbling operation to work on the sharp edges of the lever. No more cuts and bleeding knuckles," added Pluff, underscoring Ruger's operation to improve the user's experience.
Marlin fans will note a better finish on the black-and-gray laminate stock and forend and a darkening of checkered areas with what Ruger says feature "sharper peaks" for a better grip. More subtle is a slightly slimmer forend that not only looks good but will fit better in more hunters' hands. The new geometry of the forend's inletting aims for easier assembly and disassembly. The stock stands out against the stainless steel, though maybe some won't like that in the field. Still, the rifle has serious shelf appeal, though the fact it is being unveiled as a "soft launch" with initially fewer numbers being produced means it may be tougher to come by for the short term.
For more on aesthetics, Ruger replaced the black pistol grip cap with one featuring a lasered Marlin horse and rider. It listened to feedback from customers who said the prior caps were often sanded in a way in which they appeared "lopsided."
Ever present is Marlin's trademarked bullseye on the underside of the stock, and I like how Ruger returned to Marlin's roots here. Instead of being black and white as on Marlins in more  recent years, the identifiable "birthmark" is now red and white for the first time in 100 years. (For more Marlin history and trivia, check out the book "Marlin Firearms: A History of the Guns and the Company That Made Them" by Lt. Col. William S. Brophy, USAR, Ret. It tracks the company from its founding in 1870 by John M. Marlin, who worked at Colt during the Civil War, to its publishing date in 1989.)
Championing Ruger's $30 million acquisition of Marlin, Pluff said, "Marlin is one of the original American-made products and so is Ruger—two of the few companies that never imported the guns or their parts. If the parts weren't made at the factory, they were bought from a U.S. manufacturer." After taking the 1895 SBL to the range for the first time, Pluff knew the engineers had put in the effort that Ruger President and CEO Chris Killroy expected. 
As food for thought, Marlin is known for its lever-action rifles and Ruger continues rolling out single-action revolvers so there was talk in camp of whether we'd see a combo rifle/revolver set. Shooters who dream of this can email Killoy directly, by the way. A fellow consumer of his company's products, he reads every email posted to the Ruger website's "Email the CEO" page and shares input with his production, engineering, operations and marketing teams.
Ruger is getting the fun-to-shoot .45-70 back out there at a time when the National Shooting Sports Foundation reports America has 8.4 million new gun owners since the pandemic in 2020 alone. Considering Ruger is run by avid sportsmen, helping newcomers get into hunting and shooting is all part of the plan.
When Ruger purchased Marlin assets last fall, Ruger President and CEO Chris Killoy said, "The value of Marlin and its 150-year legacy was too great of an opportunity for us to pass up. The brand aligns perfectly with ours and the Marlin product portfolio will help us widen our already diverse product offerings."

So, thank you, Ruger, for keeping Marlin's now-151-year-old legacy going. I think Killoy said it best when he said, "The important thing for consumers, retailers and distributors to know at this point in time is that the Marlin brand and its great products will live on. Long Live the Lever Gun."
Circling back to that red-and-white signature bullseye symbol (think "accuracy"), it's as fitting as ever considering the Marlin rifle is now Ruger-made. As for what else is in store, one might wonder if the legendary .30-30 Winchester soon will be in the works. Stay tuned. With Ruger there is always more to come.