by
posted on February 22, 2022
Support NRA American Hunter
DONATE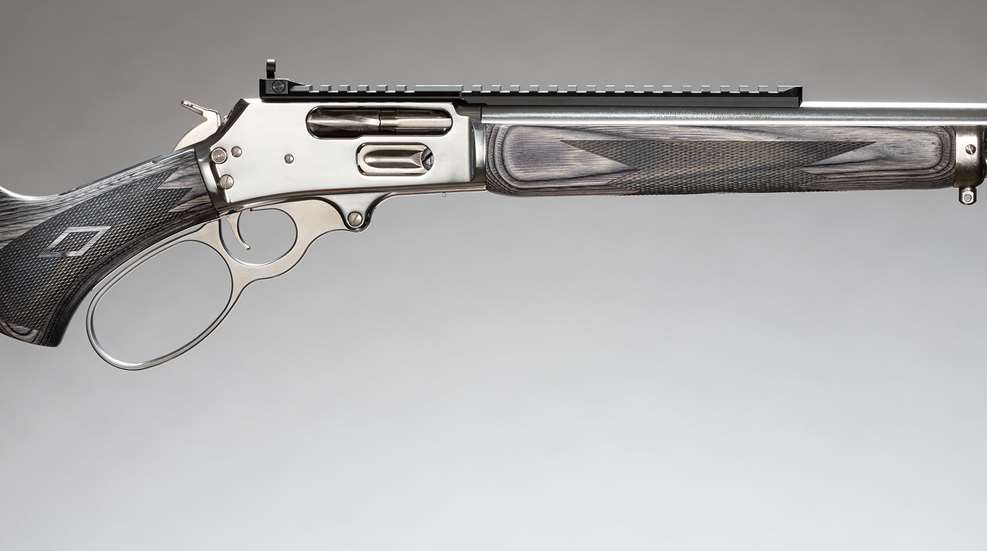 One bit of good news to close out 2021 was the return of Marlin rifles to the supply chain. No new production had occurred in over a year in the wake of the bankruptcy of Remington Outdoor Corp. (ROC), the iconic brand's owner since 2007. Riding to the rescue was another industry heavyweight, Sturm, Ruger & Co. Inc., as the high bidder for Marlin in a court-ordered auction. At the closing, Ruger CEO Chris Killoy vowed, "The important thing for consumers, retailers and distributors to know now is that the Marlin brand and its great products will live on. Long live the lever gun."

A year later, after an epic move of 150 semi-trailer loads of machines, parts and materials to Ruger's Mayodan, N.C., factory, followed by detailed engineering reviews, Killoy announced in a quarterly earnings call, "We're planning a mid-December launch. Based on the overwhelming demand … it will be fewer than the market wants. So I expect lots of calls and emails. And the first samples, frankly, have been outstanding."
For starters, the revival involves just one offering, the Model 1895 SBL, a stainless-steel, .45-70 Gov't. carbine. It was the brand's top seller under ROC and in 2020 rated No. 1 in lever-action sales on GunBroker.com. "All manufacturing has to start with a single product," summed up Mickey Wilson, VP of Mayodan operations, where Marlin joined existing lines like Ruger's SR-556 and American Rimfire rifles and GPS pistol. "We wanted to start there. Stainless requires the longest machine time because it's harder to cut. The cycle time with carbon steel would be faster, our volumes would have been higher and we'd be feeling good. But then backtracking to stainless would have slowed down the line and no one wants that. So we opted to take the 'pain' up front."
Test rifles received by NRA Publications made clear why Marlin's new bosses are so bullish. The outward appearance remains familiar: polished metalwork housed in a gray laminate stock; a trendy extended (10½-inch) Picatinny rail offset by a cowboy-era large-loop finger lever; and factory sights pairing an XS Ghost Ring rear with a HiViz fiber-optic pipe up front. No doubt it's a looker. Metal surfaces are unblemished by tooling marks, and checkering that's both decorative and useful graces the grip and fore-stock.
Closer inspection reveals a few subtle updates. The laser-etched ID on the barrel follows historic form, simply reading: MARLIN MAYODAN, NC USA. Conspicuously absent is mention of "Ruger," unless you count the little trademark bullseye inset into Marlin buttstocks since 1922, now gone from black-and-white to Ruger red-and-white. More practical is the muzzle threading, but you have look hard to notice, thanks to its superbly fitted thread protector.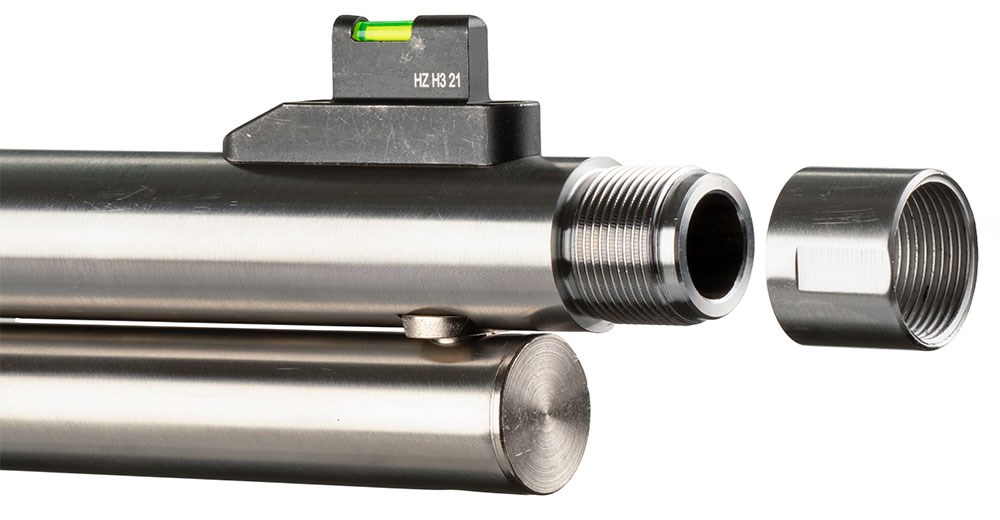 More substantial changes are unseen. Product development engineers did a deep dive and found that recent production tolerances often deviated from actual blueprints, the result of which can entail costly hacks in the factory and possibly diminished performance. To address that situation, they went back to old drawings, and then relied on the original "design intent" contained therein. Their fixes restore the components to spec, confident the quality control at Mayodan can hold .001 to .002 tolerances. At the same time, manufacturing engineers analyzed every machining and assembly operation, then developed a mix bag of existing and new processes supported by cutting-edge fixtures and QC instruments.
Resulting changes include: 1) heat-treating the receiver and finger-lever slugs before machining to eliminate warpage; 2) correcting timing issues that could cause the lever to hang up when rifles were tipped off axis; 3) dropping barrel-to-receiver torque from 300 to 80 ft.-lbs. to eliminate a barrel shim formerly used for head-spacing; 4) lowering loading-gate tension, which could pinch shooters' fingers.
Part of what makes the 1895 SBL an ideal calling card is that it appeals to both hunters and personal protectors. That crossover is epitomized by how lever-actions have hung on in Alaska, where off-gridders, trappers and bush pilots often go "loaded for bear" with fast-running, all-weather repeaters like the '95, especially when they can stack six stout .45-70s up the magazine tube. Regardless of the game, or the threat, this slick-handling powerhouse is a closer. Deer hunters wondering about a .30-30 will have to wait, but rest assured, Killoy has included the standby Model 336 on the to-do list. Folks in straight-wall cartridge states or who prefer greater ammo capacity for home defense can take heart that production lines are now going in for the small-framed Model 1894. Carrying 10 rounds of calibers like .357 Mag., .44 Mag. and .45 Colt, it'll be a softer shooter than the '95.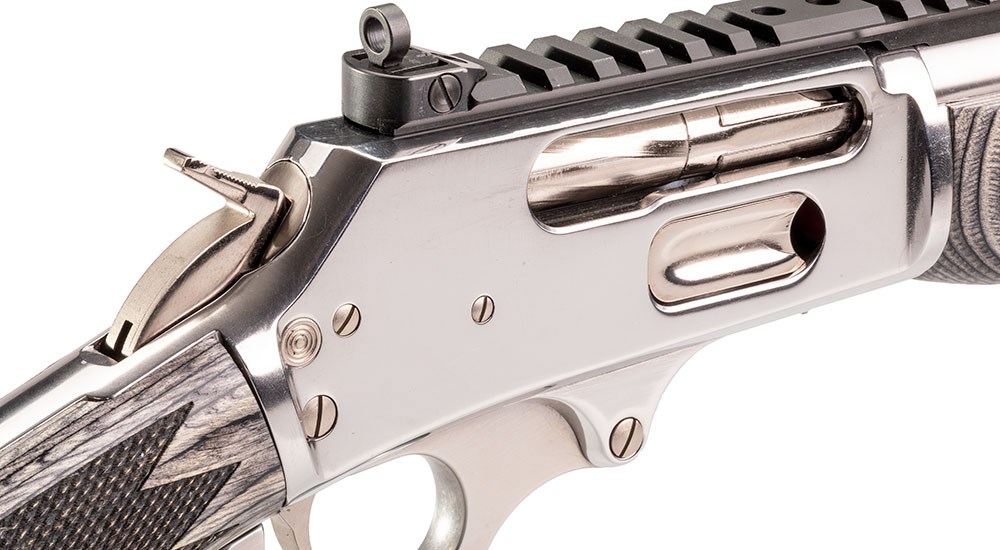 That said, those of us from NRA who field-tested the new 1895 didn't find it unbearable. Quite the opposite. Its pistol-grip stock with a semi-raised cheekpiece helped me stay locked on to absorb the push, which proved marginal. The short, 37-inch overall length nicely centers the weight between the shooter's hands, which makes shouldering and locking onto the sights fast and intuitive. All parties, regardless of their lever-gun experience, were soon racking the lever like the good guys in old cowboy flicks.
While rifles in .45-70 have taken big game at great distances, the big slug's rainbow trajectory can complicate things for hunters used to flat-shooting rounds. Nonetheless, we used it to hunt expansive West Texas brush country, worked to keep shots to 200 yards or less, and had a ball taking wary exotics like oryx and aoudad. For close-quarters deer stands and bear baits, nothing will anchor your quarry any better.     
"We're going to maintain the Marlin brand. We're very proud of it and its history," Chris Killoy commented during a recent earnings call. "There will be what we feel are some great enhancements that I think will be very exciting. We're going to have some fun with this."

Technical Specifications
• Type: lever-action centerfire rifle
• Caliber: .45-70 Gov't.
• Magazine: tubular; 6-rnd. capacity
• Barrel: 19"; 410 stainless steel; cold hammer-forged; 1:20" RH twist; 11/16"x24 threaded muzzle w/thread cap
• Trigger: single-stage; 6 lbs., 5 ozs. pull weight
• Sights: adjustable ghost-ring rear aperture; fiber-optic front post w/tritium ring
• Safety: hammer-block
• Stock: straight comb; gray laminate; 13.38" LOP
• Metal Finish: stainless steel
• Overall Length: 37.25"
• Weight: 7.3 lbs.
• Accessories: full length Picatinny rail for optics
• MSRP: $1,399; marlinfirearms.com