by
posted on January 11, 2011
Support NRA American Hunter
DONATE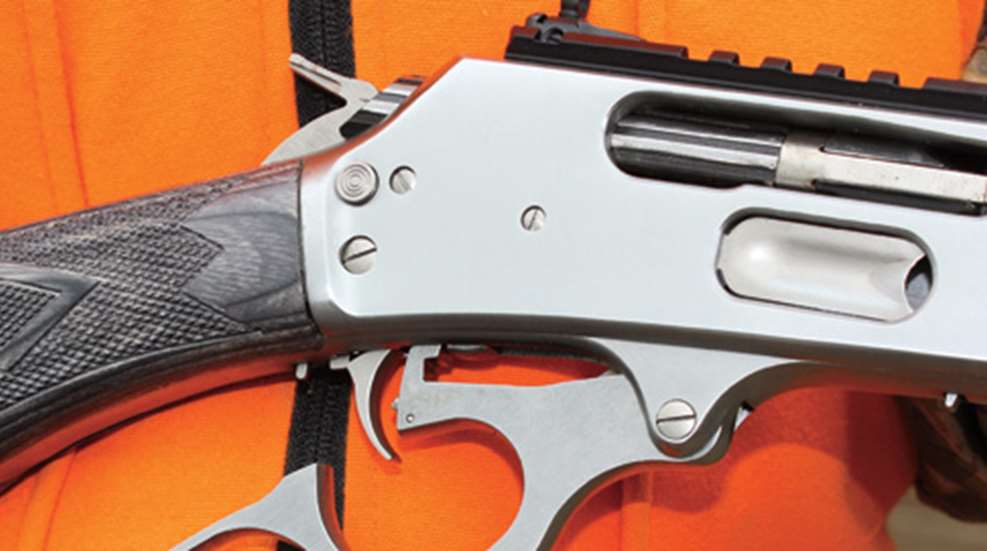 In days past, lever-actions were the traditional deer rifles ... then came the precision and popularity of bolt-actions. These days "black rifles" are in. Times have certainly changed, but I still have a fondness for lever guns, probably because I took my first whitetail, 50 some years ago, with a Marlin 336 in .30-30. That "thutty thutty," as they were called in the Ozarks, collected a lot of venison.
Since that old Marlin still collects venison, I was quite interested in testing a "modern" Marlin lever gun. I say modern because the 1895 has been around a long time. It all began when Marlin introduced the first .45-70 Gov't. lever-action, the Model 1881, which ejected from the top. At the time it was the most powerful blackpowder cartridge. Then came the Marlin 1895, a solid-top, side-ejecting model. Produced from 1895 to 1917, in .45-70 Gov't., it became a legendary gun until after World War I. At that time Marlin produced the next "legend," in the .30-30 Win. In 1972, Marlin reintroduced the big-bore .45-70.
Lever-actions are known for being short and quick-handling, and—often without scopes—good brush guns. The new 1895SBL is just that, plus a big-bore carbine, suitable for big game such as moose and bear. The 37-inch rifle comes with ghost ring sights, making it a great choice for quick work in the thick stuff. The ghost ring sights feature a high-visibility front post with a large rear ring aperture. Sight acquisition is quick and accurate.
In late summer, the time of this test, our backyard orchard was full of deer. It was fun to step out onto the deck and see how quickly I picked them up and tracked them with the sights as they flagged away. The sights were also easy to use on the range.
At 50 yards, I snap-shot offhand with fairly consistent results, averaging three quick shots in a 6-inch ring; by taking my time I managed to put them inside a 3-inch ring. The 1895SBL comes standard with an XS Sight Systems Lever Scout Mount. The mount extends across much of the top of the receiver and onto the barrel. With attachment notches, it provides a rock-solid, precise and versatile mounting platform for any number of optics, including long eye-relief scopes and red dot, holographic or traditional scopes. For this test I added a Leupold FX-II 2.5x28mm Scout scope. This long eye-relief optic made it very easy to quickly pick up targets yet provided better accuracy at longer distances than iron sights. Fitted with Leupold Quick Release mounts, the rifle became an extremely versatile gun: scope off and with ghost ring sights when short-range, fast shots are anticipated; scope on for longer ranges when you have time to lock it down.
I shot and tested the rifle at 100 yards with the scope and three different brands of ammunition: Remington Express Rifle 450-grain SP R4570G, Winchester 300-grain jacketed hollow-point and Hornady LEVERevolution 325-grain FTX. I wanted to test the Hornady LEVERevolution cartridges because they are designed with a pointed, soft tip, as opposed to the traditional rounded tip. The Flex Tip cartridge is designed for lever guns to produce better downrange performance at longer ranges. My best group was .410 inch with the Remington load, but overall the Hornady load averaged better. All three loads, however, shot well. The early slow-burning, blackpowder .45-70 Gov't. ammo had little recoil, but the modern version of the big cartridge does have a bit more push. Removing and replacing the scope with the quick-release mounts between shots did not alter accuracy because of the rifle mount design.
The rifle functioned consistently with no loading or feeding problems. My old lever-action had such a stiff loading gate I usually had a torn thumb by the end of hunting season. I loaded the big .45-70 bullets into the heavy-duty, six-shot tubular magazine about a hundred times. The loading gate worked smoothly and loaded easily every time. Unloading was also quick and easy.
Right out of the box, the gun is a beauty. I love stainless steel- and gray-finished guns, but the real beauty of the 1895SBL is more than skin deep. This gun is made to take the wet elements of Alaska and the North Country. All the major components, including the receiver, barrel, magazine tube, loading gate and lever, are stainless steel. The sling swivel studs are nickel-plated. The stock and forearm are of impervious black-and-gray laminated wood. The checkering improves grip in wet weather. The stock is well-fitted to the metal and features a matte-finished, black grip plate. Thankfully, there is a good, heavy-duty recoil pad.
The lever's enlarged loop allows quicker access and easier handling with gloves. The idea is great, but this is one area I would change—I'd make the loop just a bit bigger. My hands are small, but with heavy gloves even I could use a larger one—perhaps not as large as Chuck Connors used on the TV show "The Rifleman," but just a bit bigger, maybe a half-inch longer.
The new model also features a cross-bolt, hammer-block safety, a feature many don't like. I don't mind it, but I do, however, understand the contempt for it. You can cock the hammer and pull the trigger all you like, but it won't hit the firing pin if the safety is engaged. Several years ago I tested an in-line muzzleloader fitted with this "double safety" system and missed a chance at a wall-hanger buck because I forgot one of the safeties. Then last year, testing a crossbow with double safeties, I pushed off a safety and yanked on the trigger for what seemed like an eternity while a dandy buck stared me in the eye. I finally remembered the second safety just before he bolted. If I were using the gun for dangerous game, I would sure do some practicing.
All in all, the 1895SBL, in .45-70 Gov't., is a serious big-bore lever-action gun that can take it as well as dish it out. It's destined to become another Marlin 1895 legend. 
Specs:
203-239-5621, www.marlinfirearms.com
Type: lever-action centerfire rifle
Caliber: .45-70 Gov't.
Barrel: length, 18.5"; rifling, Ballard-type, six grooves, 1:20" twist
Trigger: single-stage; pull weight, 3.5 lbs.
Magazine: tubular; 6-rd. capacity
Sights: XS ghost ring with high-vis front post
Safety: manual cross-bolt hammer block, receiver-mounted
Stock: two-piece pistol grip, deluxe recoil pad; material, laminated black/gray hardwood
Overall length: 37"
Weight: 8 lbs.
Metal Finish: stainless steel
Accessories: XS Lever Scope Mount
MSRP: $1,013.94