by
posted on January 26, 2022
Support NRA American Hunter
DONATE
What It Is: The new X-Bolt Speed bears a new versatile camo pattern and is built for those who want to use a suppressor.
Why We Love It: The new Ovix camo pattern is suitable for a variety of environments and the X-Bolt's shortened, threaded barrel allows you to mount a suppressor on this rifle while maintaining a reasonable overall length. 

Browning has a long history of producing some of the finest firearms in the world, but it doesn't rest on its past successes as younger, more forward-thinking companies eclipse them. Case in point: the X-Bolt Speed Ovix SR rifle. Browning could still be building their original A-Bolt or Safari rifles, and people would still buy them, but Browning realized that bolt-action rifles were headed in a new direction, and to keep pace with the competition, they released the X-Bolt in 2007. Since its inception, these rifles have earned their place among the most accurate off-the-shelf production rifles you can buy.
Fifteen years isn't a long time in the firearms business, but a lot can change in a decade-and-a-half. Today's hunters want a signature camo that defines their brand, and Browning has developed that with their new Ovix. Grays, greens, browns and tans break up the outline of both the hunter and the firearm when swathed in this pattern. It blends into a broad range of environments, everything from the deep woods of Maine to the dry brush country of Utah.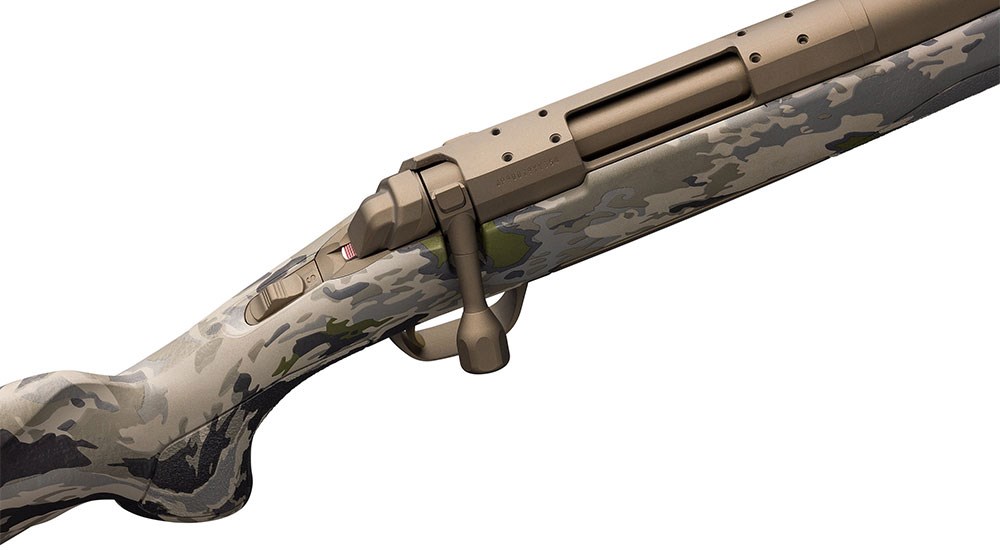 I bought my first suppressor through Silencer Central a couple years ago, and the process was so simple that I've since ordered two more. I had no idea how much buying one would change my perspective on shooting. I suddenly wanted rifles—and only rifles—with short barrels. Suppressors do a great job of cutting noise and recoil and improving accuracy, but attaching a suppressor to a rifle with a 24- or 26-inch barrel makes the gun unwieldy. I tried carrying a long-barreled rifle shortly after my suppressor conversion, but after a week of threading that rifle/can combo (which felt like a pole vault pole) in and out of pickup trucks and carrying it through dense brush, I decided 22 inches was my maximum barrel length for any rifle that was to wear one.  
The X-Bolt Speed Ovix SR is equipped with Browning's hand-chambered, free-floated barrels, which are button-rifled and built in Japan by Miroku. X-Bolt rifles have a stellar reputation for accuracy, but Suppressor Read (SR) barrels are cut to a length of 18 to 22 inches (depending upon caliber). The muzzle end of the barrel is slightly belled to threaded ⅝ x24, which means it will accept most muzzle devices without an adapter, including my Banish 30 suppressor. I can now get an off-the-shelf suppressor-ready X-Bolt with a barrel length that's short enough to be practical in the field.

Many hunters and shooters worry that a can and a short barrel will reduce velocity and screw-up accuracy, but I've seen velocities increase with a suppressor in place, sometimes by as much as 100 fps. That means a shortened barrel isn't costing me very much (if anything) in performance compared to a longer pipe. Chambering options for the new Browning rifle include .204 Ruger, .223 Remington, .22-250 Remington, 6.5 Creedmoor, .308 Winchester, 6.5 PRC, 7mm Remington Magnum, 28 Nosler, .300 Winchester Magnum, .300 PRC and, of course, Browning/Winchester's superb new 6.8 Western cartridge, which is wooing more and more hunters away from the big-belted magnums.
This rifle is an X-Bolt at heart, and therefore comes with a three-lug bolt with shortened bolt through, a tang-mounted safety with bolt release, crisp Feather trigger, an outstanding rotary magazine and an action that's bedded fore and aft. Finally, it's everything we want in a single Browning hunting rifle, and with an MSRP of $1,379.99-$1,459.99, the price is good for a rifle of this quality.
For more information, visit browning.com.