by
posted on February 7, 2019
Support NRA American Hunter
DONATE
In a market overflowing with budget bolt-action rifles, the Winchester XPR is something of a standout. These rifles are priced competitively, but the XPR is loaded with user-friendly features like an Inflex recoil pad, a crisp MOA trigger and two-position safety with bolt unlock button. Plus, the XPR is extremely accurate, capable of producing sub-MOA groups with proper ammo.
For 2019, Winchester is adding a Kryptek Highlander version of the XPR to their line which comes equipped with a Kryptek Highlander synthetic stock and a flat dark earth Permacote finish. It not only looks great, but is engineered to stand up to even the worst weather conditions. The new XPR Kryptek Highlander rifles are chambered in 13 different cartridges ranging from .243 Winchester up to .338 Win. Mag.
In addition to its new look, the newest XPR is also available chambered in the company's new 350 Legend, the fastest straight-wall cartridge available in the market. There's little doubt that the 350 Legend was designed specifically for hunters who pursue deer in states where regulation requires the use of straight-wall cartridges that meet bullet diameter and length requirements (the cartridge's stats are listed on the box so there's no confusion).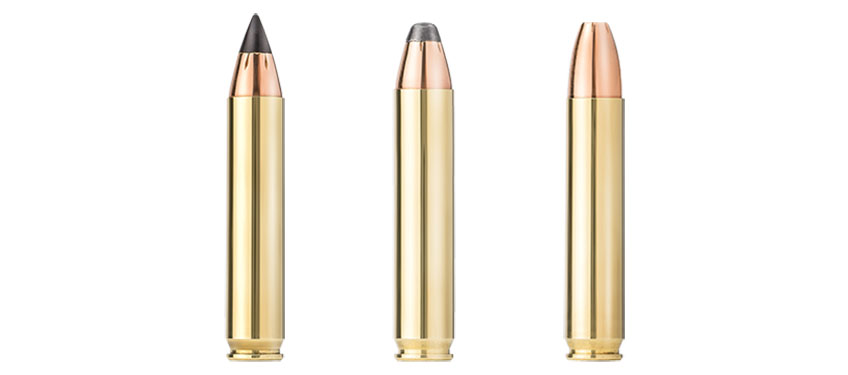 The 350 Legend is a proprietary case design, though dimensionally it's similar to a .223 Remington, and the round utilizes .357-inch diameter bullets. Overall case length is 1.71 inches, which makes the cartridge legal in states with 1.8-inch maximum case length restrictions. With Winchester's Deer Season XP 150-grain load, the 350 Legend has a muzzle velocity of 2325 fps and a muzzle energy of 1,800 ft.-lbs. When zeroed at 100 yards, the cartridge drops about 2 inches at 150 yards, and it strikes 7.6 inches low at 200 yards. The .350 Legend retains over 100 ft.-lbs. more energy at 200 yards than both the .30-30 Winchester and the .300 Blackout, and generates 20 percent less recoil than a .243 Winchester.
XPR rifles chambered in 350 Legend will appeal to hunters in states with straight wall restrictions for several reasons. First of all, this cartridge is effective to 150 and even 200 yards with far less recoil and muzzle blast of a .450 Bushmaster, .45-70 Government or a 12-gauge slug gun. Winchester's XPR rifles are extremely accurate and well-built, and they're also affordably-priced: the new XPR Kryptek Highlander has an MSRP of just $599.99.
The XPR in 350 Legend is suited to more than just deer hunting, though: it makes a superb, low-recoil rig for hunting black bears over bait, and the cartridge's modest muzzle velocity and selection of durable bullets means that it will anchor predators like coyotes and foxes at close to moderate ranges without excessive pelt damage, noise or kick. It's also one of the best hog hunting cartridges to come along in some time, offering a great combination of downrange energy and mild report and recoil. Additionally, the cartridge's design lends itself to being chambered in AR-style rifles, and those will surely follow.
The 350 Legend is a budget-friendly round: expect to pay around 50 cents a round for target ammo and slightly more for hunting loads, which is still below what you'll pay to shoot most centerfire cartridges. Since I'm based in Ohio, a straight wall-only state for deer, this cartridge makes perfect sense for me. Shots where I hunt rarely exceed 100 yards, which is ideal for the 350 Legend, and the cartridge is so mild that my children will be able to comfortably shoot this rifle years before they'd be ready for a .450 or a slug gun.
For more information, visit winchesterguns.com.