by
posted on June 10, 2020
Support NRA American Hunter
DONATE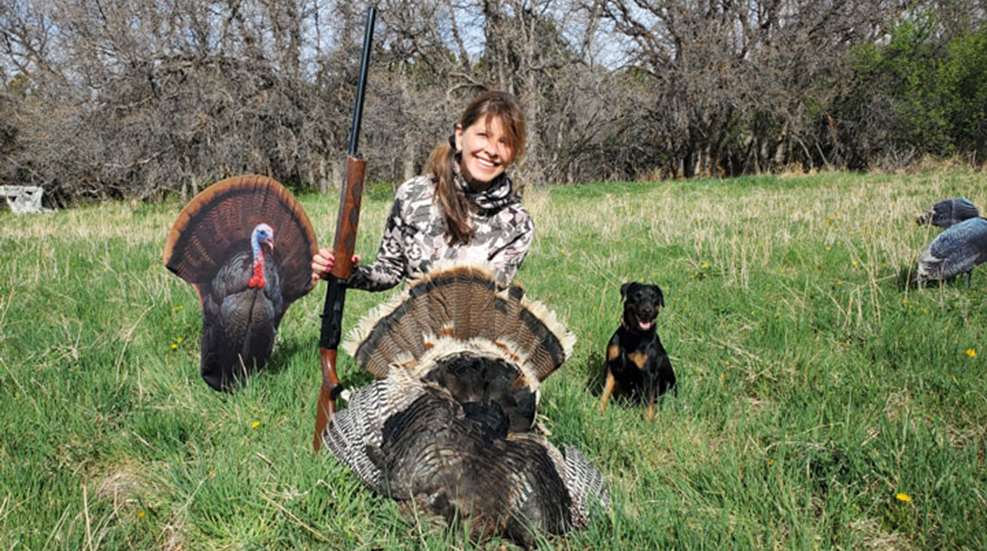 Thank you, NRA, for pushing governors and mayors to keep spring hunting seasons open as we work to get through the coronavirus pandemic. After all, what is more in step with social distancing protocols than hunting? And while there is no better medicine for the spirit than connecting with nature, chasing spring turkeys while field testing the new Azyre Gear women's clothing line means there's no need to suffer for fashion.
I was at the Western Hunting and Conservation Expo in Salt Lake City in February when I walked past the Azyre Gear booth, wondering why I had not yet heard of it, considering I pride myself on staying on top of women's new product news. There I met owner and avid sheep hunter Cari Goss, who said she'd launched it just in time for the show. On first glance, Azyre's camouflage pattern was attractive and unique, and looked like it would work well in multiple settings, whether hunting in the dry desert, snow, fields or in the woods.


After feeling the fabric and observing the clothing's finer details, I ended up in the dressing room wearing the soft, moisture-wicking Vision base layers topped with Achieve Grid Fleece layers, insulated layers and, for when the weather takes its coldest turn, the waterproof, fully seam-sealed Conquer outer layers. The clothing felt great.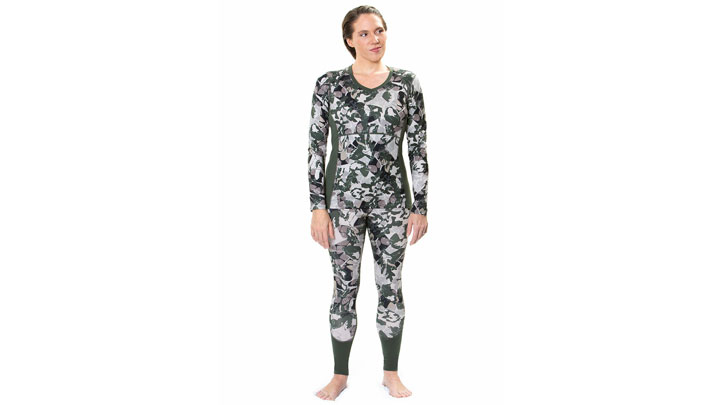 For starters, the sporty Vision base layer V-neck top and leggings are as comfortable as pajamas. The soft fabric is designed to keep hunters warm as well as cool in the heat due to a moisture-wicking finish that dries fast for evaporative cooling. Goss promises that Vision's "Polygeine" treatment will keep hunters smelling fresh even after days on the mountain.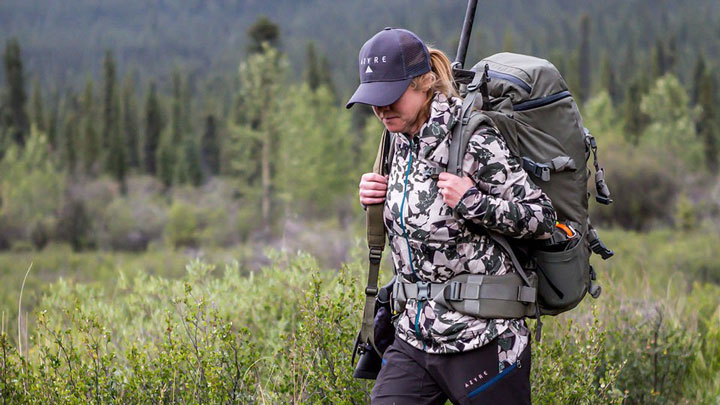 As for layer No. 2, the Achieve jacket and pants, the soft, textured fleece inside traps air to keep you warm. The jacket has three zippered pockets and lycra binding on the hood and thumbholes to keep in heat. But I was even more excited about the pants. On this rare occasion, my being 5'11" was not an issue in finding pants that were long enough because hunters can custom-order their inseam. I noted that the same Vision baselayer fabric was used on the waistband for a more comfortable fit that also would aid movement. The pants had an adjustable belt, generously-sized pockets and a snap closure at the hemline that cinches at the top of your boot. While the four-way stretch fabric and the water-repellent finish repels moisture, it also would repel stains, a welcome feature as hunting conditions test our clothing in countless ways.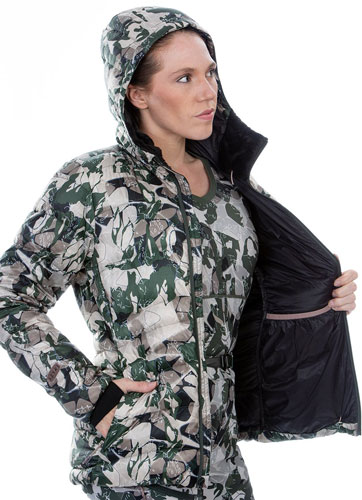 Next, three insulated layer options comprise the Believe line. They include a hoody featuring Primaloft insulation and stretch side panels, a packable down jacket and a concealed carry vest.
Finally, the Conquer waterproof jacket and pants are seam-sealed with YKK water-resistant zippers. The jacket has an adjustable hood and elastic cuffs to seal out the weather, offering zippered chest, sleeve and hand pockets, and it is long enough to cover your butt for extra protection. The pants have two large pockets, an integrated belt and side-leg zippers to put on and remove easily. They fit over your hiking pants but aren't baggy, so they don't hinder mobility. Like the jacket, pants have a membrane Goss says is "hydrophobic based" to repel moisture and features a microporous technology to let out moisture. And subtle stretch capability adds comfort while Primaloft Silver Eco insulation adds warmth without bulk.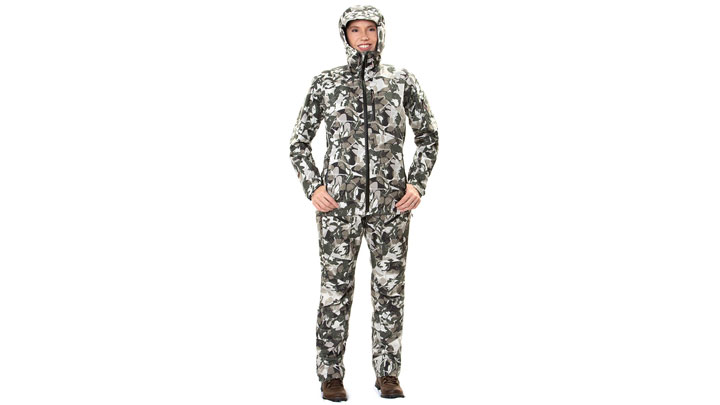 I got the Vision and Achieve layers on the spot, which would be just in time to field test them during spring turkey season. My husband, Phil, and I hunt Merriam's turkeys every year on our Colorado property. I donned Azyre Gear's Vision baselayers and Achieve layers and grabbed my bow and calls. Our impatient one-year-old jagdterrier, Bella, stayed behind since her part wouldn't come until we bagged a bird and put her nose to the test.
We scrambled through the brush on a few setups. The birds aren't pressured much on our land, but by then the only gobbler answering us and giving away his location was past our irrigation-canal boundary on a neighboring property. I took a moment to consider the moisture-wicking clothing I was wearing. First, I should have been sweating and second, the Achieve layers should have gotten snagged a few times over but they looked as good as new. As I breathed the fresh air and looked across alfalfa fields at pinyon juniper canyons and snow-capped mountains, I was rejuvenated despite defeat. Back at the house, any disappointment vanished as I pulled some moose burger from the freezer. While we wouldn't be having turkey for dinner, moose meat is no consolation prize. While I think it even tops elk, I did have lingering thoughts of trying out one of outdoor writer and author Jim Zumbo's recipes for turkey nuggets or soup. 
While I often pack a bow, I have fun saying "I'm the NRA," so the next morning I grabbed a Winchester 12-gauge. We set up along the edge of the alfalfa field, close to the canal where gobblers sometimes strut early, as well as mid-morning once hens are back on their nests. In addition to calls, we pulled extra tricks from our bag—a few Montana Decoy turkey decoys. The staged scene was the stuff textbooks are made of, but we'd have to see what the toms thought.

I was up first. With decoys placed, Phil worked his magic on the calls. Nothing. Then a hen came busting toward us along the canal. She saw the strutting gobbler decoy and slammed on the brakes. Likely not wanting to be pestered by a tom, she turned and split. There went our skittish live decoy. 
If you're new to turkey hunting, you'll soon learn that turkeys, like people, communicate constantly and have a slew of different calls. Communication ranges from calls to locate or challenge each other to just issuing contentment calls while feeding. If you're an experienced turkey hunter, then you also know those same calls can have different meanings. A hen may use a few basic "yelps" to get a gobbler's attention in mating season, or she may make a series of longer yelps to gather her poults or other hens. Birds of a feather … and all that.
Phil called some more. He was sitting maybe 15 feet behind me, motionless and watching. Still not a peep of a response. Phil went silent too. Moving only my eyes, I caught movement 90 degrees to the right. But it wasn't a bird. It was two birds, marching to the decoys along the field's edge. The lead bird was dominant, red wattles seeming brighter than any I'd ever seen against a lush green alfalfa backdrop. Neither bird looked my way. Staying motionless, shotgun positioned on my knee with my finger set to nudge off the safety, I knew this was my lucky day.
The "bang" sent the first bird to the ground and the other trotting away so fast it never looked back. Phil and I stood and hugged each other, then walked up to the beautifully iridescent bird. Merriam's turkeys, in particular, stand out to me when considering the four U.S. subspecies, as their tail feathers are tipped in a lighter, buff color. It was time to get Bella.
Watching Bella hunt was almost as fun as being the hunter. She got excited as we hit the field, following the exact trail of the birds close to the field's edge. The wind was wrong for her to smell the bird where we set it, so she went past it to where it was shot, sniffed for a few seconds and doubled back to where it laid. I recalled an old American Hunter article that explained while a human nose contains five million olfactory receptors, a dog's nose contains as many as 300 million. No wonder hunting hounds, or any dogs, can follow a trail, relying on their sense of smell the way we humans rely on our eyesight.
Posing for a pic with Bella and the bird was tricky amid Bella's attempts to eat it. As I dressed the evening meal, I also set aside some meat for friends to try. Being self-sufficient and taking your own wild game from field to table is a tough feeling to beat. Sharing the meat with others is a better feeling yet, particularly amid news reports of meat shortages due to COVID-19.
Maybe avid hunter and bowhunting pioneer Fred Bear said it best: "Go afield with a good attitude, with respect for the wildlife you hunt and for the forest and fields in which you walk. Immerse yourself in the outdoor experience. It will cleanse your soul and make you a better person." When it comes to why we hunt, who could say it any better?
Check Out Azyre Gear 
Since wearing the Azyre Gear clothing in the turkey woods, I've tested it on hikes up and down the canyons on my property. Appreciating the four-way stretch and attention to details and comfort, I know I'll have no trouble wearing it to scale the steepest mountain to chase bugling elk this fall.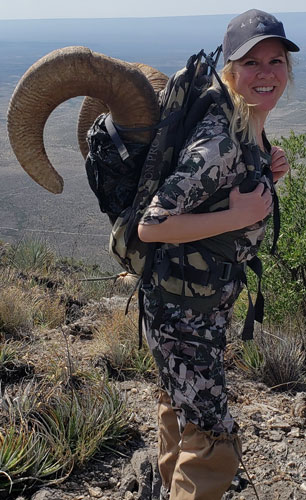 "We believe in empowering the outdoorswoman to pursue her passions with confidence," says Cari Goss, owner of Azyre Gear. "Our products are designed to fit, function, and feel the way a woman needs and wants. That's why we created the most technically driven outdoor apparel designed for women, by women."
It was in 2016 that Goss recognized she was not alone in her quest to find the right women's performance gear. "There are many other women who find inspiration, bond with friends and family, and enjoy life in the outdoors," she said. "It was my goal to recognize and empower these women to pursue their passions with confidence... and the idea to create Azyre was born. Visit azyregear.com for more details.