by
posted on April 13, 2017
Support NRA American Hunter
DONATE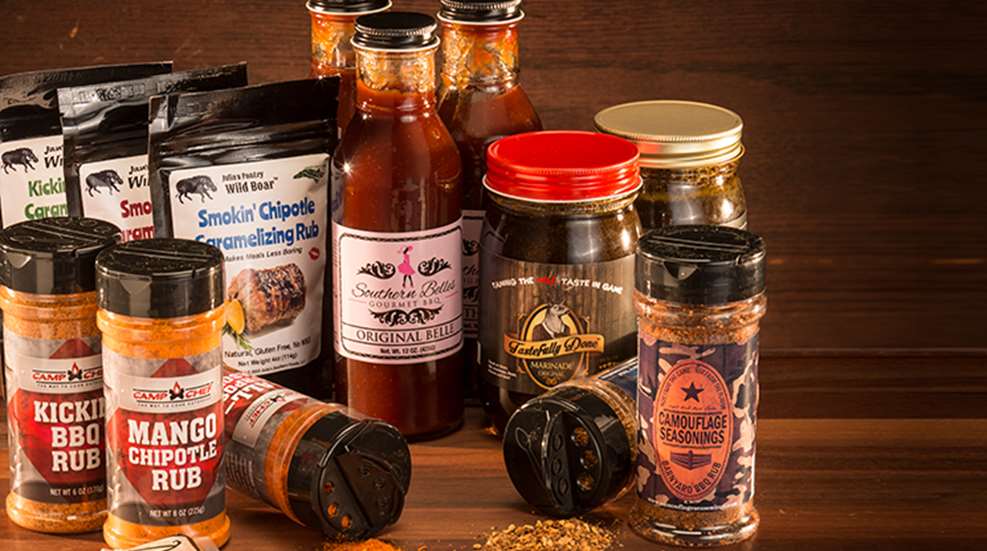 Now that the freezer is full, it's time to put your hard-earned meat where it belongs—on a plate.
Julia's Pantry Wild Boar Rubs
Like the name implies, these rubs are amazing on feral hog, but don't leave out your red-meat roasts. Rub a loin in one of six flavors, like Smokin' BBQ or the super spicy Glowin' Ghost, and roast at 365 degrees for about an hour. It'll be caramelized perfection. MSRP: $8.95.
Southern Belles Gourmet BBQ
Whether you're pulling wild pork or slow-cooker pheasant, this BBQ sauce will be a welcome replacement to the mass-produced stuff you find in most stores. Spice up a cold turkey sandwich with the Hot N Sassy Peach, just one of seven Southern-inspired flavors. MSRP: $8-$12.
Tastefully Done Marinade
Everyone has a friend who can't handle the "gamey" flavor (whatever that means) of wild game. Well, there are no more excuses. You could eat boot leather marinated in this stuff, but a nice elk steak, soaked overnight and cooked fast on a hot cast-iron skillet, is better. Available in Original and Spicy. MSRP: $10.97.
Camouflage Seasonings
Hardwood Spice Blend is one of the best seasonings we've ever tried on a bear roast. Seems to reason that deer, elk, moose and just about anything else would be great, too. There are also two blends specifically made for birds: the Delta Flyway Blend for waterfowl and the Longbeard Blend for turkey. MSRP: $6-$10.
Hi Mountain Seasonings
These little marinade packets pack some big flavor. Mix them up with oil and vinegar, and have at it. Use the Sweet Honey on turkey breast: cut it into strips, marinate for an hour or two, dredge in flour, and pan-fry for turkey tenders your kids will devour. MSRP: $3.25.
Dawson's Wild Spice
Looking to get away from the same old chili? One taste of the Jalapeno Wild Chili Mix combined with ground venison and you won't care to buy the off-the-shelf stuff anymore. If you're feeling bold, go for the Hot Habanero mix—it'll knock your Merino wool socks off. MSRP: $3.59.
Camp Chef Seasonings
You'll love this selection on everything from backstraps to rib racks, and veggies, too. The Mango Chipotle Rub is super sweet; try using it on goose breasts. Smoke 'em on low for 20 minutes in a Camp Chef smoker and finish 'em to medium-rare on a hot grill. MSRP: $8.99.