Support NRA American Hunter
DONATE
Be prepared when you enter the turkey woods this spring with this year's must-have gear.
Mossberg International SA-28 Tactical Turkey Shotgun
Now that modern loads can turn sub-gauge shotguns into true turkey killers, it's time to get a modern sub-gauge shotgun. The International SA-28 Tactical Turkey is a small-framed semi-auto gas gun with a 2¾-inch chamber designed specifically with that in mind. At only 39 inches long, this 6-pound featherweight sports a straight stock and a contoured pistol grip, providing a short but maneuverable 12.75-inch LOP. Highly visible fiber-optic ghost-ring sights come standard on the 22-inch, vent-rib barrel, as does the top-mounted Picatinny rail should you choose to add an optic. Decked out in Mossy Oak Greenleaf camo, this bad boy ships ready-to-hunt with an extended turkey choke. Also available in 20-gauge. MSRP: $902; mossberg.com.
Primos Turkey Calls
When turkey season comes calling, Primos has what you need to call back with confidence. Three new calls for spring include The Owl Call, The Crow Call and a new aluminum Rare Breed pot call. The Owl and Crow locator calls are both made of hardwood and are designed with built-in back pressure to allow for a wide range of sounds sure to elicit a gobble from any toms in earshot. The Rare Breed pot call is now available with a water-resistant, no-conditioning-required aluminum striking surface that'll produce wind-cutting high-pitch notes right out of the box, ringin' the ears of lonely toms near and far. MSRP: $54.99 Owl, $45.99 Crow, $49.99 Rare Breed; primos.com.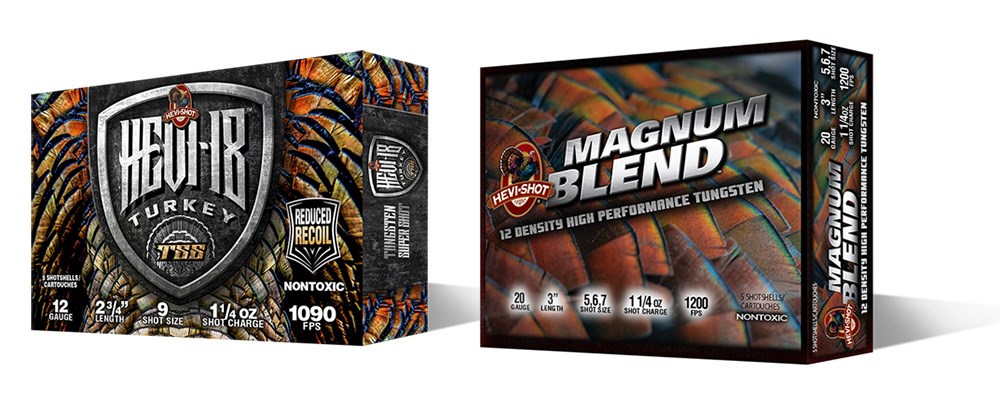 Hevi-Shot Turkey Loads
Hevi-Shot has jumped on the proverbial TSS bandwagon this year with something a bit different in its new Hevi-18 TSS Turkey shells. Not only have they loaded premium 18 g/cc density No. 7 and No. 9 TSS into their 3½- and 3-inch 12-, 20-, .410 and 28-gauge loads, but they've also launched a reduced-recoil 2¾-inch load of Hevi-18 for your 12- and 20-gauge guns. Now available in a 3-inch 28-gauge load, Hevi-Shot's Magnum Blend is a bit more economical but just as deadly with a blend of 12 g/cc density No. 5, No. 6 and No. 7 tungsten shot packed into each hull. MSRP: $45.99-$103.99 Hevi-18, $38.99-$60.99 Magnum Blend; hevishot.com.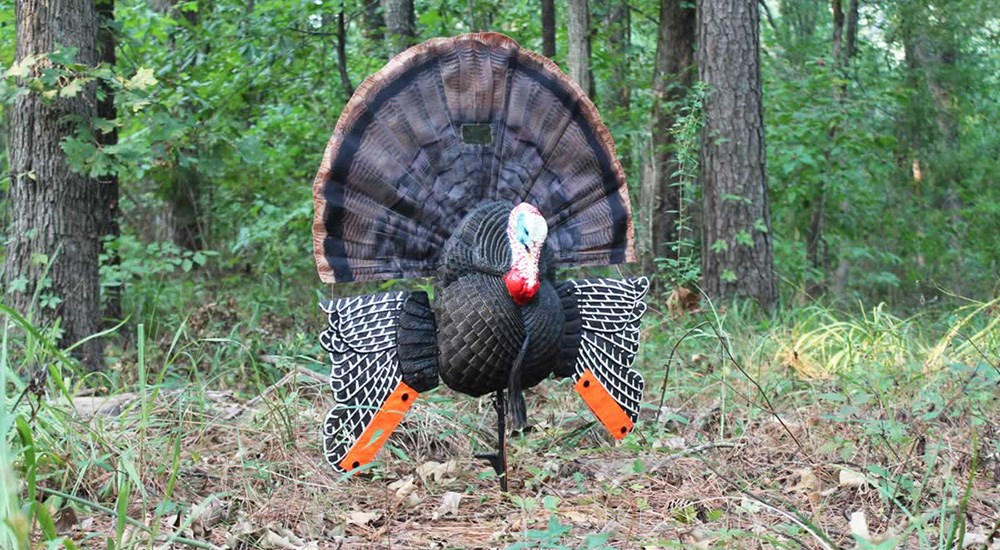 Mojo Scoot-N-Shoot Max Turkey Decoy
If you were a fan of the original Mojo Shoot-N-Scoot "reaping" decoy, then the upgraded Shoot-N-Scoot Max should tickle your tail feathers. Built to take advantage of the aggressive nature of breeding gobblers, sometimes resulting in charging birds at uncomfortably close ranges, the new Max version sports the ability to attach either the included artificial wings and tail fan to get a turkey's attention, or the real thing. Fan includes a mesh viewing window and wings sport orange for safety. Check local laws surrounding turkey "reaping" before you hit the field. MSRP: $79.99; mojooutdoors.com.

Iver Johnson Pump Turkey Shotgun
Looking for a solid turkey gun that'll tackle turkeys nationwide but won't put you in the hole? This 12-gauge pump gun from Iver Johnson is all that and more. While the PAS12MO could use a better name, it sports a Mossy Oak Obsession camo finish, twin action bars for dependable cycling, a 3-inch chamber, a Pic rail for mounting optics and, perhaps best of all, the push-button ability to remove the buttstock and convert to a pistol-grip shotgun with a 24-inch barrel. How cool is that? MSRP: $386; iverjohnsonarms.com.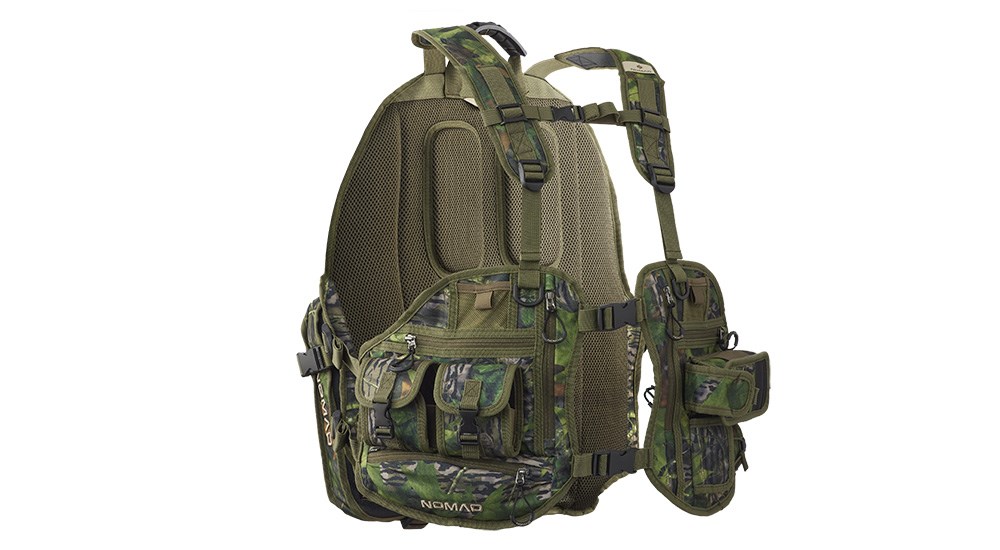 Nomad Bull Lounger Turkey Vest
Be you a run-and-gun gobble chaser or a sit-and-wait ambush hunter, the Bull Lounger adapts to your style of hunting. A lightweight, adjustable and removable aluminum frame provides a solid back rest just about anywhere a turkey may demand you set up, and the thick foam seat means you'll be able to sit comfortably to wait him out. Pockets galore adorn this pack, 23 in total, starting with a huge game pouch at the rear, water bottle pockets, a Thermacell pocket and various call pockets and zippered compartments out front for your shells, gloves, cellphone, sandwich and everything else you can possibly think of. Available in Mossy Oak Bottomland and Shadow Leaf. MSRP: $250; nomadoutdoor.com.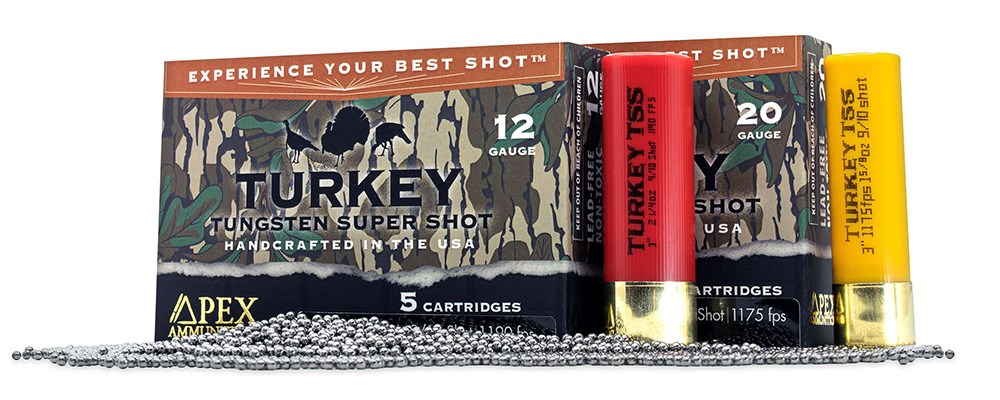 APEX Mossy Oak Greenleaf Turkey TSS Blend
Apex Ammunition has partnered with Mossy Oak to release a special offering to turkey hunters this year: a duplex load consisting of No. 9 and No. 10 TSS pellets. Engineered for massive payloads and tight patterns, the Mossy Oak Greenleaf Turkey TSS Blend is available in 3-inch 12-gauge 2¼-ounce loads and 3-inch 20-gauge 1⅝-ounce loads throwing an incredible 1,096 and 774 ultra-dense 18 g/cc density TSS pellets. Shells are handloaded to tight tolerances and use a super-tough, tungsten-grade wad to deliver tight patterns and protect your barrel. MSRP: $49.99-$62.99; apexammunition.com.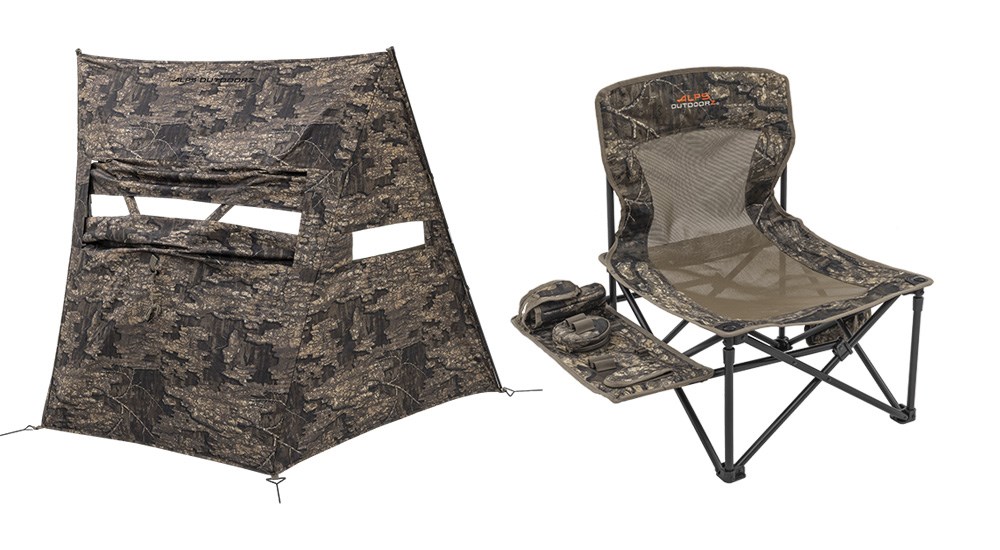 ALPS OutdoorZ High Ridge Chair and Dash Panel Blind
If you're going to be sittin' for a spell waiting on a strutter, you might as well do it in a chair designed for the task. The low-profile High Ridge Chair from ALPS unfolds into a comfy low-lounger with a call table attached conveniently to the side. Built-in pockets keep calls organized and within easy reach, and a dedicated pocket holds your Thermacell in the perfect spot. Used with or without a chair, the Dash Panel Blind is a lightweight and quick-deploying ground blind for hiding up to two hunters. Three-sided design provides more than full-frontal concealment and sports mesh viewing windows on the side panels and a large adjustable Silent-Trac shooting window out front. Includes ground stakes and a carry bag. MSRP: $79.99 chair; $139.99 blind; alpsoutdoorz.com.