by
posted on October 23, 2019
Support NRA American Hunter
DONATE
The Winnebago Spyder is a towable toy-hauler camper sportsmen will immediately recognize as "base-camp" worthy. Four different units sleep three to four men individually, or as many as three couples, haul one to two ATVs and stow all the gear a handful of hunters would need for a week.
With a host of creature comforts and other features hunters should find handy, the Winnebago Spyder merits a detailed look-see.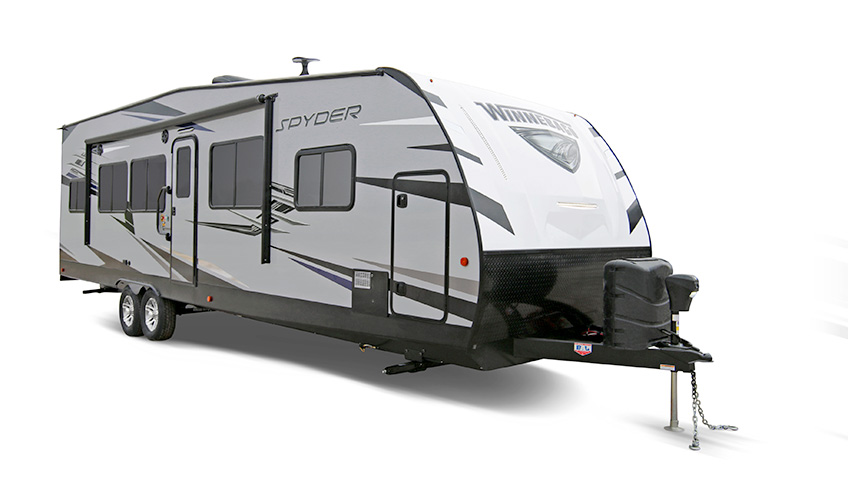 Four floorplans are available, with one or two slide-outs, in overall lengths from 30-37 feet. Exterior width of all four units measures 8 feet 6 inches; all exterior heights measure 12 feet 6 inches. With garage lengths stretching from 13 feet 9 inches to 14 feet 5 inches, every unit is capable of hauling a side-by-side OHV—or up to two four-wheelers, depending upon the size of the units.
The rear wall of the camper folds down to become the ramp to the garage area. It carries a weight rating of 2,500 pounds. Lower it, then raise the electrically operated HappiJac sofa unit mounted along each outboard wall to create garage floor space to stow an ATV or two. The ramp also can be positioned as a large outdoor patio floor off the rear of the camper. Every Spyder is equipped with an 18-foot-long awning that extends 8 feet from the curb side of the camper.
Every forward bedroom (called a stateroom in the RV industry) includes a king size bed regardless of whether the room features a slide-out. In the garage area (after the OHVs have been off-loaded) the HappiJac sofa offers seating for four and converts to a queen-sized, 60-by-80-inch bed. Another queen bed descends from ceiling height in the garage via an electric motor. A full bathroom includes a marine-style, foot-flush ceramic toilet, a vanity with sink and wood medicine cabinet, a shower with tub surround, a skylight and a 12-volt exhaust fan.
The galley is capable of supporting any camp cook whose objective is to feed a hungry lot. It includes a large sink with covers, recessed three-burner gas range with oven, microwave, 8-cubic-foot refrigerator with freezer, solid-surface countertops and plenty of cabinets. The fold-down HappiJac sofa in the garage area, along with an included folding table, may be used to create a dinette.
Slide-out rooms in the galley, dining or salon areas are standard in some floorplans. Each is electrically operated via 12-volt DC motors, powered at the touch of a switch. An automotive-type crush seal prevents air and moisture from passing between and around the edges of the slide-out rooms and the garage ramp. Vinyl flooring runs throughout the trafficked areas.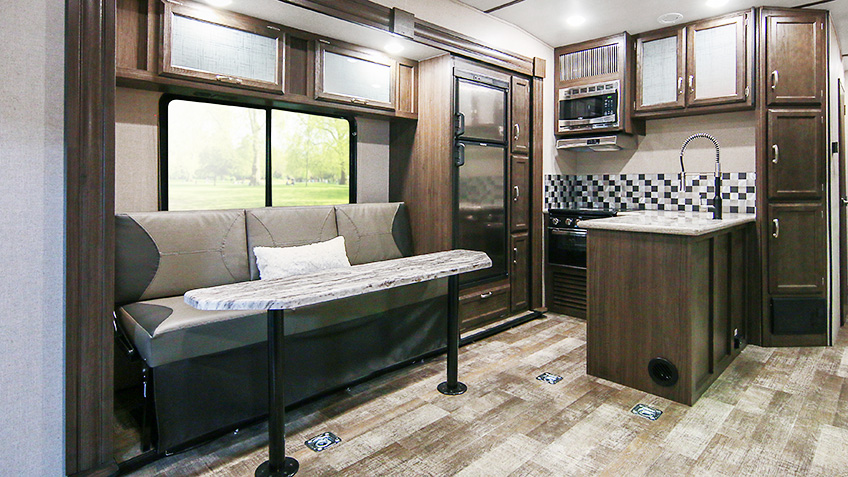 Direct-ducted heat is supplied by a 30,000 BTU propane-fueled furnace. A 15,000 BTU, centrally-ducted air conditioner is standard, and a second, 13,500 BTU unit is optional (50-amp service is required). A ceiling fan evacuates interior air should odors need to be eliminated, or it can be used like a "whole-house fan" to bring in cool air from the outside. Block-foam wall insulation is used in the walls while residential-style insulation is used in the floor and ceiling. Twin 20-gallon or 30-gallon propane tanks are standard, providing a total of 40 or 60 gallons of fuel to power the furnace, refrigerator, hot-water heater or cooktop.
A generously sized, 100-gallon freshwater tank is augmented by a 50-gallon gray water tank and 50-gallon black water tank. A 6- or 10-gallon hot water heater is standard depending on configuration.
Thirty-amp electrical power is provided via a "shore line." A 4,000-watt Onan generator powers everything when camping off the grid. It is powered with propane. Solar-panel prep is also standard. Electrical upgrades include a 5,500-watt Onan generator (50-amp service required), a 200-watt solar kit and 50-amp electrical service. "House" batteries include two 12-volt glass-matt low-maintenance batteries that can be charged off the optional 200-watt roof-mounted solar panels, the generator, shore power or the alternator of the tow vehicle while motoring to a destination. To support OHV use, a 40-gallon fuel tank for toys is standard equipment, with an outside gasoline fill nozzle and an electric pump that deliver the fuel to the OHVs.
The chassis is high-strength steel assembled using Huck bolts, the same technology used to build railcars and large marine craft like oceangoing freighters. Twin torsion axles carry the Spyder on 15- or 16-inch wheels. The underbelly of the chassis is dressed with a product called Darco that is impervious to road hazards (rocks, etc.) and moisture. The exterior wall surface is gel-coat fiberglass. Welded aluminum structural members are used to create the walls. The roof is tapered for enhanced runoff and is not dressed with a rubber exterior material. The roof is a single sheet of TPO (thermoplastic polyolefin) with insulation characteristics that act as a thermal barrier. Manual leveling jacks are standard at each corner (electric leveling jacks are optional).
Options include a stainless steel range, hood and microwave; 32-inch bedroom TV; electric stabilizer jacks; a truck-and-trailer leveling kit; rear pull-down ramp patio screen with rails; 13,500 BTU second AC; 5,500-watt Onan generator (50-amp service required); 200-watt solar kit; 50-amp service; and an Extreme Weather Package. The Winnebago Towables Limited Structural Warranty covers the unit for three years from date of purchase by the original owner. 
Technical Specifications
• Type: towable toy hauler camper
• Axles: 2
• Exterior Length (pin to bumper): 30ʹ–37ʹ
• Exterior Height: 12ʹ6ʺ
• Interior Height: 7ʹ6ʺ
• Exterior Width: 8ʹ6ʺ
• Garage Length: 13ʹ11ʺ–14ʹ5ʺ
• Weight: 7,500–8,800 lbs.
• GVWR: 9,995–12,995 lbs.
• Hitch Weight: 860–1,440 lbs.
• Electrical: 30-amp. service; 4.0 Onan generator; solar prep
• LP Capacity: 20–60 lbs.
• Plumbing: enclosed, heated tanks; 6–10 gal. water heater; black tank flush
• Water Capacity: freshwater 100 gals., gray 50 gals., black 50 gals.
• Base Price: $37,899; winnebagoind.com