by
posted on May 27, 2015
Support NRA American Hunter
DONATE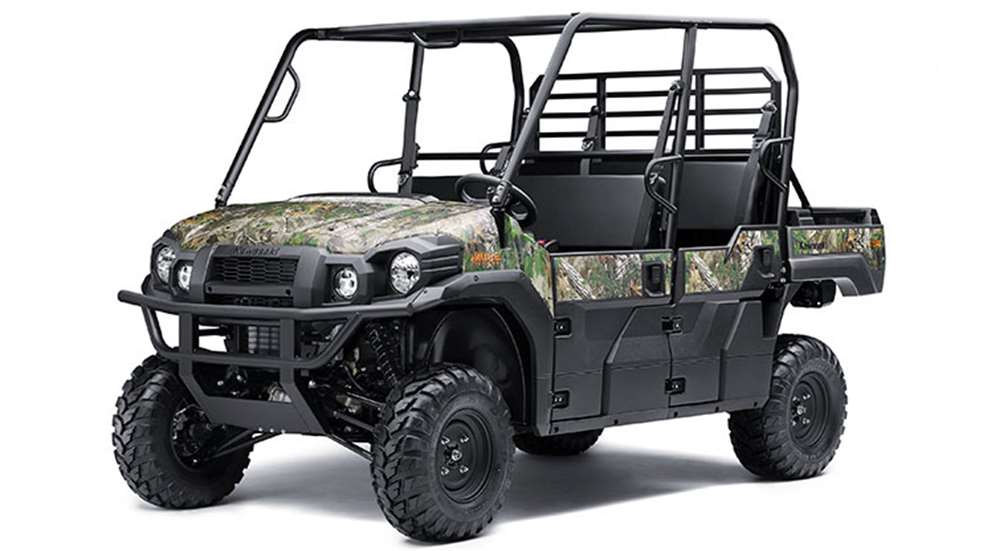 Taking utility to the next level, Kawasaki has introduced the latest in its line of Mule side-by-side vehicles, the Mule Pro-FXT. One of its highlights includes its Trans-Cab, which permits this Mule to be enjoyed as a three-passenger or six-passenger vehicle.
It is not the intention of Kawasaki to design and build this Mule for OHV side-by-side competition; it's designed and built to be a comfortable and highly functional workhorse. But having said that, the end-user who needs prowess, functionality and utility is also capable of achieving a very respectable top-end speed of 40-plus mph. The bottom line is that requirements needed by the sportsman, ag-man or maintenance crew have been rolled into this one utility OHV. Result: The Mule Pro-FXT can get six passengers and a load of cargo to a destination quickly and comfortably.
The Trans-Cab features a front cushioned bench seat and a folding rear cushioned bench seat. When both are in service, the Pro-FXT can accommodate six adult passengers. Converting back and forth between three and six passengers is achieved in a matter of seconds. Rear stadium-style seating (the rear bench seat sits higher than the front bench) enhances rear passenger viewing—folks in back no longer have to look only at the back of the head of the passenger riding up front. Each passenger location is equipped with a three-point seat belt, and there are grab handles front and rear.
A ROPS system (roll-over protection structure, or roll cage) provides roll-over protection for all six passengers. Integrated front and rear doors fabricated from composite material (these are not cargo nets) protect passengers from passing brush, and they keep water splatter from entering the cabin. Most importantly, these solid-surface doors prevent legs of outboard passengers from extruding outside the unit during operation. For ease of opening, the doors feature pull latches located along the outside top of each door.
When configured to accommodate six adults, the rear cargo box measures 53.7 inches wide by 22 inches long. The box/bed walls measure 11 inches high. When configured as such, the cargo bed (with six passengers aboard) is designed to carry 350 pounds. When configured to seat three (rear seat folded flat to create a long bed) and with three adult passengers aboard, cargo carrying capacity is rated at 1,000 pounds. In this three-passenger configuration, the length of the cargo bed measures 42.7 inches long by 53.7 inches wide. The floor of the cargo bed (regardless of seating configuration) is surfaced with rugged diamond steel plate. Steel bars along the outside, top edges of the box provide anchor points for cargo tie-down. In six-seat mode (short cargo box), slots in the back of the rear seat permit barriers to be vertically inserted to contain different cargo configurations from moving around inside the bed. In either passenger configuration, the cargo bed may be tilted.
The Mule Pro-FXT is designed and engineered to be a workhorse for sportsmen, ag-men or maintenance/service crews. Equipped with a three-cylinder, liquid-cooled, 812cc fuel-injected engine coupled with a CVT transmission, it can cruise comfortably in 2WD at speeds just a little above 40 mph. The engine is located behind the rear seat and under the cargo bed. When needed, the unit can be shifted into 4WD while on the fly when the speed is below 10 mph. Simply touch the large, user-friendly dash-mounted toggle switch to go back and forth between 2WD and 4WD.
Going from high to low range is achieved via the manual shift lever. Two additional dash-mounted toggle switches (just as user-friendly) permit the operator to activate the halogen headlamps and to activate optionally available high-intensity LED lights that are especially useful during fog and other low-light driving conditions.
Starting the engine requires the brake pedal be depressed. However, the engine may be started with the shifter in all positions (neutral, reverse, high, low). Digital instrumentation provides an hour meter, odometer, clock and dual trip meters, readouts of speed, fuel level, a 2WD/4WD indicator, oil-pressure warning indicator, fuel-injection warning indicator, water-temperature warning indicator, CVT- and EPS-warning indicators, neutral, reverse and parking indicators, and seatbelt reminder lamps. For functionality, the lever-style handbrake is positioned on the dash against the driver's-side A-pillar of the ROPS.
This Mule comes with a turning radius of 16 feet on 12-inch wheels. Electric power steering is available. All four wheels feature approximately 8.7 inches of travel; there is one shock absorber per wheel, and disc brakes on all four wheels. Undercarriage vehicle clearance is 10.2 inches. It's also equipped with an independent suspension front and rear; tubular steel A-frames on the front; and steel skid plates that protect the entire underside of the vehicle. The radiator is mounted high in the front of the vehicle to ensure a more than sufficient flow of cool air into it while also ensuring mud and debris stay out. Overall length is 133.3 inches; wheelbase is 92.3 inches; width is 64 inches. From the ground to the top of the ROPS the overall height is 79.5 inches.
A 2-inch receiver hitch accommodates towing gross weights of 2,000 pounds, when properly configured. For the hunter who wants to get well off the beaten path and set up a base camp that can support days of primitive camping, the capability of towing a trailer with everything required is a huge dividend.
A rugged front steel bumper protects the unit from front-end encounters. An outside door on the passenger side provides easy access to imperative maintenance items. This Mule comes equipped with a 75-amp alternator so all DC-powered appurtenances can be operated simultaneously via the unit battery. On LE and Camo models, four DC outlets are included as standard equipment for front and rear passengers. The fuel tank capacity is 7.9 gallons, which gives this utility vehicle a respectable driving range.
The Mule Pro-FXT is available in four exterior color combinations depending on the model chosen. These include Timberline Green, Dark Royal Red, Black and Realtree Xtra Green Camo. The base MSRP for the non-EPS Pro-FXT is $12,999, with a list of factory and aftermarket options that lets the sportsman tailor his unit to meet individual requirements. These can include, but are not limited to, accessories like a windshield, heater, gun rack, hard top and a Warn winch (all individually priced).
Technical Specifications:
• Drivetrain: 812cc, 4-stroke, liquid-cooled, DOHC, 3-cylinder, fuel-injected gasoline engine; CVT w/high, low, neutral, reverse; selectable 4WD w/dual-mode rear differential
• Suspension: front/rear, double wishbone w/8.7" travel
• Brakes: front/rear discs
• Dimensions/Capacities: overall length 133.3"; width 64"; height 77.6"; wheelbase 92.3"; ground clearance 10.2"; fuel capacity 7.9 gals.; bed capacity 350 lbs. (3 passengers), 1,000 lbs. (6 passengers); towing capacity 2,000 lbs.
• MSRP: $15,599 ($12,999 non-EPS)