by
posted on February 14, 2015
Support NRA American Hunter
DONATE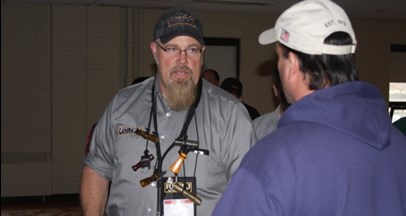 One of the best parts about attending the Great American Outdoor Show, which runs through Sunday at the Pennsylvania Farm Show Complex in Harrisburg, is the direct access to just about anything and everything outdoors.
Want to book the hunting or fishing adventure of your dreams? There are literally hundreds of hunting and fishing outfits from around the globe to choose from. Want to handle some of the latest firearms, optics and accessories to hit the market? The Shooting Sports Hall is packed with such heavyweights as Benelli, Beretta, Crimson Trace, Federal Premium Ammunition, Mossberg, Remington, Winchester and rows upon rows of other major manufacturers. Then there are the custom call makers, wildlife artists, archery dealers, taxidermists and many others that pack the halls.
But one of the perks that some may overlook is the opportunity to not only meet some of the outdoor industry's top celebrities, but to also pick up a tip or two along the way. The show's appearance and seminar schedule reads like a literal who's who of outdoor television, which is only fitting considering that the Outdoor Channel serves as the show's title sponsor.
On Saturday afternoon I had the pleasure of sitting in on a predator hunting seminar with Al Morris, host of FoxPro Furtakers on the Outdoor Channel. Now if you've ever watched Al on television or attended one of his seminars, you know that he is one of the funniest, charismatic and entertaining speakers you'll hear anywhere. But as a three-time winner of the World Coyote Calling Championship, Al knows a thing or two about calling in and killing coyotes and foxes, and he has the video evidence to prove it.
So what did I learn? Here are five tips courtesy of Al Morris that can help make you a better predator hunter:
1. Don't be a one-call hunter. "Ten or 15 years ago I'd play a rabbit-in-distress call and a coyote would come right in. I was a one-call man," Al said. "But 70 percent of a coyote's diet is small, ground-dwelling animals like mice, voles and rabbits. Experiment. You'd be surprised how well vole squeaks work on a hung-up coyote."
2. If you're using an electronic call, don't limit yourself. Says Al, "Just because a sound on an electronic call is from an animal that's not endemic to the area you're hunting doesn't mean you shouldn't try it. You never know what's going to work. How many coyotes in California wine country have heard a snowshoe hare? I've seen them respond it."
3. Coyotes are very territorial, so use that tendency against them. "The No. 1 way I'm killing coyotes is with coyote vocalizations," he said. "Coyotes don't like it when there's an intruder in their territory."
4. If you can't predator hunt with a semi-automatic rifle, consider a Ruger American. "The AR-15 is the most valid and valuable hunting tool I've ever used," said Al. "First of all, you need to vote the people out of office in Pennsylvania that aren't allowing you to hunt with it. But, for a bolt gun, at $400, you can't buy a better or more accurate predator gun than the Ruger American Predator."
5. Coyote hunting in the West isn't the same as in the East. "Will an Eastern coyote come running across an open field like you see in the West? No! You have to set up where you can see a coyote pop out along an edge, such as along a field, thicket or stand of hardwoods. If you've got a good hardwood ridge, grab your shotgun, load it with Hornady's Heavy Magnum Coyote BB load, use a full turkey choke, and hunt them in the trees."