by
posted on February 13, 2015
Support NRA American Hunter
DONATE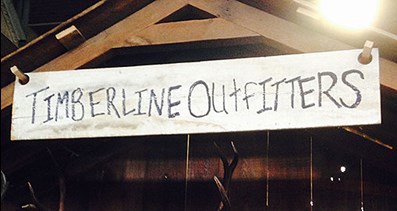 Guests at the Great American Outdoor Show rarely find themselves wanting for something to do—if getting an inside look at some of the industry's latest wares isn't enough, you can always track down an outdoor celeb or try your hand at the 3-D Archery Challenge, after all. That said, interested parties can also get down to some serious business. Namely, booking hunts for the coming year in the Outfitter Hall. Though you'd better act fast.
Outfitters from every corner of the globe have flooded their assigned portion of the Pennsylvania Farm Complex this week, offering guests the chance to consider finally booking that dream hunt they've been thinking of. Has the thought of an African safari kept you from properly counting sheep in the evenings? Or is it a horseback trip into elk country that's eating you up? Either way, you'll find a top-notch outfitter in Harrisburg to talk it over with.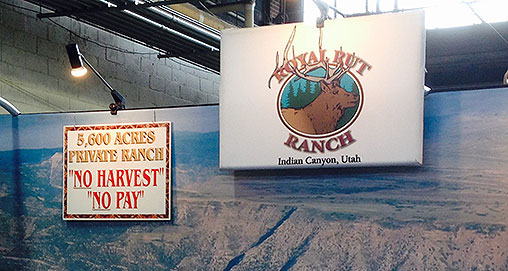 Nearly every continent has representation on the floor. Want to hunt New Zealand? Great American has a guy for that. The upper reaches of Canada for wolves? Yeah, they've got someone that can do that. There's no real end to it—this Outfitter Hall is a smorgasbord of hunting bucket list items. But it offers more than once-in-a-lifetime big game style hunts, too—there's plenty of local flair. I spotted multiple outfitters from nearby Pennsylvania towns, and the waterfowl bastion that is the Eastern Shore of Maryland was heavily represented. It doesn't matter whether a hunter's budget is a few hundred bucks or a few hundred thousand. You're going to find something that's within your wallet's weight class.
Actually getting a hunt booked, though, is another story. By the time I hit the hall on Wednesday, more than half of the outfitters that I talked to had already booked themselves through the next year, and were talking about hunts two or three years down the line. Armed with taxidermy of some of game harvested through their service, they were having little trouble attracting interested parties.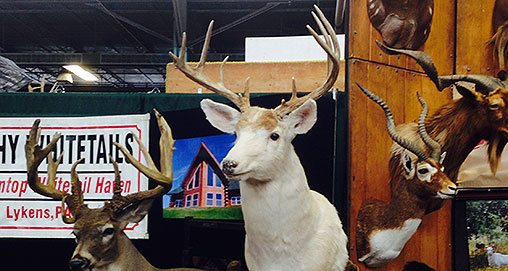 Folks that still want to book a hunt needn't worry, however. NRA Outdoors—which is also on-hand at the show—is still readily available to take care of you. Even if you can't make it to Harrisburg, I'd encourage you to give their website a look.Happy hunting!