You're nearing the end of day two on an eight-day hunt. You spot a huge buck but he's in another drainage, farther west.  You check your map and see that it's at least a four-mile hike to get there from camp, not including the three miles back to camp from your glassing perch. Can you get there to glass before light the next morning? Can you navigate in the dark without bumping animals, most importantly the monster you're watching right now? Your feet are hammered and your body aches. Looking up at the sky you see imminent weather on the horizon which you confirm by looking at your falling barometer. Should you even try to go after that buck?
Knowing personal limitations comes with experience and exposure. Racking up time in backcountry, under a wide variety of conditions, builds our confidence. That confidence directly translates into knowing what we're capable of, and knowing when to err on the side of caution when the odds are stacked a little too high for our liking and abilities.
Physical limitations present probably the most intimidating potential problem for aspiring backcountry hunters. There's big country and lots of miles in vertical terrain with heavy loads. Just getting to the vicinity of where you want to hunt can be incredibly demanding to the uninitiated—let alone the daily exertions of climbing to glassing vistas. So, what's a prospective hunter to do? Be ready. Find an exercise program that works for you, which you can stick to. Emphasize functional fitness and specificity. In other words, your regimen should prepare you for the unique physical challenges of the backcountry. Incorporate hiking with your boots and a moderate load into your training program. It's easy to head back to the house to take care of blistered feet while you dial in your footwear system, whereas having that happen in the backcountry is sure to end a trip-and fast.
Right along with physical fitness is knowing how to fuel your body for optimal endurance is very important for success. Training for your nutrition plan is just as important as training for your physical capability; they go hand in hand. "Bonking" from caloric depletion and dehydration is a reality. Having that happen miles into the backcountry is unnecessary and under some circumstances can be downright reckless.
Mother Nature doesn't care how much experience you have dealing with her. She demands respect and isn't to be taken lightly. Weather in the backcountry can be brutal, and for someone who has yet to experience a mountain thunderstorm, it can be terrifying. Having basic backcountry skills in weather awareness is very important. Knowing when to button up and wait it out can be the difference between a few hours cooped up in a tent, or being exposed and hypothermic. Understanding the capabilities and limitations of your gear is crucial as well. It's not a secret; buying quality gear up front, and knowing how to use it, keeps us comfortable and on the glass when Mother Nature throws us a curve ball.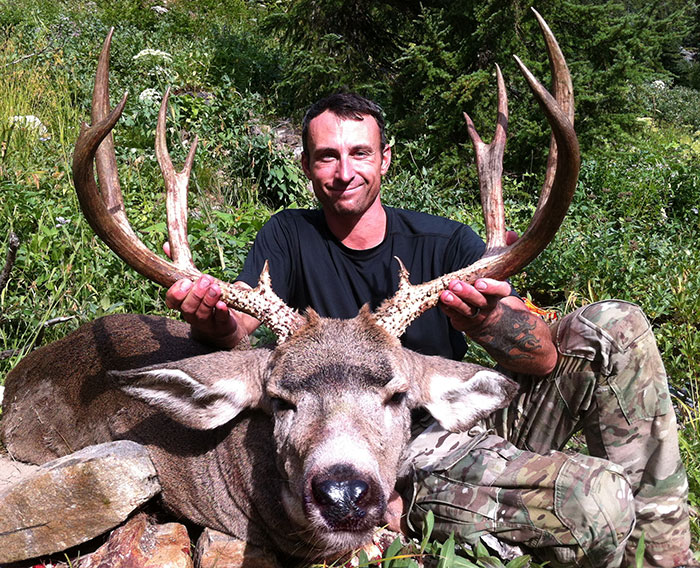 OK, back to our scenario. Your functional training, nutrition and basic backcountry skills have gotten you to the point of having that once in a lifetime trophy in the glass. To close the deal you've got to make the shot happen, and make it happen responsibly. When was the last time you really trained with your rifle? Hint: shooting it off of a bench to check the zero and putting it back in the case isn't training. At what distance and to what degree of accuracy can you confidently shoot under field conditions? Being a close friend of a very accomplished guide, one of his frustrations is clients who don't put the same effort into their shooting ability as they do everything else. Seek out professional training. Have someone outside your box evaluate your skills, put them to the test, and provide you with methods to improve.
You've got your buck dead to rights; he's in range, feeding in the open and you've got all the time in the world. But do you? Its 7:30 p.m., light is fading fast. You're five miles from camp and by yourself. If you make this shot, it'll take you at least an hour to get to that downed buck. Are you comfortable with butchering and hiking out in the dark? Can you safely navigate at night back to camp? Can you haul all that weight? How many trips will it take? If you know yourself and your capabilities and can answer "yes" to all those questions, then drop the hammer and continue into the next step of your backcountry adventure!
Backcountry hunting is incredibly rewarding, and for those who've done it and gotten bit by the bug, the draw to the solitude of the mountains is fierce and unrelenting. Being able to enjoy your trip for all its worth depends on you knowing your limitations and being honest with yourself. Being aware of your physical capabilities, your surroundings and being able to recognize critical decisions are all crucial to your well being and success in the backcountry.