by
posted on August 14, 2023
Support NRA American Hunter
DONATE
I shouldered the rifle and watched as a big bull moose cleared the trees and quartered toward me. I could feel my heart rate increase as I found the animal in my optic and followed it with the red-dot aiming point. The bull closed the distance, slowed, and with a solid hold on its vitals, I squeezed the trigger. The bull collapsed.
My eyes told me I was in a real-life setting, but I knew it was a game. GAIM was developed as an educational and entertainment tool in a virtual reality (VR) simulator. Using a VR headset, the user is placed in a setting that looks and feels real. It is like living in a cartoon. The sights and sounds make the VR experience unique and lifelike.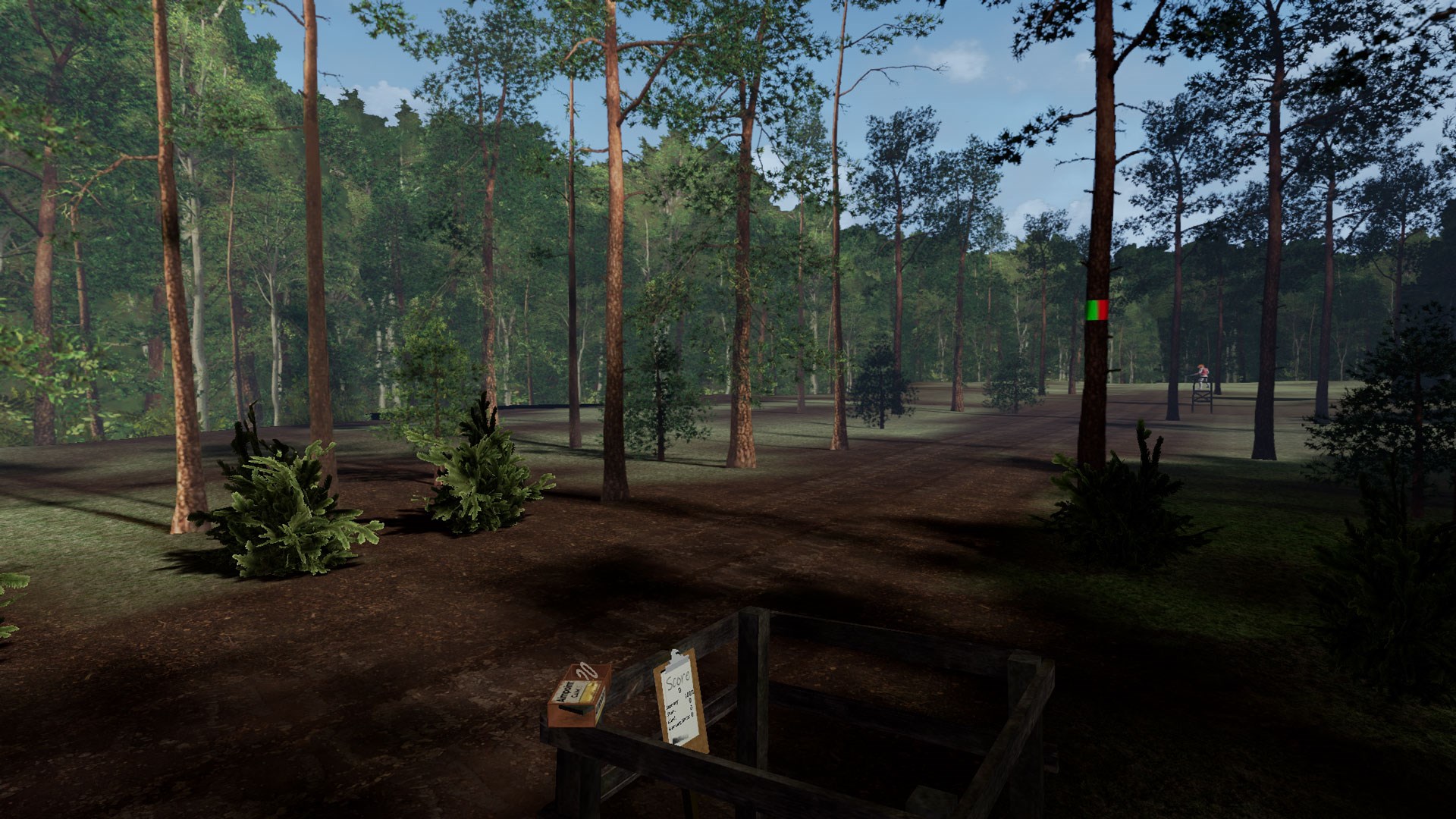 Games have come a long way since Atari or even the original PlayStation. Within GAIM, you feel and see a rifle or handgun in your hands, hear and see animals moving and leaves falling from the trees, not to mention the sounds of nature and hunting situations. Simulators are used to train pilots, astronauts and even doctors who need to perform intricate procedures or operate equipment without fail. GAIM is highly entertaining, but hunting and shooting portions are training tools we have never seen. The VR experience is unique and offers many opportunities to try shooting or hunting for the first time.
What is GAIM
GAIM is the brainchild of optic manufacturer Aimpoint. Within the VR setting, players use a red-dot scope to hone skills, maintain accuracy, and have the ability to see where the shot went after pulling the trigger. The Aimpoint Micro S1 is used for the optic.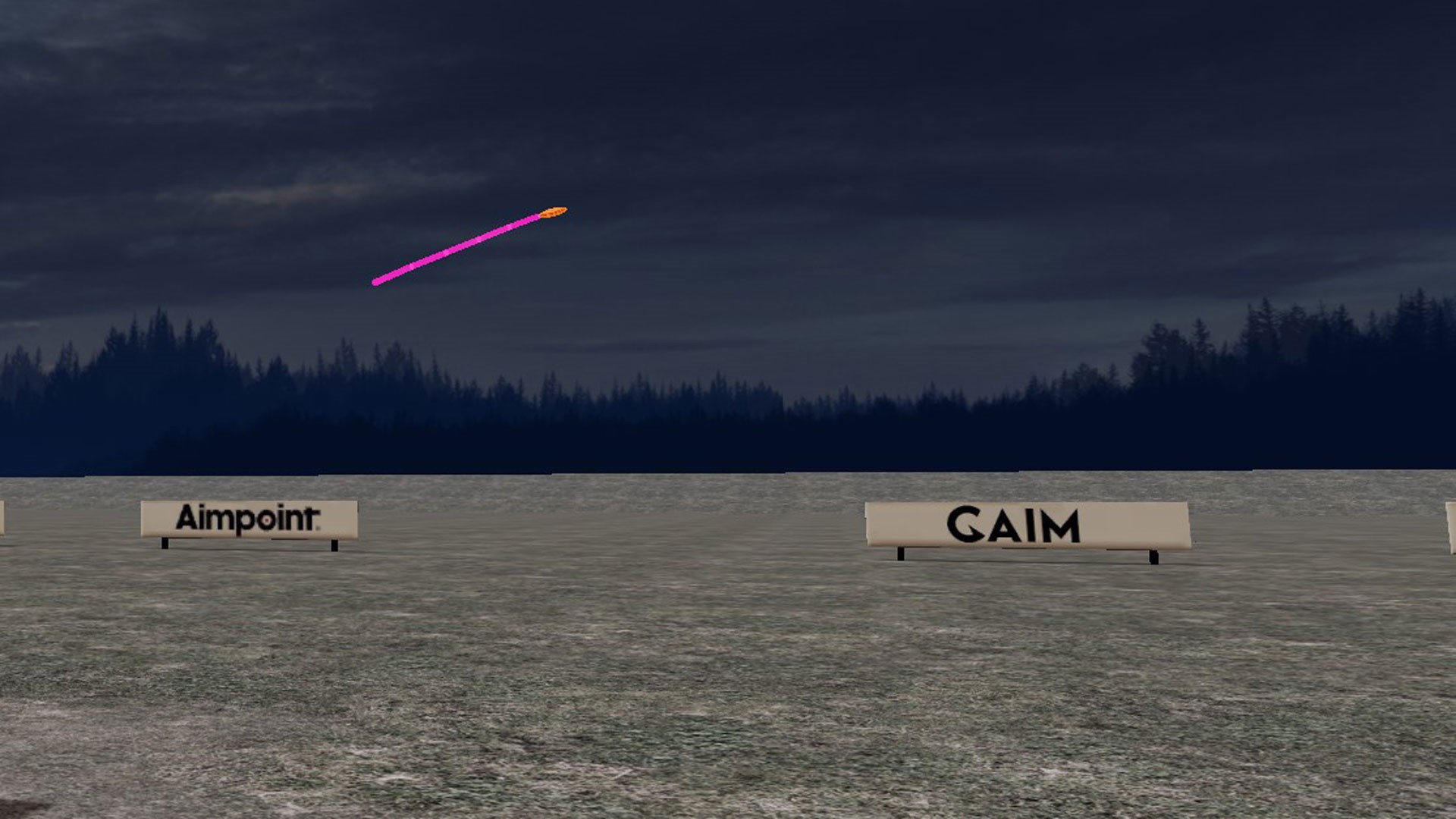 There are several simulator options for the user, including hunting several big-game animals; waterfowl or upland birds; and participating in shooting sports on the range with a shotgun, rifle or handgun.
Getting Started
A VR headset like Meta Quest or Oculus is required for VR simulators and games. The most challenging part of trying GAIM was updating the new Oculus to get started with a simulated hunting and shooting experience. Make sure to focus the headset for your eyes, as details and aiming points are critical to success. It would be best if you had a safe area to play and will be asked to draw out a safe zone for swinging the firearms provided with GAIM. Getting started is intuitive and instructions are easy to follow. Individual users can show off their talent or get help by sharing what is seen in the Oculus on television. Inexperienced VR players, shooters, and firearm handlers could benefit from others watching who provide feedback about the lead on a moving target or flying bird, or learning to squeeze the trigger to maintain accuracy.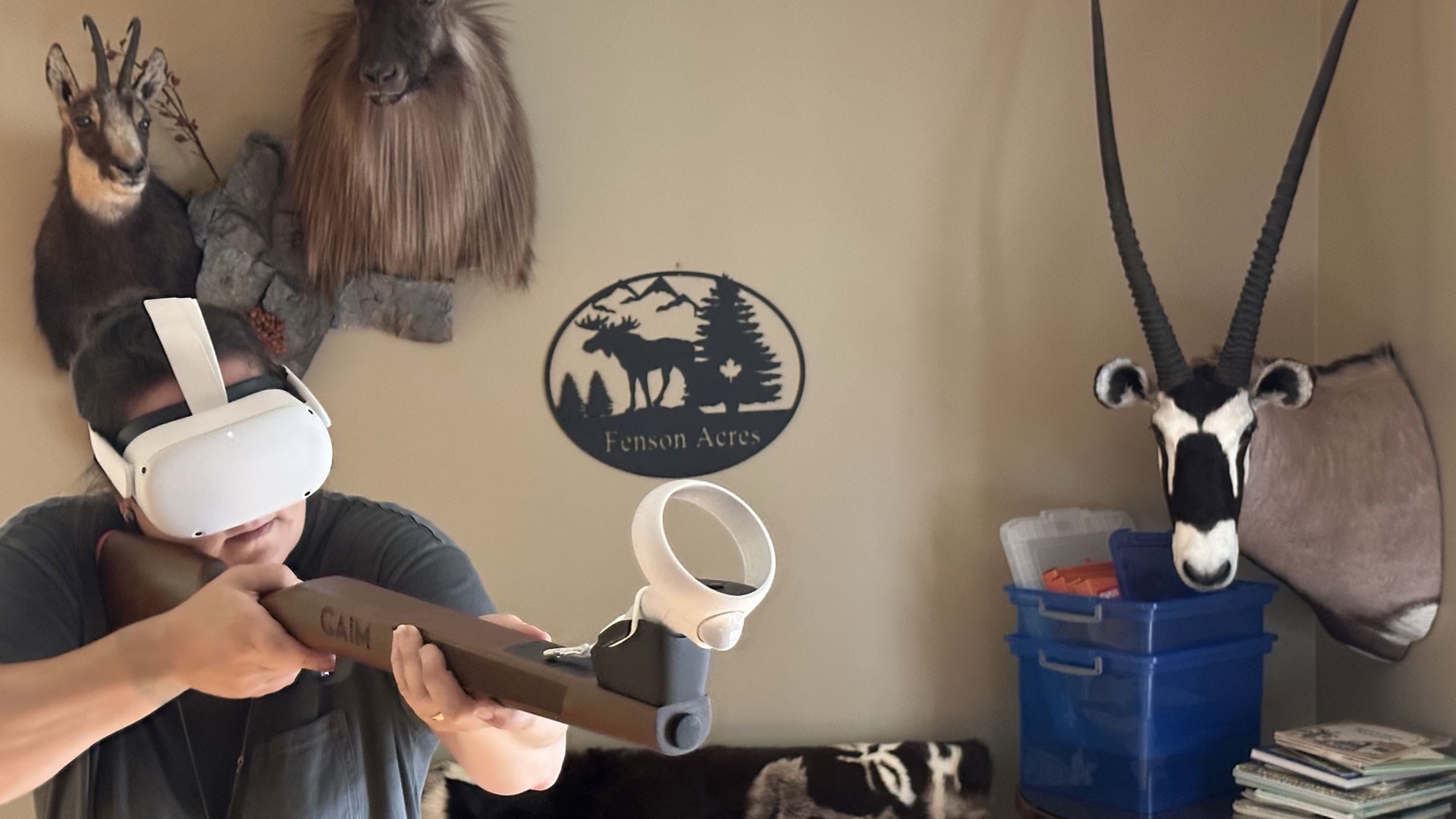 Every user needs to start by calibrating the aiming point to the point of impact. If you have never tried an Aimpoint red dot, this could be the start of a new relationship. If you know a hunter or shooter with eye or sight challenges, GAIM could be the first step to getting them back into the field and being successful.
I learned the hard way that having kids try GAIM means there is no time left for adults. Kids that have grown up gaming have trouble setting it down. Even adults that have never hunted enjoy the challenge and reality of the hunting and shooting segments and challenges, and have trouble giving up the headset so that someone else can have a turn.
Education and Teaching
GAIM is an awesome way to introduce a new shooter or potential hunter to shooting sports. Learning to handle and use a firearm with no recoil and no bang is valuable. The first steps are easy—you don't need to leave the house or have a large audience. Anyone that is shy or lacks confidence in a crowd will enjoy the individual experience, challenges and rewards.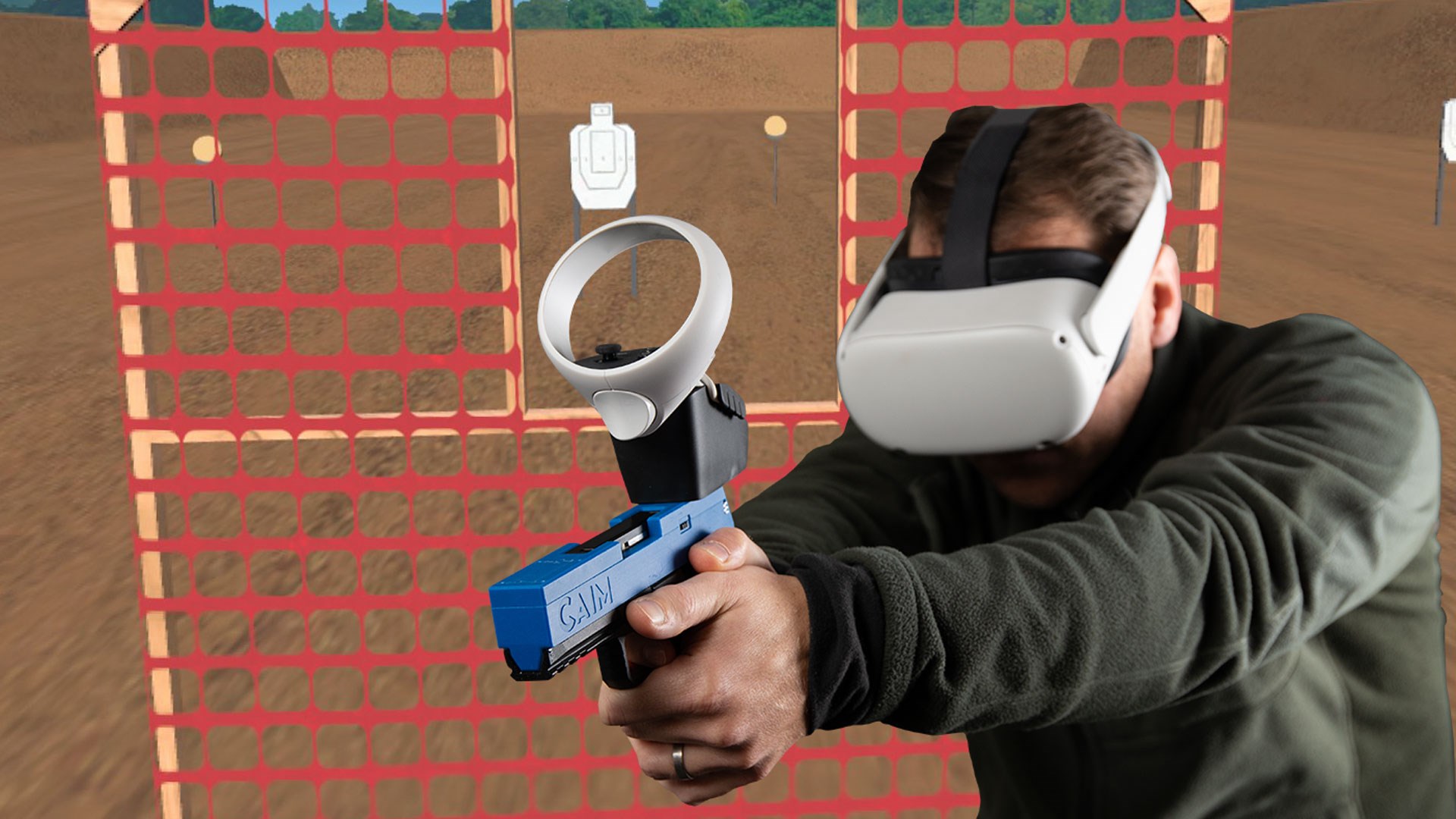 The different hunting and shooting games teach the importance of firearm handling, leads, stability and follow-through after the shot. At the end of each session, there are statistics and information about shooting accuracy and success. Total shots fired, kill shots, wounding shots and missed shots are provided and can be analyzed. Each shot can be looked at to see where it struck the target or animal, and why it was a killing or wounding shot. Shot angles and bullet travel are easy to understand with the 3D image of the animal shot. The simulator teaches patience and the importance of waiting for the right shot opportunity. When an animal is shot, the vitals show up with the point of impact from the bullet.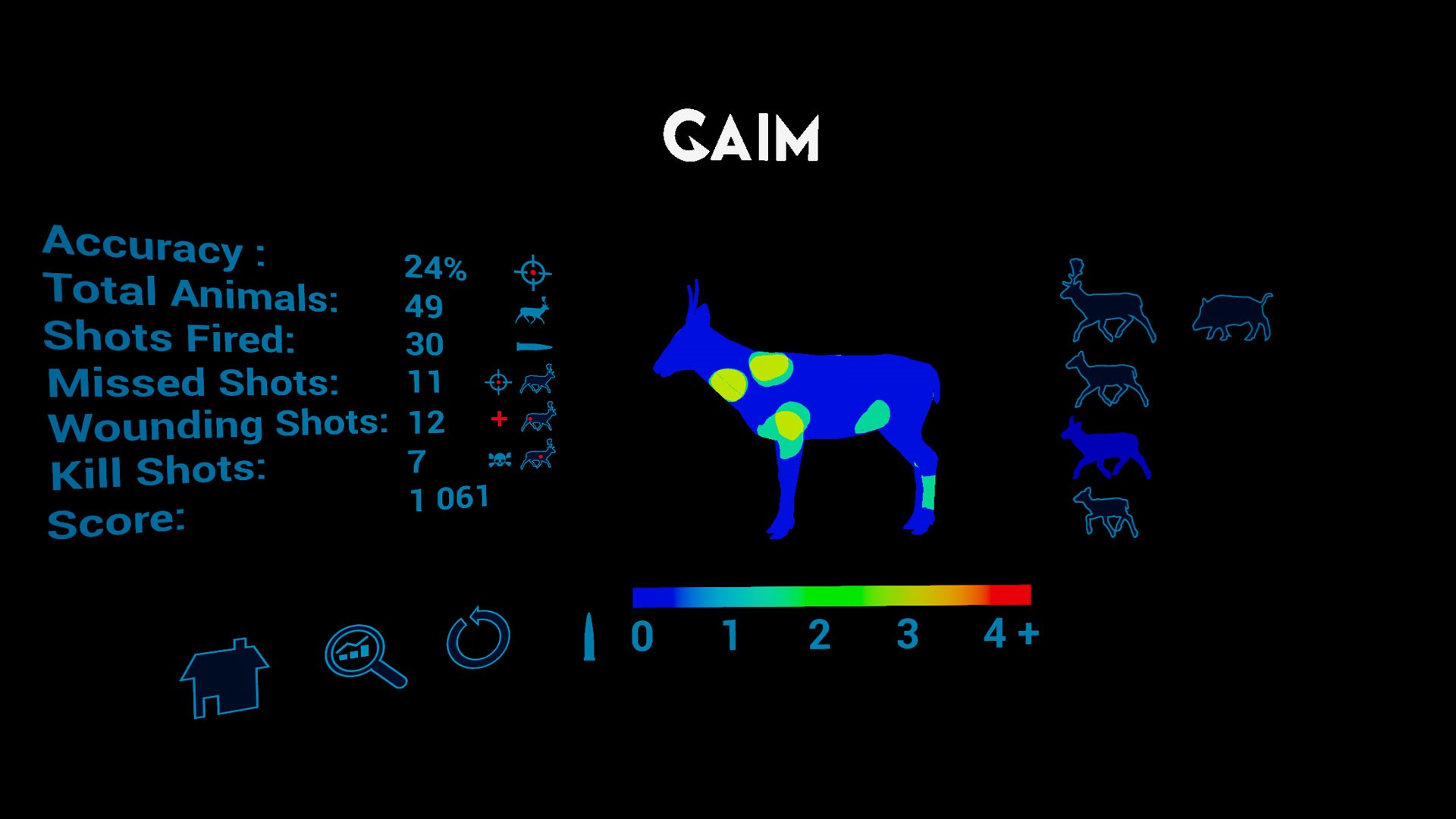 GAIM reinforces portions of hunter education and the importance of knowing and following rules. Certain animals are targeted in some shooting games, while others are not to be shot. If the user happens to shoot an animal they aren't supposed to, points are taken off the total score of the round.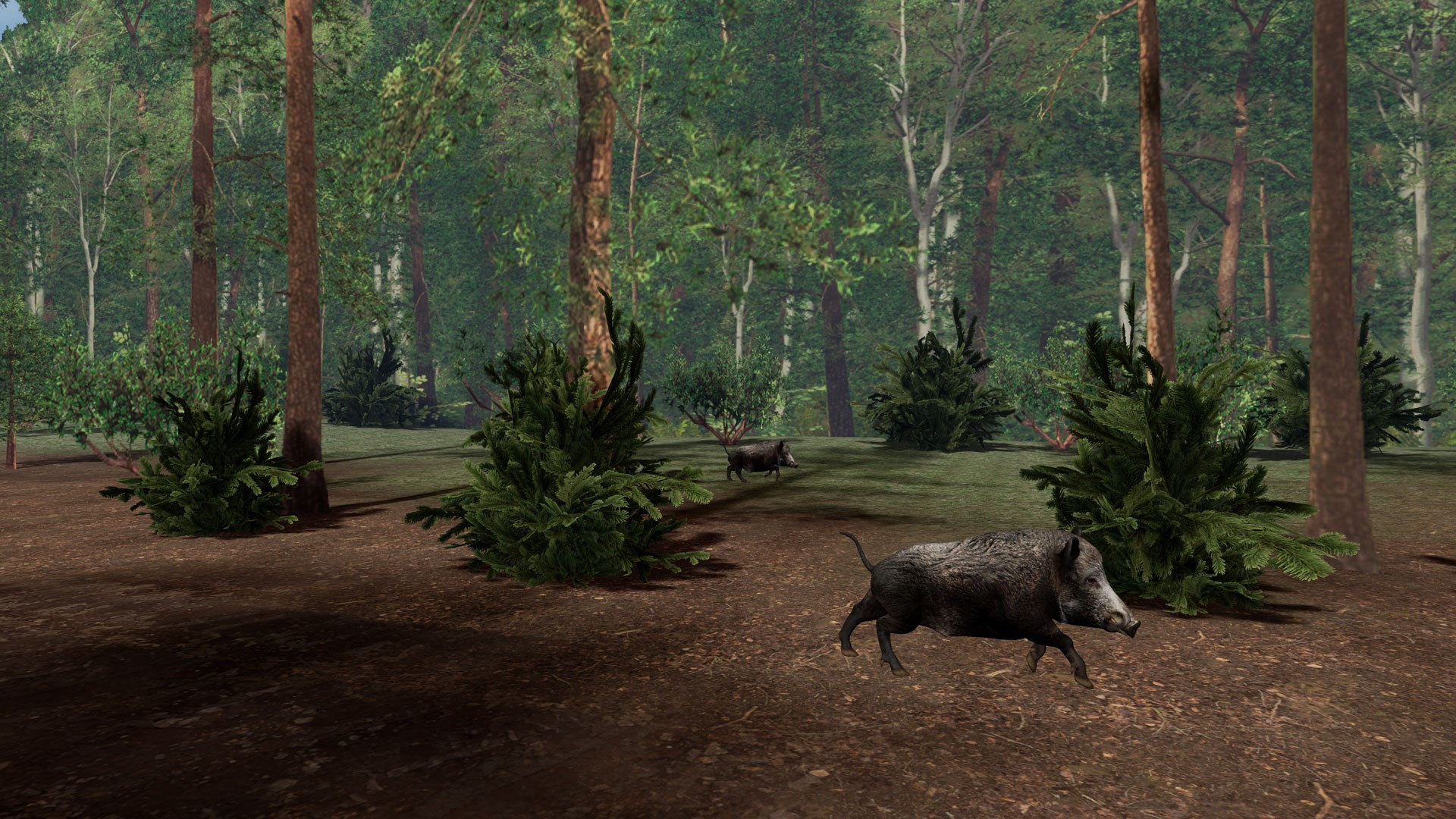 Sights, Sounds and Feel
There may be a short adjustment period if you have never used a headset or Oculus. Many hunting games within GAIM have the shooter located on an elevated shooting platform. The user is inside the game, so it feels like you are on the platform when shooting, and thus that taking a wrong step could send you cascading to the ground. You can hear animals walking or running when approaching, and direction cues are provided as if in stereo sound. Wild hogs grunt as they run past, and ducks can be heard quacking faintly before they finally appear. All segments are great training and educational tools, even though they are also a major part of the entertainment. Being able to immerse yourself in the game is what makes it such a great tool for advancing hunting and shooting skills.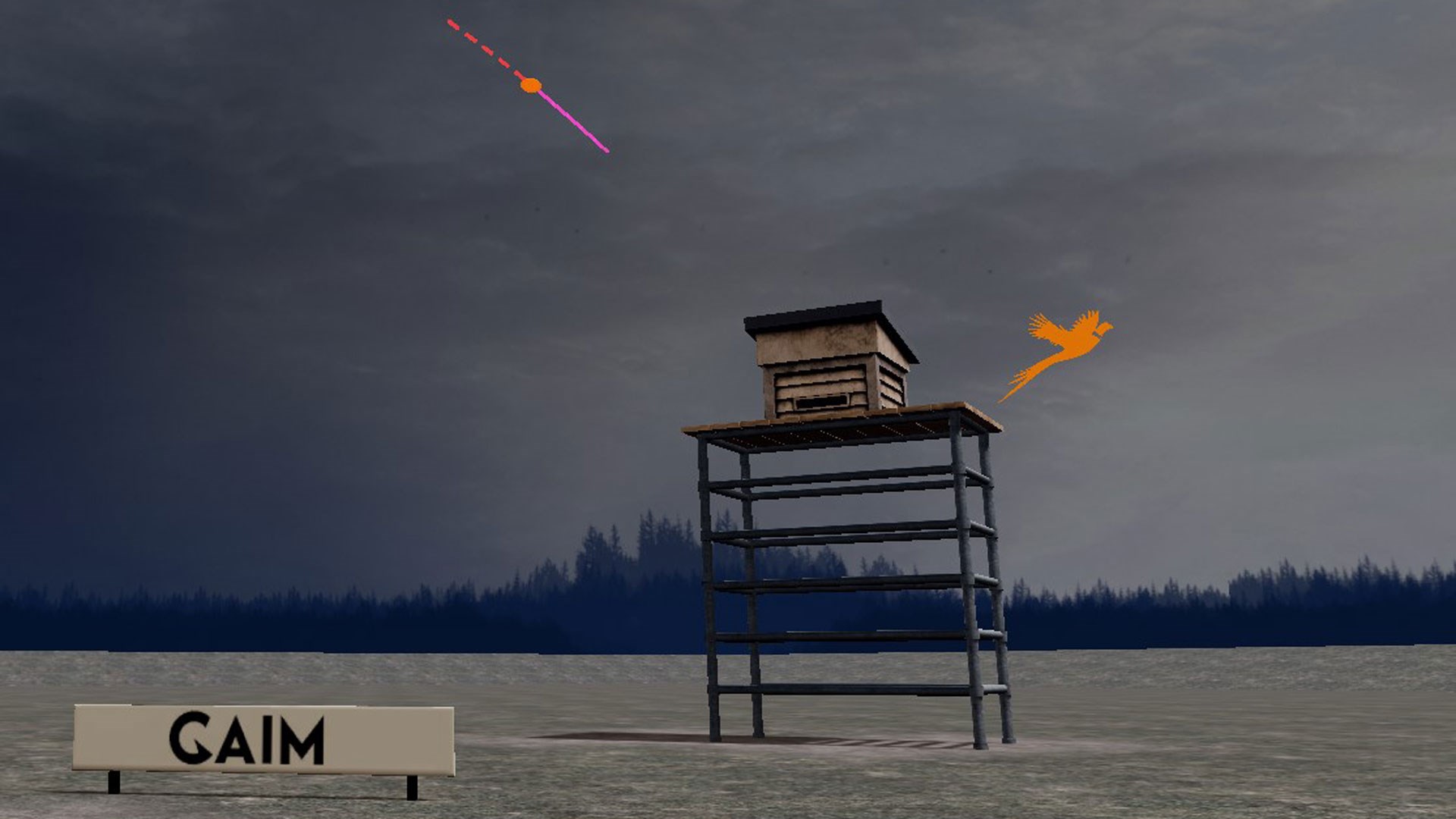 Determining that a quick or hasty shot seldom equates to a clean kill does not take long. Watching the animals and allowing them to slow or stop when a good shot opportunity is provided produces the best results. A scoring system is used to compete and rank against others to encourage users to be ethical and patient. You can follow other participants through Meta Quest to share results or see how friends make out.
Safety
It is easy to get lost in the game and forget that you are actually inside a house or around other people. Before starting an actual game, a safe zone must be created to allow the user to swing and point the firearm without hitting anything. It is an important feature, as once the Oculus is on, the user's world is what they see, not the environment used to play. The safe zone is created with a black-and-white image within the headset of the potential play area, and objects that may be problematic. Furniture or objects can be moved to finalize the zone for play.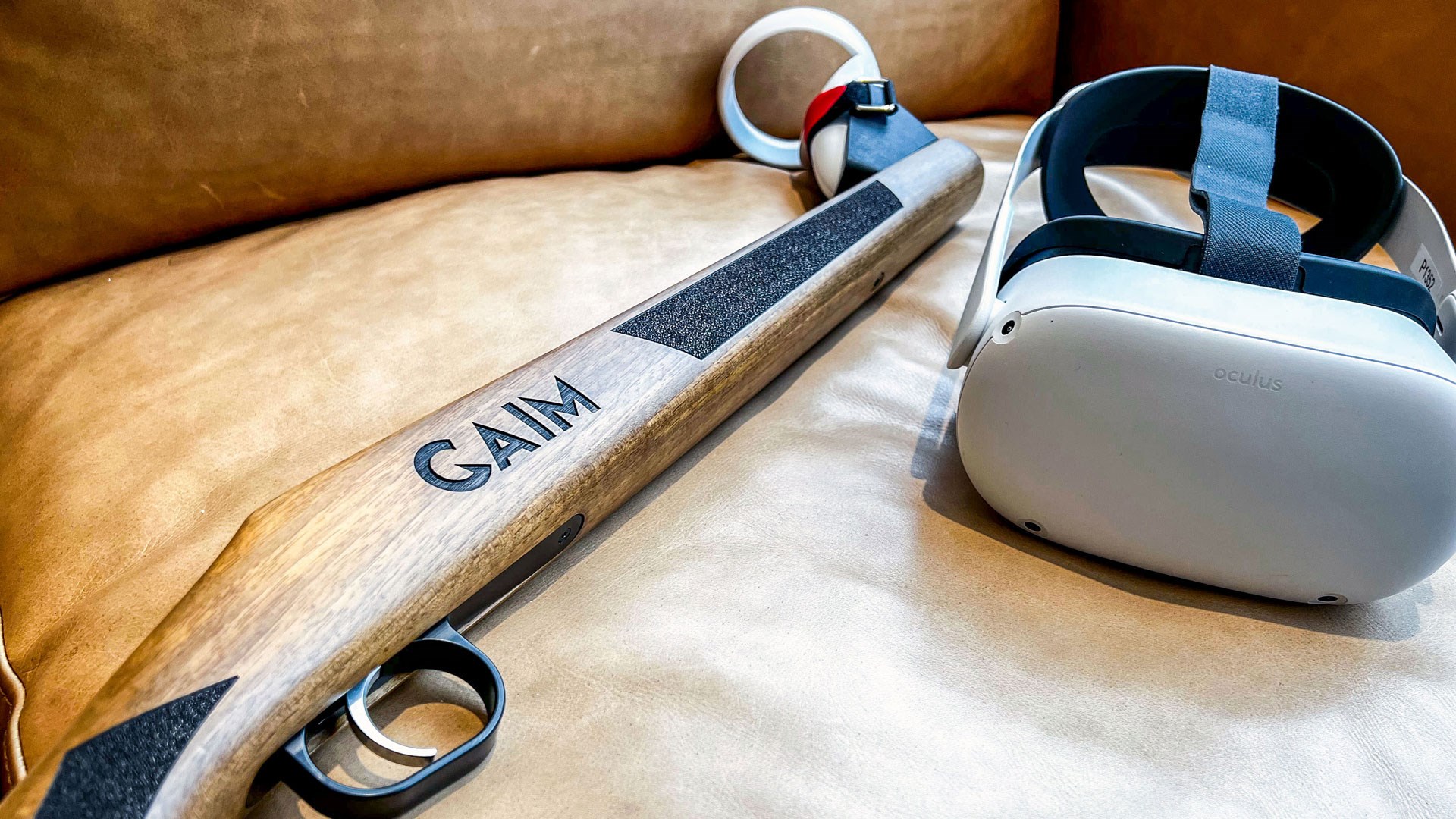 Perfect Shooting Skills
The shooting simulator is addicting, and shows the impact of each shot. There is never a bad-weather day or insufficient funds to keep you from shooting and enjoying target time. GAIM is more economical than a membership to the sporting clay range or trap club. The difference is that you have hunting situations that will allow you to learn proper lead, trigger control, and shot placement. Best of all, GAIM is entertaining and offers great diversity to challenge and entertain your skills. Stream the game onto TV while someone is playing to engage the crowd. It allows for laughs, but also coaching for getting on target.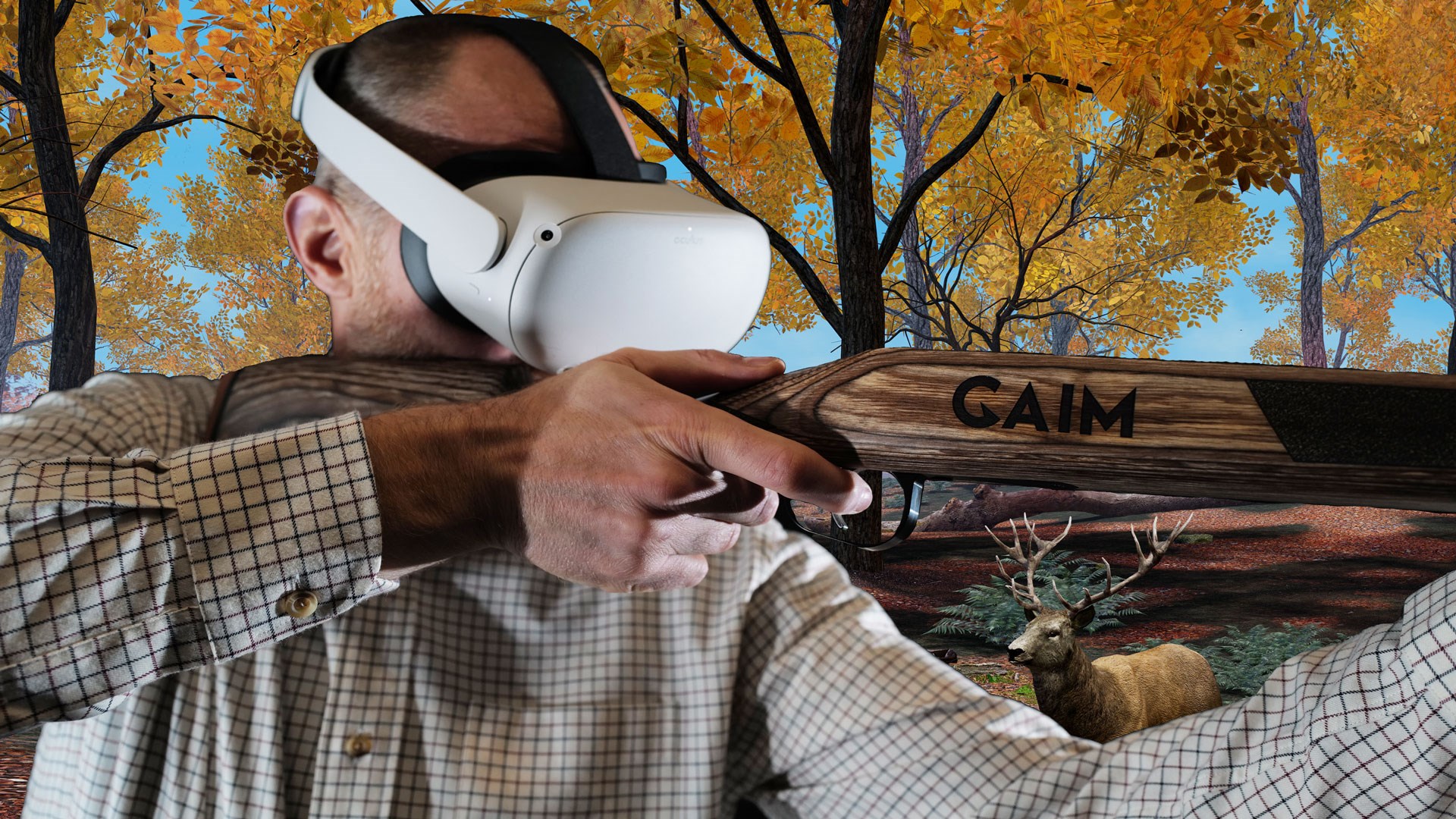 The rifle and handgun provided by GAIM are ergonomically the same as a rifle, shotgun and handgun that fire live ammunition. Each unit's weight, balance and feel have been matched to real firearms to make simulated events feel like real training experiences.
Users will want to run through each session provided to try a new experience. GAIM says, "Like with all GAIM products, a lot of effort has gone into creating anatomically correct animals with correctly represented hit zones. Our ballistic engine ensures correct prediction of lead, and you can be sure of training in an environment close to reality."
What is Needed
To start and play the GAIM, a user must own a Meta Quest, Meta Quest 2 or Oculus headset. GAIM is packaged with a wood stock (non-adjustable), a Bluetooth trigger system, and the software bundle for your Meta Quest headset. There is an optional handgun, and the Bluetooth trigger can easily transfer from rifle to handgun. You will need to download the Meta Quest app on a smartphone.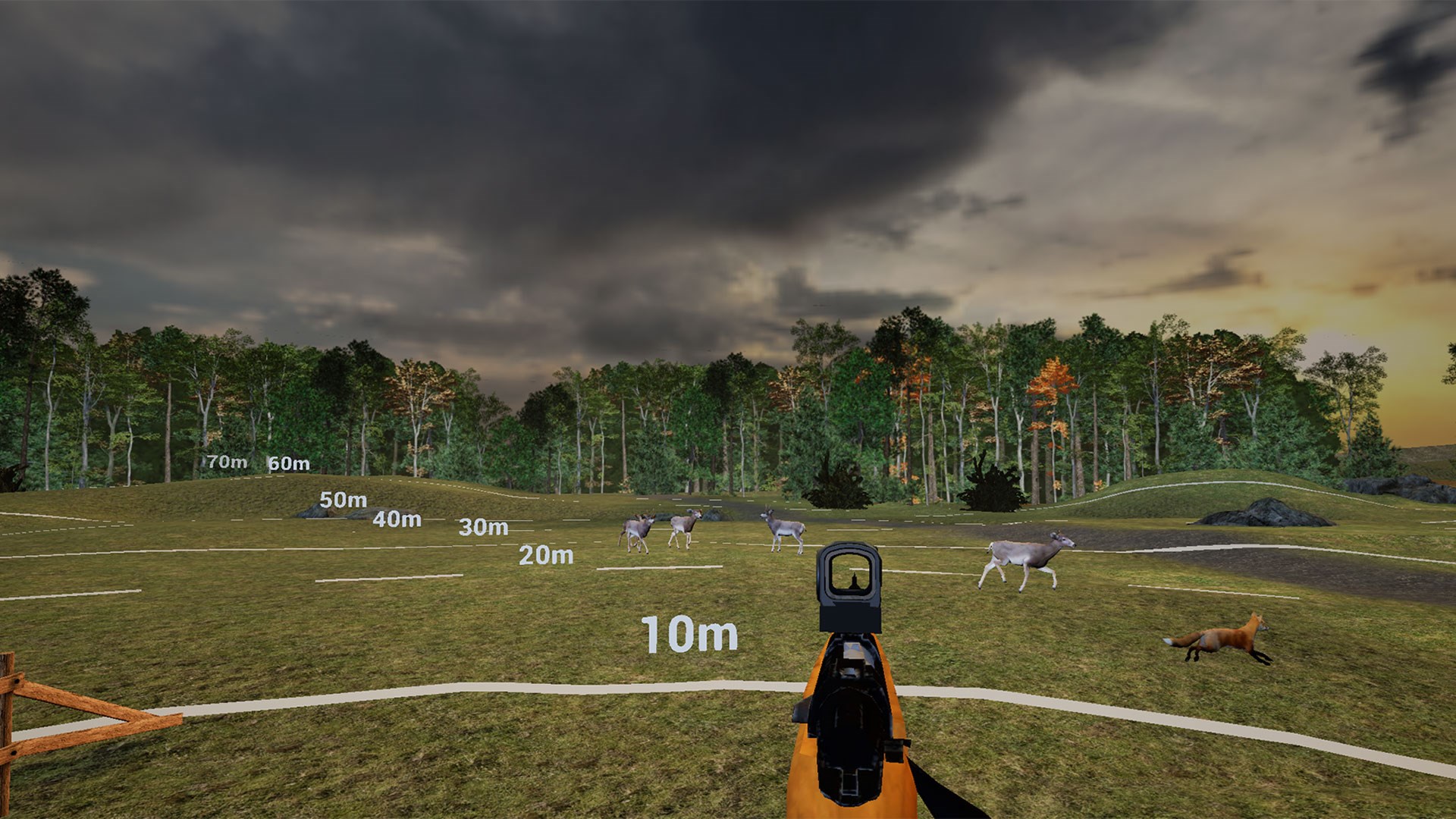 GAIM Options
GAIM developers say, "Accessibility, repeatability and accuracy to your training with a hunting simulator. This is as real as it gets in immersive technology shooting training because we know that what you face out in the field is as real as it gets, anywhere."
Play for fun or to hone your skills and shooting accuracy. The more time you spend in a simulated reality, the better you will be prepared in the woods or on the range the next time you take your passion outdoors. GAIM has been developed to train professional enforcement and military, but also has versions for hunters and shooters. Purchase the GAIM Simulators Professional, GAIM Hunting, GAIM Shooting Sports, or GAIM Complete with all components.
The GAIM Hunting package contains the following:
1x GAIM Wooden Rifle Stock
1x Generation 2 trigger
1x Software bundle, which includes:
Hunting Modules—Wild Boar, Stag, Waterfowl, Moose & Bear
SimPro analyzing module
SimPro Sport Shooting with GAIM of Steel & Time Challenge
A Meta Quest 2 Headset is not included in the GAIM Hunting. The Meta Quest or Oculus headsets can be purchased separately and are easy to find online.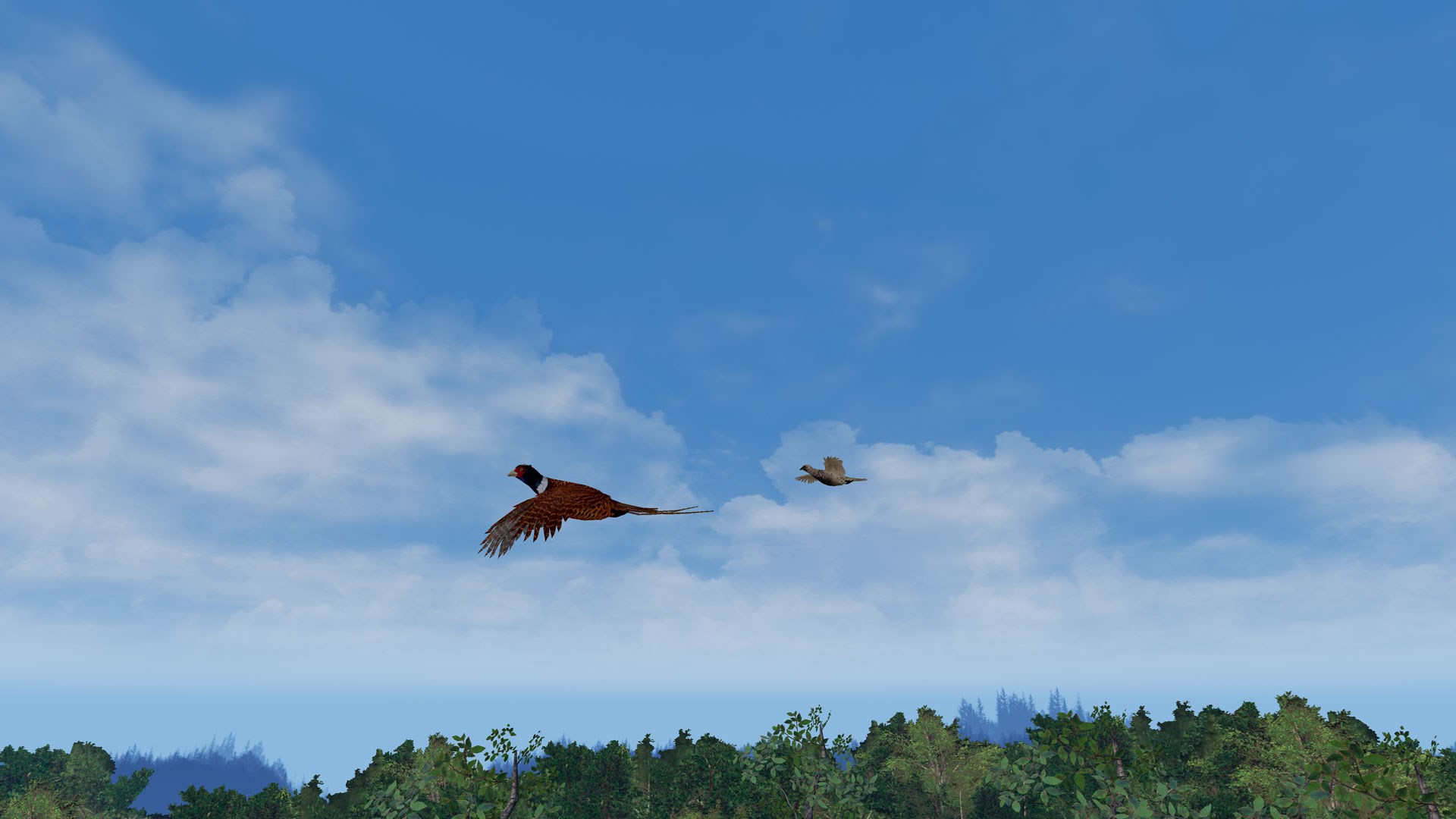 GAIM Hunting is the starting package with software for any hunter or shooter wanting to practice or enjoy a virtual-reality European driven hunt or bird shoot at any time. The GAIM Hunting package includes software, the GAIM Wooden Rifle, and the Trigger Gen 2. The handgun can be purchased separately.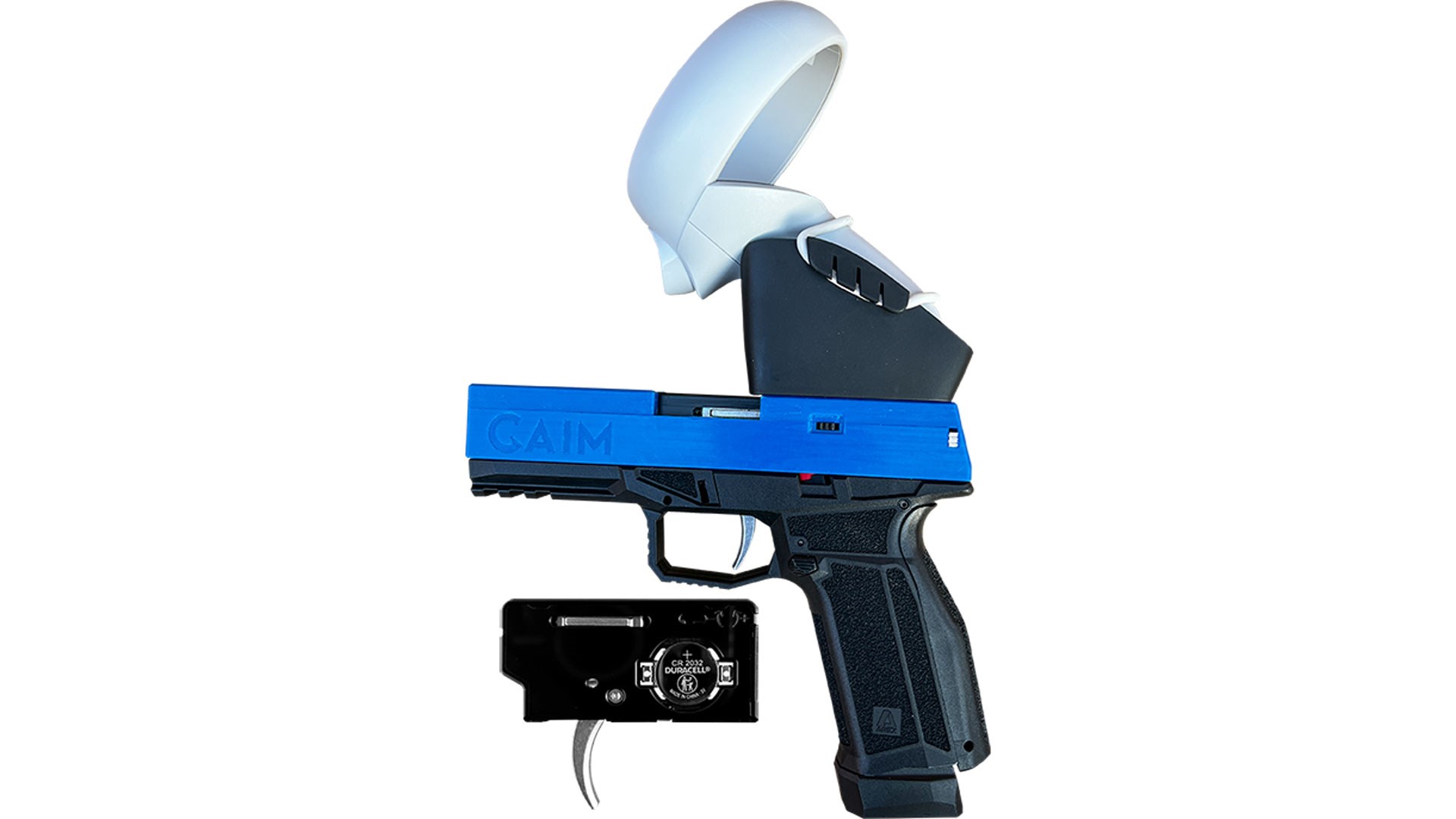 GAIM Hunting can be purchased online for $550.00. For more information, check out gaim.com.