by
posted on November 11, 2019
Support NRA American Hunter
DONATE
At the current rate of acceleration, backcountry hunting will soon be more popular than the Kardashians. And with good reason: private property aside, the backcountry—meaning anyplace that requires the extensive use of legs or a bush plane to access—is the only place left where we can escape the hordes and find truly good hunting. It's yours for the finding; all you need is desire, some gear, a bit of skill and a good pair of shoes.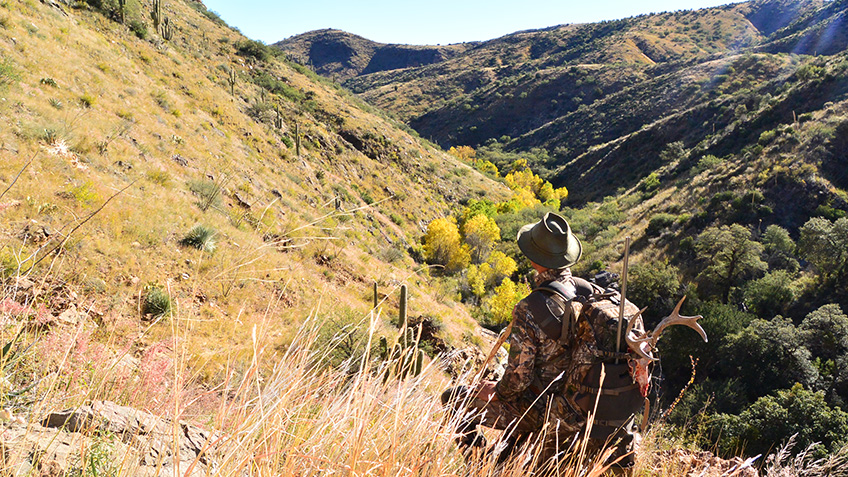 The Quads God Gave You
When I was a kid, four-wheelers hadn't even been invented. Vast reaches of public Western land teemed with big mule deer and herds of elk. Trailheads were accessed by truck or jeep, after which hunters used the quads God gave them to hike into wildlife-rich areas and hunt. This is no longer the case. Now, those wildlife-rich areas almost all have "Wheeler" tracks crisscrossing them, and wildlife has learned to withdraw into even more remote territory when the opening-morning air begins to throb with the distant pre-dawn sound of ATV motors. The front-country bulls stop bugling and fade into the black timber, and old muley bucks sneak into dark thickets to move only by moonlight.
It's still a great plan to access trailheads by truck or jeep, or even law-abiding ATV use. And it still works great to shoulder your pack, take up your rifle and use your quads to hike into wildlife-rich territory. Only now, you have to go deeper—far enough out to escape ATV access. Here's some gear, along with tips and tactics that'll help you along the way.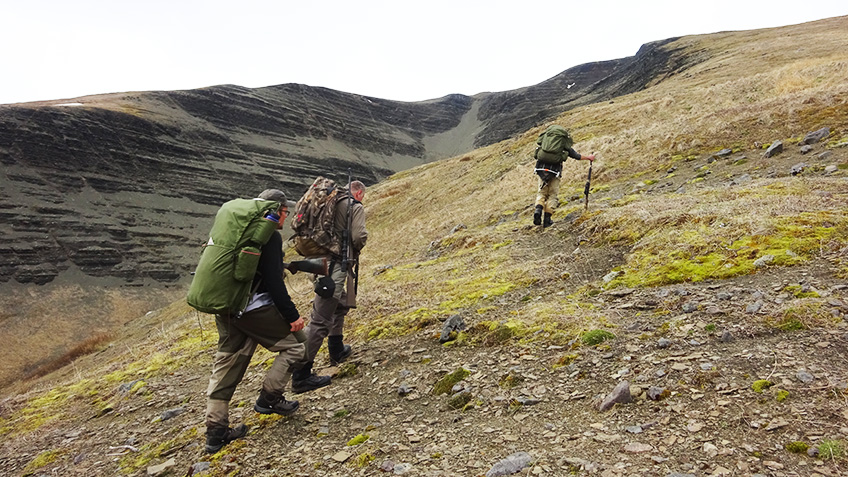 Backcountry Gear
The most important advice I can offer when you're gearing up for a wilderness adventure is to buy lightweight, and buy quality. Someday your life may depend on your gear, so get the best you can afford.
• Bivy Camp: Backcountry hunting doesn't always require camping out, but my best success has come when I bivouacked on the mountain. You'll save countless hours of in-the-dark hiking, conserve considerable energy, and catch significantly more sleep when you bivy out. The finest lightweight tents, sleeping bags and pads are available from mountaineering companies like Big Agnes, Mountain Hardwear and Kifaru.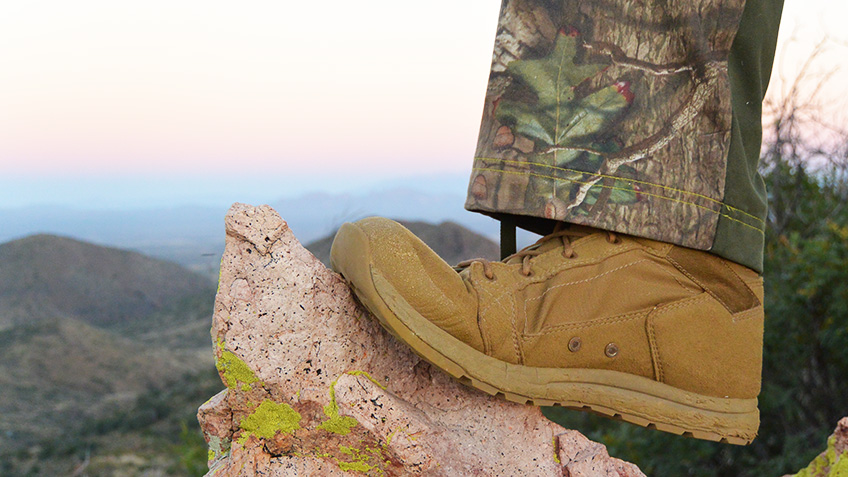 • Footwear: If I were made to choose the one most-critical backcountry-hunting item, it would be footwear. Ill designed, poor-fitting shoes can make your feet bloody and unusable, putting a rapid and irreversible stop to your adventure. Get good footwear and thoroughly break them in before your hunt. I'm a lover of Danner boots; they fit my feet well, are durable and come in a wide variety of iterations. Try the Tachyon model for early-season warm-weather hunts, and their Pronghorn line will suit almost everything else.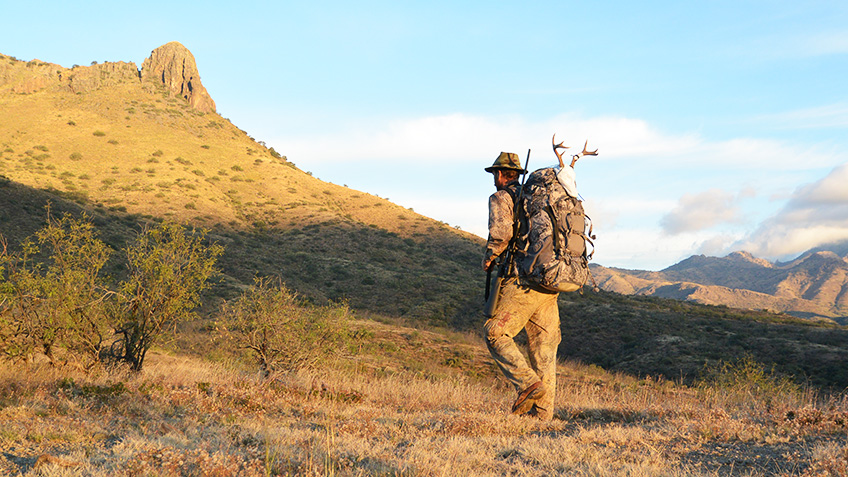 • Backpack: This is your mobile home away from home, and will contain everything you need to live in backcountry comfort for a week or so. Again, look to mountaineering/hunting gear companies like Mountain Hardwear, Kifaru and Mystery Ranch for an awesome pack. Unless you'll be packing ultra-heavy loads like moose quarters, forego external-frame packs and get a 4,500 to 5,500 cubic-inch internal-frame pack. Make sure it's sized right and adjusted to fit your torso correctly, and then load and wear it during pre-hunt workouts hiking or climbing stadium stairs. That way, your shoulders and hips will be ready for the challenge of carrying 40 to 60 lbs. of weight day after day.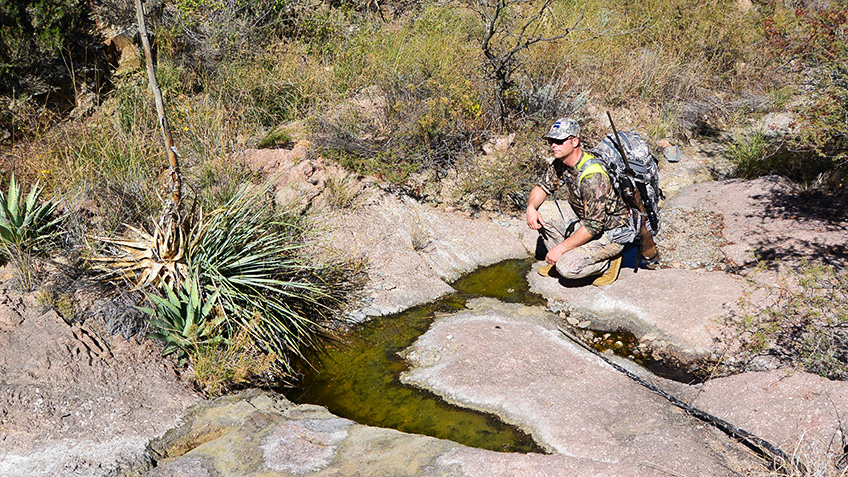 Food and Water
The heaviest thing you'll carry during your backcountry adventures is water. Food can be weighty as well, so plan carefully. An MSR PocketRocket stove and Mountain House freeze-dried food will go a long way toward keeping you fed and your pack manageable. Add a bit of instant oatmeal, some coffee, tea or hot chocolate, some trail mix and some energy bars and you'll be set. Water takes more work while in the field, because you'll need to find a source (do some pre-hunt research), purify the water and—if you're hunting far from the source—carry enough for several days of hunting. For purifying, I like a little pump if I can handle the extra weight. If not I use Potable Aqua iodine tablets, and I always carry a stainless steel Klean Kanteen in which I can boil water if necessary.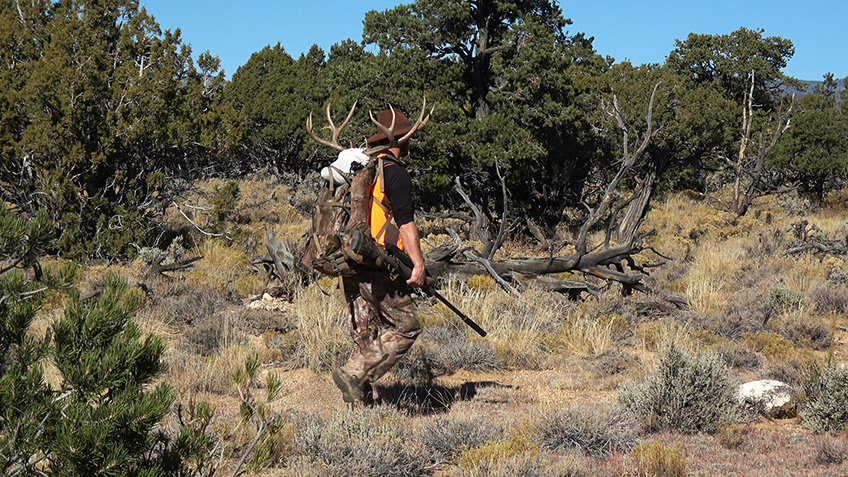 Rifle, Optics and Ammo
One of the more awesome things about the backcountry hunting trend is that rifle manufacturers have stepped up and designed some fantastic lightweight rifles. Check out Kimber, Browning, Weatherby, Nosler and Gunwerks for sub 6-pound rifles chambered in 6.5 Creedmoor, 6.5 PRC, .280 Ackley Improved and other mid-sized, long-range calibers. Mount a high-quality lightweight scope in one-piece Talley mounts. Add a nice rangefinding binocular like Zeiss's Victory RF, and you'll be ready to rock and roll. Yes, those things cost a lot of money, but they'll last your lifetime and more.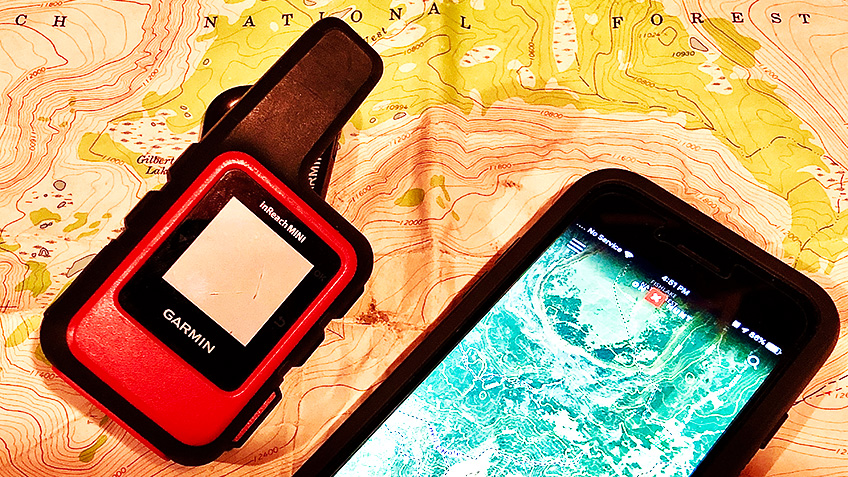 Navigation and Safety
I carry three tools dedicated to my safety and to staying "found." The first is a good old-fashioned topographical map and compass. If you don't know how to read a topo map, take a basic class on navigation, it'll up your hunting game. The second is a Garmin inReach device, either the Explorer or the Mini. This serves as GPS, text-by-satellite communicator, weather station and SOS emergency beacon all in one. Lastly, I now carry an iPhone, mostly for taking photos, but I also use it for satellite imagery, waypoints and property and unit boundaries via my onX Hunt app.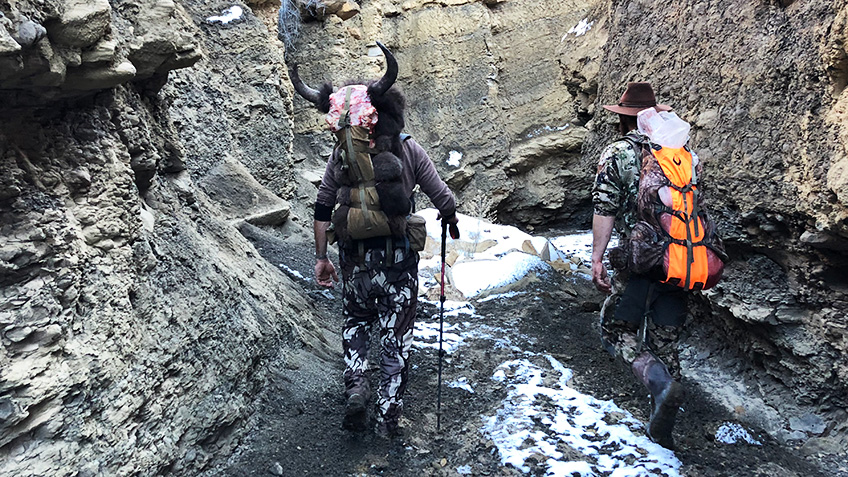 Everything Else
I wish I had time and space to detail every piece of gear that I carry on a backcountry hunting trip. I don't, so I've just talked about the most important. Add a couple superlight knives, two headlamps, suitable clothing, fire-starting kit and meat sacks, and you'll be almost set. Just remember, don't leave anything you need behind, and don't carry anything you don't need into the backcountry.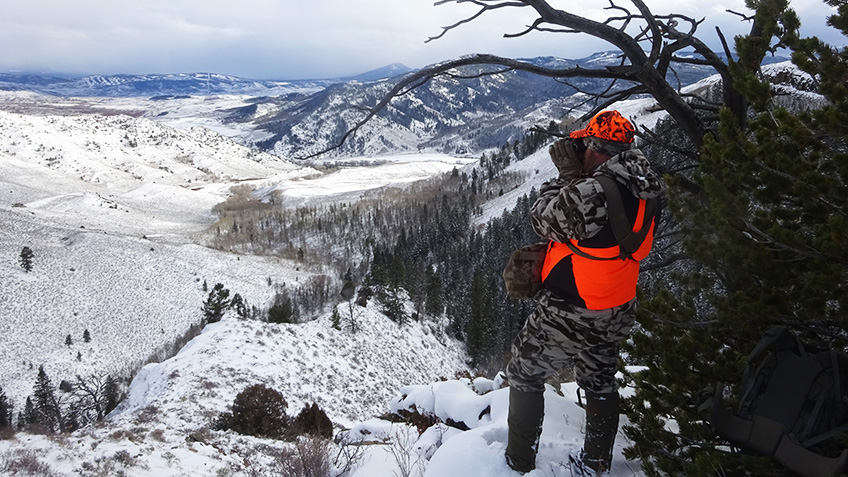 Backcountry Tactics
We've woven tips and tactics into this discussion all along, but now let's talk about other tactics you'll need to stay healthy and be successful in the wilderness.
• Plan Ahead: Before setting out, you need to locate an area that features three things: Remote, hard-to-access habitat suitable for whatever game you're hunting, water for yourself to drink and good vantage points from which to glass. The hard-to-access part will (hopefully) provide unpressured game to hunt, you can't live without the water and the vantage points will set you up to find and stalk a big buck or bull.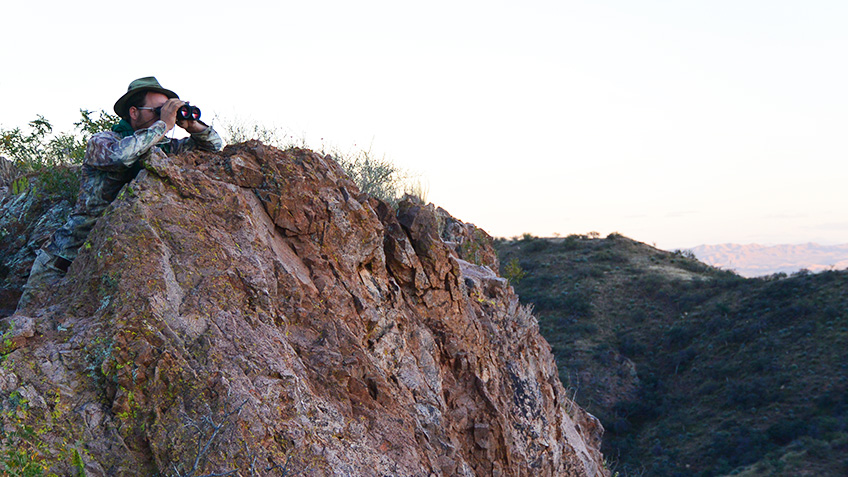 • Let Your Glass Do the Walking: You'll find far more game, without pressuring them, through your optics than you ever will while stomping around in their bedroom. If you must scout for sign or go for water, do it during the late-morning or mid-afternoon hours when wildlife is bedded and relaxed. Spend serious time behind your glass, especially during the first and last few hours of daylight. When you spot a big buck or bull, pinpoint their location, plan a route and make your stalk.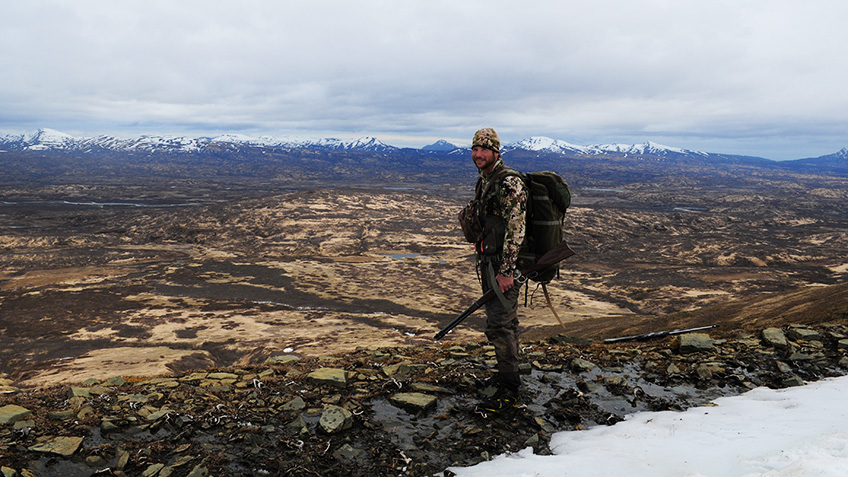 • Don't Be Afraid: You'll be significantly safer hunting most backcountry areas than you are driving or walking the streets of your hometown. Relax and enjoy the remoteness. Disconnect from your devices and reconnect with your hunting instincts. Tune into your senses and soak up the experience. Dismiss fear, and accept the beauty and ruggedness of the backcountry.
*Note: The exception is, of course, hunting backcountry areas that sport a population of grizzly or brown bears. You should be afraid of those, just not unreasonably. Take proper safety precautions, and chances are almost certain that you will emerge from the backcountry unscathed. That "almost" just adds spice, for those who long for wild adventure in wilder places.
Want to read more from Aram von Benedikt? Check out the following articles:
• How to Be an Ethical Long-Range Hunter
• Tips and Tactics for Hunting Coues Deer
• Essential Stalking and Still-Hunting Skills
• A Beginner's Guide to Traditional Bowhunting
• 6.5 Creedmoor Proven: How Does It Actually Perform on Big Game?
• How Hunting Rifles & Gear Have Evolved Over the Last 50 Years
• How to Sharpen a Knife
• How to Set Up Your Rifle and Scope for Long-Range Dialing
• 7 Common Predator Hunting Mistakes to Avoid
• 6 Tips for Hunting Public-Land Mule Deer
• 10 Tips for Bowhunting Elk
• Tips and Tactics for Bowhunting Mule Deer
• How Do You Build the Ultimate Western Big-Game Rifle?
• 10 Ways to Prep for Your Next Western Big-Game Hunt
• Tips and Tactics for Hunting Canyon-Country Gobblers
• 12 Tips for Shed Hunting the West