Support NRA American Hunter
DONATE
In the world of hunting, there are feats called slams, where hunters harvest a set group of animals, most often grouped by species or subspecies. The National Wild Turkey Federation recognizes six different slams for wild turkeys, the most popular being the Grand Slam. To achieve a Grand Slam, a hunter must harvest the four most common subspecies of the American wild turkey—the Eastern, Merriam's, Rio Grande and Osceola.
To date, just more than 1,500 hunters have registered Grand Slams with the NWTF, accounting for less than .1 percent of the total turkey hunting audience. If you're a turkey hunter looking to join this small group of turkey addicts, here are a few tips to help you achieve success.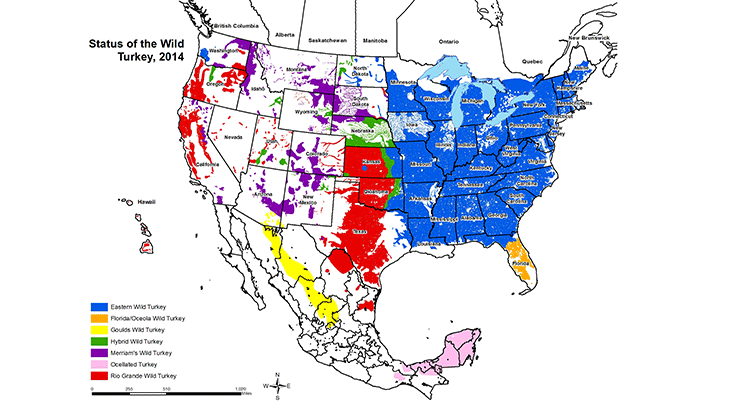 Study Turkey Distribution Maps
Knowing where each turkey subspecies is located is one of the biggest pieces of the puzzle. It will help you map out a quest for a slam, regardless of if you try to accomplish it in one season or over the course of a few. There's no denying you'll have to travel to Florida for your Osceola, but you can find the other three subspecies across numerous states. Eastern turkeys are the most abundant of all the subspecies, and are located in all states bordering and east of the Mississippi. The Merriam's subspecies has healthy populations in the Rocky Mountain region, and Rio Grande turkeys are numerous from Nebraska to Texas, as well as having good numbers on the West Coast.
Learn State Regulations and Season Dates
In planning your slam, securing a turkey tag will be important. While many states offer over-the-counter tags or licenses, some require you to register ahead of time for turkey quota permits. Florida has a general turkey license, but there also are special permit opportunities that can up your odds for a public-land Osceola. Applications for those permits usually are due in the fall of the preceding year.
Western states like Colorado and Wyoming offer limited-draw permits and over-the-counter tags. South Dakota is similar in having quota permits and general licenses, but you'll need to complete an application ahead of time for all turkey licenses, as they are delivered by mail.
Also, take into account the season dates for each state. Southern states may open earlier in the year than the rest of the country, some beginning early to mid-March. However, northern states will have seasons that run further in to the month of May. Maine's turkey season extends all the way to early June.
Other factors in choosing a hunt location include determining if hunting is limited to specific hours of the day and whether or not Sunday hunting is permitted. As with any type of hunting, don't be scared to consult state game agencies with questions. It's better to be safe than sorry.
Double Down on One Trip
Several states offer multiple turkey tags and are home to more than one subspecies of wild turkey, offering the opportunity to knock out two slam birds on a single trip. Several Great Plains states offer multiple subspecies—Oklahoma and Kansas have Easterns and Rios, and South Dakota has Merriam's, Easterns and Rios. Nebraska's turkey population is primarily comprised of Rio-Merriam's hybrid turkeys, but both the state wildlife agency and the NWTF allow hunters to register their birds as either Merriam's or Rio wild turkey based on appearance. West coast states of California, Oregon and Washington also are multi-subspecies states, with Washington offering the opportunity to score Eastern, Rio Grande and Merriam's turkeys.
Learn the Slam Registration Process
While not a critical part of achieving a slam, the NWTF does provide a nice certificate and pin to a hunter who registers a slam through the NWTF. The process for registering turkeys is fairly easy, but there are still some things to keep in mind before submitting the official form.
The official form is good for just one turkey and the registration fee is $15, meaning you'll have to complete the form four times over. There is no time required after a harvest to register birds, so you can wait until you've completed your slam to register all of your birds. However, if you harvest a bird with exceptional weight or beard and spur length, it is best to complete the form as soon as possible, because you'll also need to provide additional documentation and witness signatures. Also note, both hunter and witness must be registered NWTF members.
It might take a bit of planning and more than one season to get it done, but considering these factors when planning your Grand Slam will increase your chance for success and surely lead to lasting memories.
For more information on wild turkey slams, visit nwtf.org.