Support NRA American Hunter
DONATE
Out of the five subspecies of turkeys descending from the American wild turkey, the Eastern tends to frustrate you the most. As the most widespread species, it is to be expected. You just have more run-ins with this Ben Franklin favorite. 
According to the National Wild Turkey Federation, Eastern wild turkeys are the most widely distributed subspecies and found in 38 states along with populations in neighboring provinces of Canada. To avoid the frustrations of gobblers more educated than a Harvard grad student, slip an extra play into your turkey strategy this opener.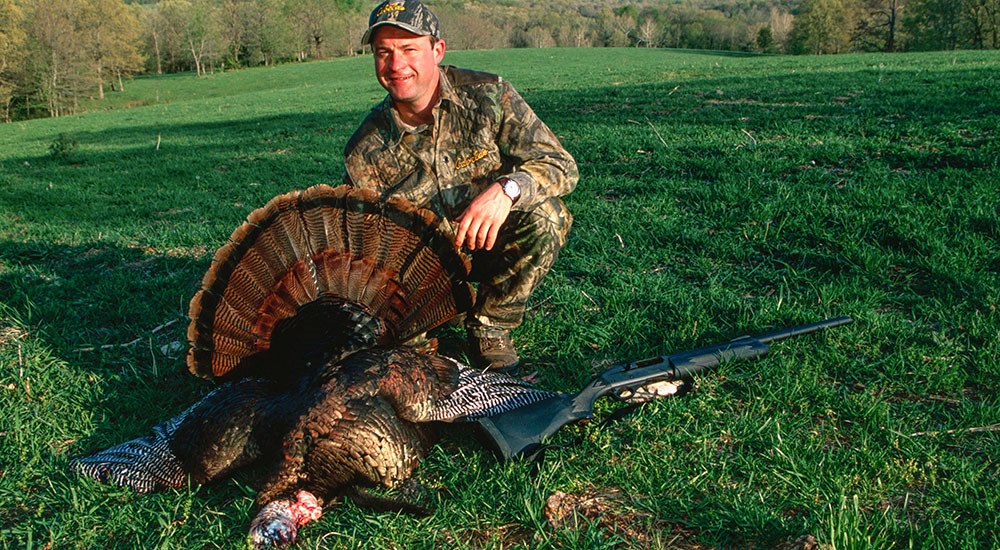 Scout Beyond Your Favorites
You and I have favorites when it comes to hunting locations. No problem, but expand that inventory. The opener includes several factors that could goad a gobbler and his gals to make a hasty move leaving you lonelier than the Maytag repairman. Obvious hunting pressure, weather and early-season agricultural activity all could alter turkey patterns in the blink of an eye. Scouting can help you form a backup plan for any turkey deviation.
Jerry Lannen, a Pennsylvanian with 28 years of Eastern schooling, believes scouting to be the foremost way to wage war on savvy gobblers, opening day and beyond. Scouting reveals preferred roosting locations, strut zones and feeding grounds. Despite having turkeys dialed in for the opener, Lannen looks beyond his primary hunting area for backups. Sometimes the extra scouting reveals some surprising hunting opportunities.
"For me, it always comes down to scouting and listening to where I hear them the most. That is where I start my season," explains Lannen. "Even so, I like backups and one spring I found a flock in a field early every morning hundreds of yards from any roosting trees. Then it hit me, the birds were using an old, decrepit barn for roosting. The dilapidated roof exposed the log timber framework and that served as a roost site. It was an eye opener for me that led to a backup hunting area in an unusual location."
Join a 5K
Why walk when you can run? When turkeys begin making a move, especially away from your calls, relocate. This may equal jogging or a brisk hike out of sight to beat a flock to the next suspected layover, possibly landscaped with decoys, for a surprise meeting. In either case, a high heart rate may be the answer to a flock unwilling to come to your calls.
"If it does not work off the roost, I don't wait for them to change their mind. I'm an aggressive hunter and moving fast," outlines Lannen. "From scouting, I have a good idea of where they are headed after leaving the roost. I put it into gear, swing wide around them and get to their next stop."
Justin Hall hails from Mississippi, but has been matching wits with Easterns for 27 years across Mississippi, Alabama, Missouri, Kentucky, South Carlina and Indiana. His caginess mirrors the shrewd adversaries he pursues, and he understands that running shoes sometimes make a better footwear choice.
"If I'm not getting the reaction and birds are not communicating with me, or they are moving away from me, I'm going to try to make a move as quickly as possible. It is hard to turn a single turkey, much less a flock that is en route to a predetermined destination," says Hall. "This is where your knowledge of terrain and woodsmanship can make the difference. Use the terrain to move as quickly and quietly as possible without being detected. Then set up so they walk right into your lap."
Take a Union Break
You may need to take a breather after your 5K jog around a turkey flock. Even more likely is a stubborn gobbler cementing in place. Instead of nonstop hammering on calls, take a break. Hunt through the remaining acres on a property. After an hour or two, return from the opposite direction to where you left Mr. Motionless.
"If he hangs up, try the silent treatment," instructs Hall. "I may try to make a slight move or shift in location, and call him back. Remember, just because he is not gobbling does not mean he is not there. I have watched turkeys stand and strut in the same 10-square-foot area for over two hours at a time. I have also had turkeys gobble at every call I throw at them and every sound in the woods, but never budge. When you do hit them with the call and they go silent, don't assume he is leaving. Many times, this means he is committed and moving to you. Get ready for the shot."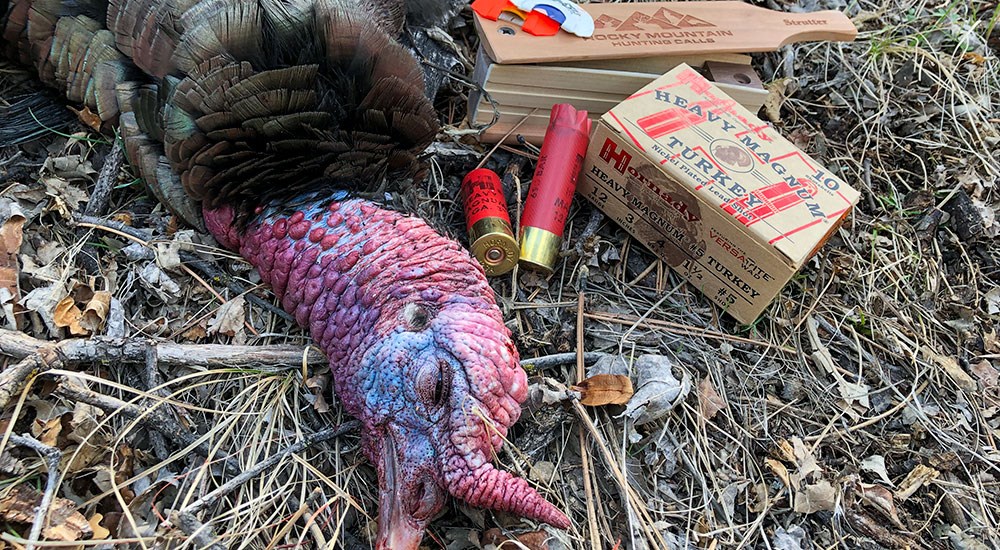 Fight on Level Ground
Veteran turkey hunters will share with you that hunting turkeys on flat ground can cause you to pull your hair out. Lack of cover and lack of predictable patterns leads to frustration. You can find similar frustrations in hill country, but with foresight you can find advantage in the varying terrain. Forest cover gives you movement concealment and topographical features attract turkeys to settings like benches, ridgetops and two-track trails that turkeys utilize in the raised-ground environment. A quality hunting app, like HuntStand, provides you with on-the-spot assistance to terrain navigation.
After years of hunting Easterns on uneven ground, Lannen knows to never set up below a turkey unless the flock includes that move in their daily routine. He always tries to set up on level ground, and that means scouting for ridgetops, benches, woodland trails and other stretches of flat ground in an unlevel playing field.
"Two or three years ago I hunted a big hollow where a flock called home. After several hunts I saw a pattern emerge. On foggy mornings, the flock would move upwards to hilltop fields. On clear mornings they stayed in the hollow," recalls Lannen. "With a forecast of fog, I set up on the upper fields and was rewarded with a tom working perfectly to the field as it came up and over into shotgun range."