by
posted on September 23, 2021
Support NRA American Hunter
DONATE
Few sporting arms are subjected to more abuse than is the fowler's shotgun. From dew-soaked stubble fields with footing the consistency of cake batter, to hazard-filled marshes and layout boats cutting waves—spraying corrosion-inducing saltwater in the process—said shotguns are often tortured endlessly. Lesser guns will succumb quickly (and usually at the most inopportune time), while well-designed models will operate as designed. You must choose wisely.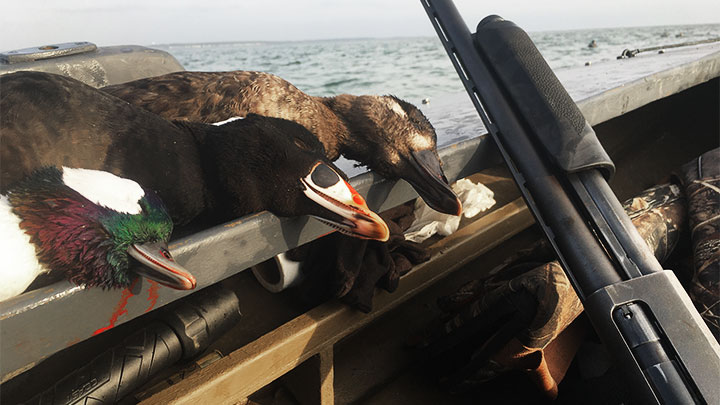 This begs the question, "What constitutes a proper waterfowl shotgun?" Although there's no one-size-fits-all solution, there are features I can suggest without hesitation. These aren't anecdotal, either; rather, the advice below is the cumulation of three-decades of experience hunting waterfowl from Virginia's Eastern Shore and Penobscot Bay, Maine, to Kodiak Island, Alaska, and devaluing many guns in the process. While the qualities that I outline are favored for a fowling piece, ultimately, the shotgun must fit you and you must be comfortable with its controls.
Action Type
Each action type has its advantages and drawbacks, though any repeating arm—outside of the rare, bolt-action shotgun—will suffice for fowling. Leave the single-shot at home. I'm now partial to semi-automatic shotguns; however, I still utilize pump-action and over-under shotguns at times, too.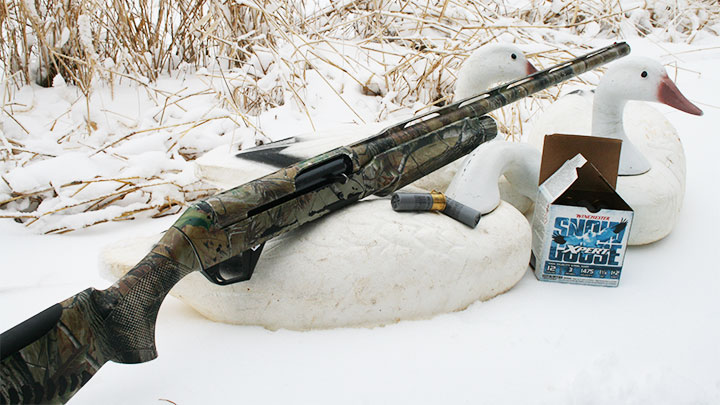 The chief benefit of autoloaders is rapidity of follow-up shots, which is no small concern when hunting divers and sea ducks. These ducks are escape artists. Besides, the recoil impulse is more shoulder-friendly, due to gas or recoil being used to cycle the action. This is a boon to hunters who cannot handle or dislike recoil or prefer 3½-inch shells. An often-overlooked advantage of the autoloader is its ability to be employed effortlessly in confined spaces, such as a layout boat or single-person blind. Try a pump-action in layout boat or teetering craft and you'll understand. That's a non-issue with semis or over-under shotguns.
Concerning semi-automatics, you essentially choose between gas or recoil operation. Although I prefer the former—a Beretta A400 Xcel Sporting Black Edition—for most of my shotgunning, including NSCA tournaments, I almost exclusively use a well-used Benelli Super Black Eagle II (SBE2) for waterfowling. Since I'm usually hunting in adverse conditions, including brackish and saltwater, frequent cleanings are a must. Cleaning the SBE2 and similarly designed "inertia" guns is simple and fast. That's not to say gas-operated models won't work—they will, and well. However, maintenance is much more time-consuming. Believe me, I know. For the ardent foul-weather-fowler, I recommend inertia-operated shotguns.
As for pump-action shotguns, they're less costly than many autoloaders, and they'll more than suffice for waterfowling when stable footing can be achieved. But it's often difficult to access the pump-action's full capacity when shucking shells from the sitting position—especially when targeting eye-level divers and sea ducks from a bobbing layout boat. I've found that it's difficult to get more than two worthwhile shots in said circumstance. That being said, for many years pump-actions are all that I used. My well-worn Remington Model 870 Express Super Mag is a testament to a solid design and craftsmanship. I've previously enjoyed great success with the Mossberg 500 and 835, Browning BPS, Benelli Nova and Stoeger P3500, as well.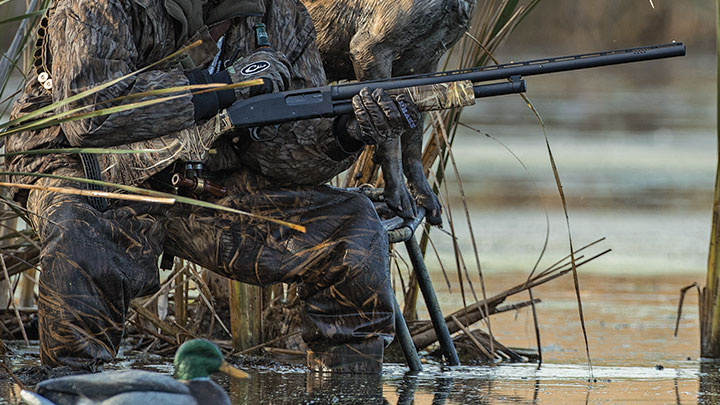 Similarly, I've had much success using over/unders, though fancier models with a blued steel receiver and high-grade wood are poor choices for brackish and saltwater environs—a dealbreaker for me. Camo-clad models with a synthetic stock, such as the new-for-2021 Browning Cynergy Wicked Wing-Mossy Oak Shadow Grass Habitat and CZ Swamp Magnum Camo, are exceptions; in fact, they're well-suited for hard hunting. On the days that I want to try something "different," I use a Stevens Model 555 E 16-gauge stoked with Boss Shotshells loads featuring 1-ounce of No. 5 copper-plated Bismuth shot. The wood takes a fair trouncing while sea duck hunting, but the aluminum frame is more resistant to the corrosive effects of salts than steel. It brings many birds to bag, too.
Obviously, an over/under offers only two shots, and though they're quick, reloading is slow, but the tradeoff is a short action and maneuverable gun that's home in any waterfowling situation. The same applies to side-by-side shotguns.
Metals
Firearms are typically crafted from a variety of metals (and thus alloys). Some that you'd think would be inferior actually are not. Obviously, the barrel must be made from steel, due to the pressures it must withstand. From my experience, however, that same material is less desirable for the receiver. Why? Like the barrel, the receiver is continuously exposed to the elements and surroundings (i.e. water), and this can cause steel to quickly rust. Think that you can prevent it when hunting brackish and saltwater? Good luck. No matter the oil, CLP, or preventative measures taken, exposure to salt will result in corrosion—fast. As proven by many aluminum-framed shotguns, the lighter metal is perfectly capable of withstanding the rigors of shotgunning, and it's less susceptible to corrosion, as well. These daintier shotguns are certainly better for the trekking fowler.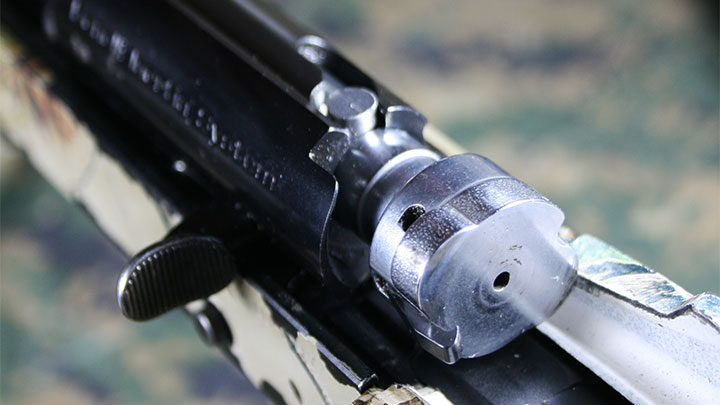 If a steel-framed shotgun is selected, opt for one with a durable, camouflage finish. The extra cost is warranted. The same applies to those with an aluminum frame, as it'll help protect the steel barrel. In time, the finish will wear some, just as it has on my workhorse SBEII; however, the ducks don't notice, and I could care less, too. There is beauty in scars. The finish, and various other treatments/linings help you spend more time hunting, not cleaning, and increase longevity. For those parts that are steel, be sure to keep them cleaned and lubricated the best that you can.
3-inch or 3½-inch?
Obviously, this section pertains to the 12-gauge, which is the most-utilized gauge for waterfowling. Unveiled in Mossberg's 835 pump-action shotgun in 1988, the then-new 12-gauge, 3½-inch shell facilitated payloads on par with those of the 10-gauge, 3½-inch—a boon to waterfowlers using large, steel shot during the changeover from lead. Certainly, turkey and big-game hunters stood to gain much from the longer, higher pressure 12-gauge shell, as well. However, advancements in ammunition—especially metallurgy—have eroded those gains; in fact, a growing number of hunters believe that the seemingly Roman-candle-sized shells are no longer needed. Here's why.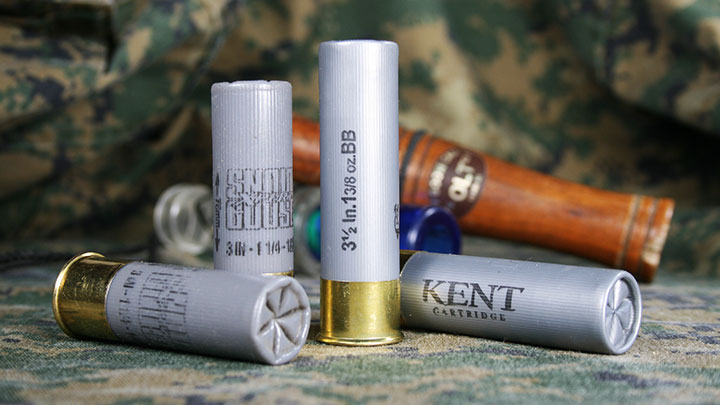 With a density of 7.8 grams per cubic centimeter, steel is a poor substitute for lead as a shot-making material. But, it's cheap, and it's deadly given that it's propelled to ample velocities to ensure penetration. The 3½" hull provides additional the space for payload and propellant to maximize lethality with steel. However, it's unnecessary with other alternatives to lead, such as Bismuth, HEVI-Shot, SpheroTungsten 15 (i.e. Federal Heavyweight TSS) and 18, Tungsten Matrix, TSS and BPX Devastator, among others. High-density shot, such as those mentioned above, don't need to be propelled to screaming velocities to be fatal, and the oftentimes-minute shot—down to No. 10s in TSS—occupy negligible space. All this to say that the 3½-inch has, for all but a handful of purposes, become superfluous.
Some 12-gauge shotguns are only offered in 3½-inch, while others can be had in 3-inch variants. Which is better is purely personal choice. The former generally costs more, and they're frequently dimensionally larger (and heavier), too. But if you're a fan of steel shot or want your scattergun to pull double-duty on spring toms, then the 3½-inch model makes sense. You can use ubiquitous 3-inch shells in them, too. Otherwise, a 3-inch version will fulfill your needs.
Barrel Length
Most modern, sporting shotguns are fitted with barrels between 24 and 28 inches in length—for good reason. Franky, there is no need for a barrel longer than 28 inches for waterfowling, including pass-shooting geese. The argument for a longer sighting plane is made moot by the fact that, honestly, most fowlers don't practice enough to consistently kill fowl and long distances.
When selecting a barrel length, know that a long barrel can be counterproductive in the tight confines of a blind or boat, and ballistically there's nothing substantial to be gained from adding extra inches. I prefer the "all-around" 26-inch barrel for repeaters, while an over-under can have up to 28-inch tubes.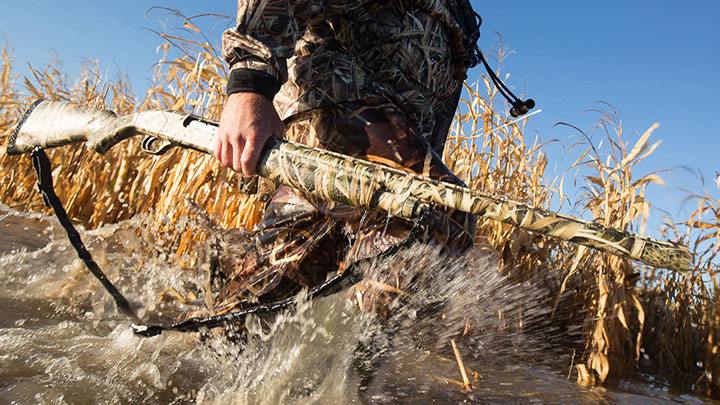 Before splurging on aftermarket chokes, take the time to pattern the shotgun with those provided by the manufacturer. You might find that, with the selected load, there's no need to purchase anything else. It also will show you where your pattern hits in relation to your point of aim—a necessity before hitting the water or field.
Taking Stock on Stocks
Whereas semi-automatic and pump-action shotguns are regularly available with wood or synthetic stocks, such is not the case with many over/unders and side-by-sides. As mentioned elsewhere, the wood stocks that most dual-barreled guns and others wear are, outside of bluebird days, not good choices for waterfowling. Unless pampered, wood stocks exposed to precipitation will be adversely affected, and they're easily dinged, dented and scarred. Mine are a testament to that.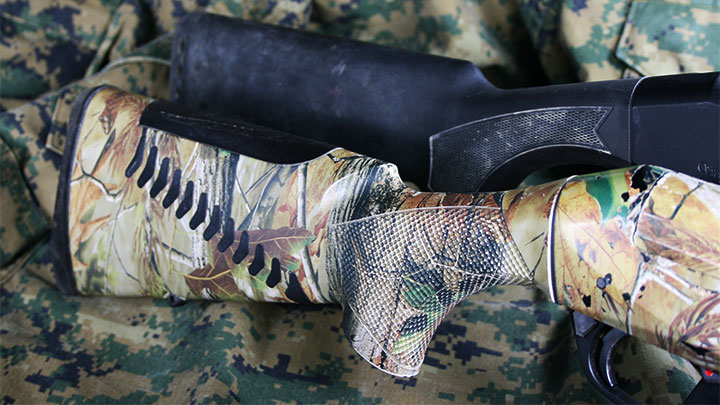 If you're unconcerned with "love marks" after a hard day's hunt, as I am, select wood. But there's no such concern with synthetic stocks; they're remarkably durable, and they'll be no worse for wear even after the nastiest weather encountered. I would recommend getting one with a camo finish. Though they cost more than their black, non-embellished counterparts, the finish might be the deciding factor in whether or not a duck, goose or spring gobbler commits.
Probably more so than any other sporting arm, the purchase of a waterfowling shotgun shouldn't be made haphazardly. Choosing wisely at the point of sale prevents misery at a later time.
■ ■ ■
Recommended Waterfowl Guns
Recommending specific firearms can be a challenging endeavor, as you invariably omit some choices that another person finds more fitting. Still, there are some great waterfowling shotguns that can be purchased either new or on the secondhand market and that have the features that I outlined in this article. If a gun wasn't available with most of the characteristics, it wasn't included. Only 12-gauge shotguns are listed. Consider the following models:
Semi-Automatic
• 
Benelli SBE3 (pictured), Ethos Cordoba BE.S.T., Vinci/Super Vinci, M2
• 
Browning Maxus II, A5, Silver, Gold
• 
Winchester Super X4
• 
Savage Renegauge
• 
Mossberg 930
• 
Franchi Affinity 3.5 and 3
• 
Tristar Viper Max, Viper G2
• 
Stoeger M3500, M3000
• 
Beretta A400 Xtreme Plus, A400 Xtreme, A400 Lite Max, A300 Outlander, A350 Xtrema Max5
• 
Remington Versa Max
• 
CZ 1012 Synthetic
• 
Weatherby Element Waterfowler Max-5, 18i Waterfowler
Pump-Action
• 
Winchester Super X Pump
• 
Browning BPS
• 
Tristar Hunter Mag II
• 
Remington Model 870
• 
Benelli Nova, Super Nova
• 
Stoeger P3500, P3000
• 
Mossberg 500, 500 FLEX, 835
• 
CZ 612 Magnum Waterfowl
Over/Under
• 
Browning Cynergy
• 
Savage Model 555, 555E
• 
Mossberg Silver Reserve (Synthetic)
• 
CZ Swamp Magnum Camo