by
posted on January 3, 2020
Support NRA American Hunter
DONATE
A surprising firearm development for 2020 is Savage's new … shotgun. While the company's highly regarded, oft-imitated bolt-action rifles, heirloom rimfires, and, more recent MSR semi-automatic rifles, are well known, Savage also has a long history with shotguns: Fox doubles, numerous iterations in the Stevens brand, plus the big 212 bolt-actions machined at the firm's home base in Westfield, Mass., a current design that shares more with iconic Model 110 rifle platform than with today's working smoothbores.

That's where the new semi-automatic Renegauge comes in, freshly designed from the screws up by in-house engineers with a proprietary gas-piston operating system and stocks that can be adjusted to custom-fit virtually any shooter.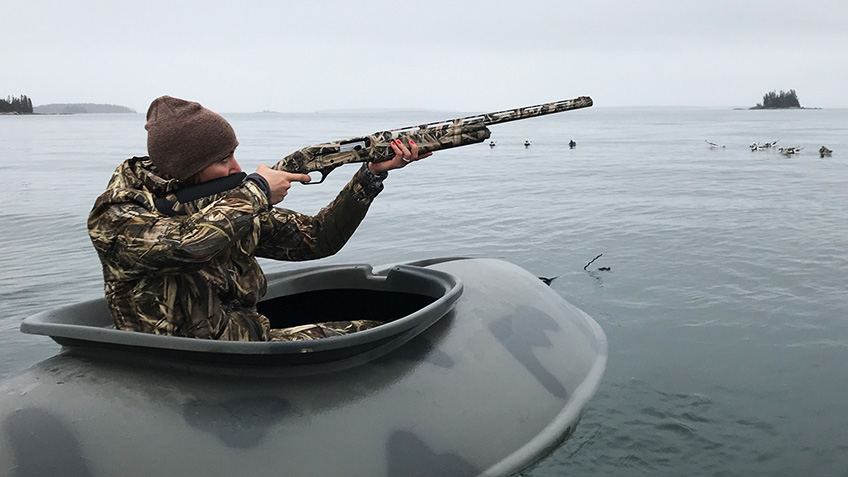 A handful of NRA Publications editors took part in Savage's pre-release field and range trials, and came away favorably impressed in two key categories:

• The Renegauge reliably functions with any shotshell you feed it, no adjustment needed. And it does so in all sorts of environments, from dry and dusty, to rain and mud, to saltwater and heavy seas—the gun is built to withstand punishment
• The Renegauge makes shooting intuitive. Its balance, trim lines, stock adjustments and surprising lack of recoil helped the hits come routinely and come often. In fact the recoil reduction was so noticeable, some of our group are now convinced it is the lightest-kicking 12 gauge ever. That's especially noteworthy when considering these guns weigh in at under eight pounds.
Associate Editor Christopher Olsen ventured out into the rough, open waters off the Maine coast to take his swings at common eiders, among other species. The densely feathered birds are North America's biggest, fastest duck, and that venue—with bag limits set at five eiders per day—there's always a real chance for a barnburner shoot. Indeed Olsen burned through lots of shells and took plenty of birds of a species notoriously difficult to knock down. Despite feeling he could have done a better job adjusting the comb height—and therefore wasn't quite getting max performance—he was totally satisfied by new smoothbore's handling and performance.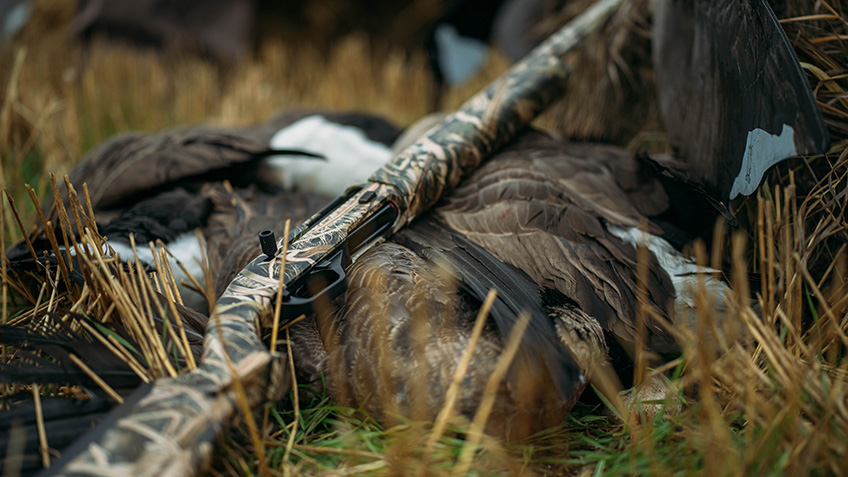 I joined the Savage development team and other media folks for a classic early-season hunt in North Dakota's pothole country. Our timing couldn't have been better. An unusually cold September had pushed puddle ducks and giant Canadas south, birds that mostly had yet to encounter calling. Surrounded by untold acres of just-picked corn, our guides from Stone Prairie Outfitters opted mostly for field setups where we hammered our limits from layout blinds. I was able focus on the waves of decoying incomers because even in that awkward sit-up posture, my Renegauge shouldered and swung with natural ease and consequently connected on many of the big northern mallards and geese. Later, crouching in cattails in a windy pothole, I got lucky and snagged a blue-winged teal zipping perhaps a yard over the water with the wind at its back. The Savage fit and felt great, and appeared to cycle as fast as any gun I've used. Our loaner models wore red fiber-optic front bead on steel ventilated ribs. Their controls manipulated smoothly, and the loading gate gobbled fresh shells. The only hiccup was having to say good-bye with the bulk of the season yet to come.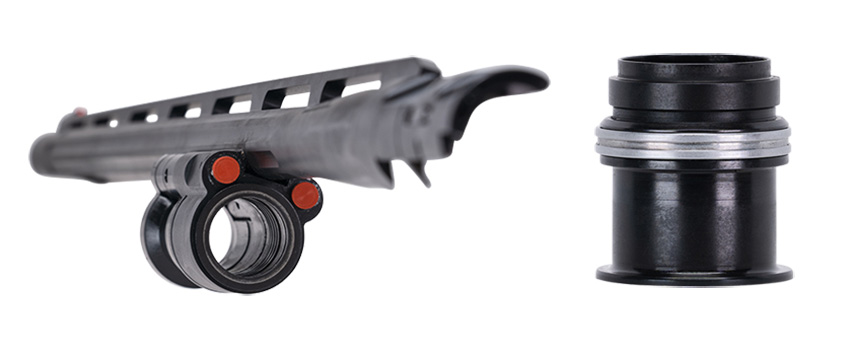 At the heart of the Renegauge is its Dual Regulating Inline Valve operating system (D.R.I.V.). It causes propellant gases to vent directly into twin, spring-loaded valves mounted on the underside of the barrel. The valves are forced open precisely long enough to channel the volume of gas needed to cycle the action, after which excess gas escapes through the front end of the valves. As such, the one-piece action-bar assembly pivots rearward with enough force to do its job, but minus the extra energy dumped often onto the buttstock by some gas or inertia-type actions. That's one big reason why this model is such a mild shooter. Adding to the dampening effect are a shock-absorbing buffer rod that extends into the butt, plus the numerous stock-adjustment features that make customization similar to what's found in Savage's award-winning Accu-Fit rifle stock.

Most internal moving components are chrome-plated for wear resistance and easy cleaning, and since the action return spring is forward-mounted around the magazine tube, owners are spared the messy chore of pulling the buttstock to clean gunky, rusting parts housed therein. Also protected are the barrels, which come with a durable melonite coating. [For weight management purposes, the barrels are fluted.]     
For 2020, the Renegauge will come in three basic models: the Field, with 26- or 28-inch barrels and a black synthetic stock; the Waterfowl, also with 26- or 28-inch barrels and completely cloaked in Mossy Oak Shadow Grass Blades camo; and the Turkey, with a 24-inch barrel plus a choice of Mossy Oak Bottomlands or Obsession camo. All three are come with a selection of choke tubes (including Extra Full for the Turkey), plus a lockable, hard-sided carrying case compliant with TSA regulations for commercial air travel.

One conclusive indication of how serious Savage is about entering the extreme wingshooting market is the pricing. If you were expecting the Renegauge to come in at the low end (what I first thought), then think again. MSRPs are $1,450-$1,550. Not the costliest but not the cheapest, either. Savage came under new ownership last year, returning to independent status after being part of Vista Outdoor Corporation for a few years. The restructured management is proud of the company's fine guns, but nonetheless are determined to shake up the status quo. They know the high-performance shotgun segment is entrenched with well-established models, but absolutely certain the Renegauge stacks up favorably to all the other brands, they are keen to jump in and compete, and in so doing, reset American hunters' perception of Savage.