by
posted on June 23, 2018
Support NRA American Hunter
DONATE
It is hard to recall a bad night's sleep under canvas. Sure, there are times when, at night all zipped up in a mummy bag, a cheek touches cold dew on the inside of the tent. There is a shudder then and a pulling back into the cocoon of a bag. The air feels cold outside but cozy inside. The wind is in the trees above and expectation of the morning's hunt to come is over everything. Sleep comes easy again until an alarm goes off, and it's time to get dressed and climb above treeline to glass before the sun peeks over a mountain. Too short a night maybe, but hard to call a second of it bad.
But then nostalgia is absentminded.
I recall the night a stream washed down a mountain, right into my tent. I remember, as I lay in Alaskan darkness, how I felt gripping a rifle when a brown bear bumped into the nylon cord holding up my tent. I have PTSD from a night I slept in a "two-man" tent with someone snoring so close to my ear I could hear and feel his breath.
Such is why, as with rifles, hunting tents are specialized affairs. Avoiding bad experiences means choosing the right tent for your hunt.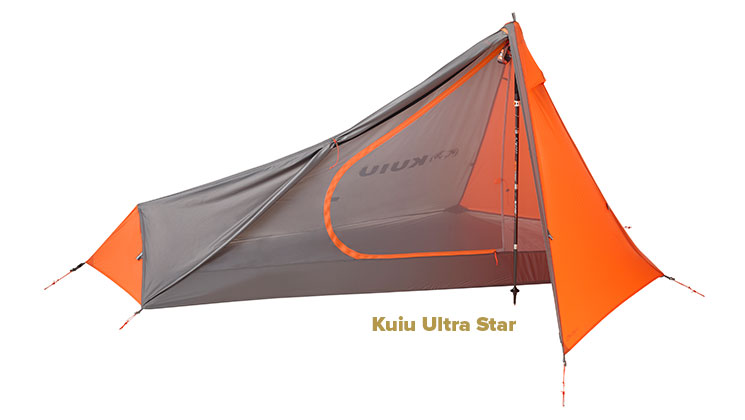 Made to Carry
An ideal tent for a backpack hunt is lightweight, as in less than 4 pounds, packs down ultra small and is tough enough to handle storms and rough ground. That's a lot to ask, but the good news is the sport of elite backpacking has pushed tent technology into specialized one- and two-man models that meet those specifications.
Personally, I carry my own tent on backpack hunts and ask other hunters to do the same. I don't want to share a cramped backpack tent with a hunting pal any more than I do my bed at home. Even two-man backpacking tents are so tight that by midnight you'll be sure whoever designed your model must have consulted the airlines to determine how many square inches a person needs to be "comfortable."
The next thing to think about is warmth. The fabrics used in these tents are lightweight. Manufacturers do all they can to reduce every ounce. As hunters, we're typically out in autumn when nights get cold if not subzero. Storms might blow in, and we can't leave then—no, storms get big game moving. You need a tent that can keep you reasonably warm. This means a tent that has two walls, typically an inner layer covered by a tarp. In this system the mesh inner tent acts as a barrier from condensation that forms on the inside of the rainfly.
There are dozens of quality backpacking tents. Hilleberg tents are the luxury car of this category, and you pay for it. Hilleberg's Niak will cost you $795. It weighs 3 pounds, 5 ounces and is made for two people. This Swedish company is known for extraordinarily tough tents built to withstand high-country storms. Its tents are great for wind and rain, but they're overkill for mild, summer conditions.
A more reasonably priced option is the Kuiu Ultra Star one-person tent. Kuiu specializes in making high-quality hunting gear for DIY backcountry hunts. The Ultra Star costs only $260 and weighs just more than a pound (18.9 ounces). It's a tough little tent.
The Tarptent Double Rainbow, which costs $289, is another affordable and lightweight option at 2 pounds, 9 ounces. It's roomy for a backpack tent and can handle stormy weather. Some backpackers report, however, that condensation invades the interior of this tent.
Whatever model you choose, backpack tents take a little practice to set up. It's not difficult (many have just one pole), but they are engineered to be light, so setup isn't always intuitive. Practice in your back yard first.
Most backpack tents don't come with a footprint (a tough tarp to cover the ground). The reason is tent makers want to reduce ounces. If you're willing to carry the extra weight to extend the life of your tent and to separate you from cold, maybe wet ground, consider picking up a footprint sized for your tent.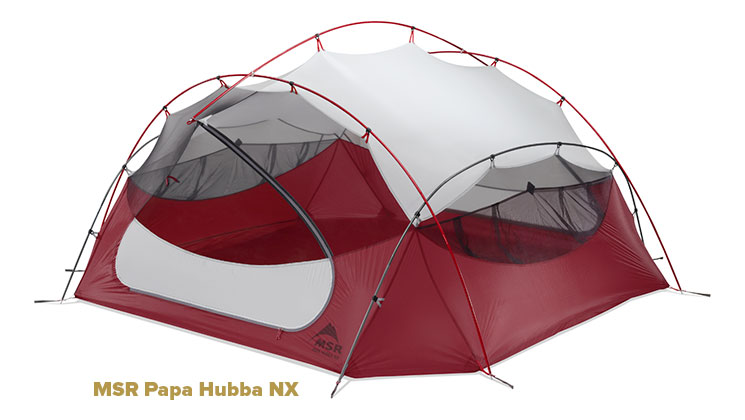 Room to Stretch
Midsize tents are for hunts during which you don't have to pack in gear for miles. Again, two-wall construction (meaning you'll have a tarp over the tent) is critical, as it'll keep moisture out of the tent. Waterproof zippers and quality materials are also fundamental. A tent footprint is recommended as well.
Most affordable dome tents meet these basic needs if you don't have to carry them far, as they are heavy. A foam sleeping pad is easy to add, and some of the larger dome tents will even fit a cot. It all depends on how much you are willing to pack in to your campsite.
The MSR Papa Hubba NX, which costs about $600, is a quality four-person tent in this category. It weighs about 5 pounds, 15 ounces, so you can pack it up a mountain. It has 53 square feet of floor space and tough 30-denier nylon floor fabric.
Another good mid-size, packable tent is the four-person version of the Big Agnes Copper Spur HV UL. Although this tent is 12 ounces lighter than the MSR Papa Hubba NX, it costs more at $650 and uses thinner materials, including a 20-denier floor.
As this is the category in which most people shop for tents, there is no end to options. Many are less than $100. Just be careful of cheap tents if you plan to spend more than a few days in a challenging environment. Higher-end tents have systems designed to keep you dry. The ubiquitous cheap tents fail in wet, windy fall hunting conditions.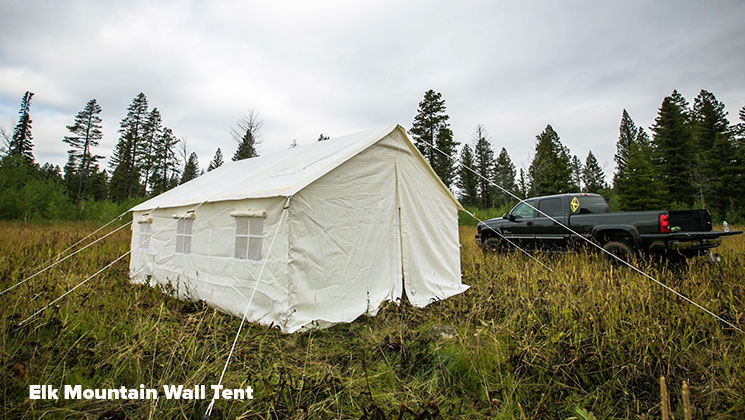 Serious Shelter
Wall tents bring us into the four-season category. A true wall tent, made of heavy canvas, will have room for cots and a woodstove. These are the big, white tents you'll find in a Western outfitter's camp.
Two high-quality brands are Montana Canvas and Elk Mountain Tents. Cabela's has a series of Outfitter Wall Tents by Montana Canvas that starts at $1,129. These are for someone who will put up a tent, possibly on a piece of hunting property far from home, for the season. They can't be carried, but instead need to be set up near a vehicle or packed in on a horse or ATV.
Wall tents basically range from $700 to $3,000. At the lower end they might come without frames, windows and other features. This is a competitive market, so you do get what you pay for. You'll want windows if you plan to use your tent in the early fall, or for summer scouting or fishing trips. Wall tents, though, are made to weather fall storms.
A potential problem with a lot of wall tents is that because they're often made of cotton canvas they can rot. This is because cotton is organic. Polyester, on the other hand, is not organic and will not succumb to rot or mildew. For this reason some tent makers use polyester. Still, if you put away a canvas tent only after it's dry and store it in a dry place, it won't rot.
Cabela's Ultimate Alaknak Tent is a monster in this class. It's made from 250-denier polyester and is 13x27 feet. It runs about $1,500. Cabela's has been selling this model for 20 years, and many outfitters use it as a cook shack.
At the other end of the spectrum is the six-person Kodiak Canvas Flex-Bow tent that's 10x10 feet and costs $499. It uses a cotton duck canvas and Hydra-Shield technology to make it waterproof and breathable. You can walk right into the Flex-Bow, but you can't put a woodstove in it.
I'll never forget the night I woke to screams of "fire" in a wall tent in a caribou camp. The next thing I saw was white undies speeding by as Tony flew outside into a raging storm. I looked for the fire and found that a vent in the woodstove was projecting light onto the ceiling. The flames were safely contained inside, but it took some coaxing and a lot of laughing to get Tony out of the storm. Hunting from a tent—any tent—can certainly be memorable.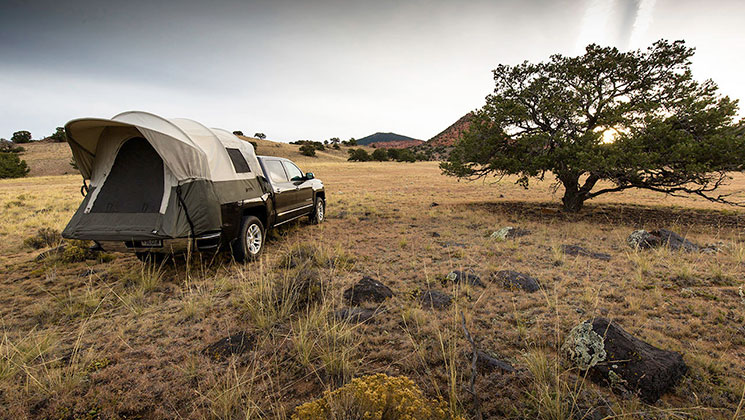 One for the Road
There are tents to fit every need. An option for the traveling hunter is the truck tent. The Kodiak Canvas Truck Tent, for example, is adaptable to any full-sized truck bed. It has five windows and costs about $350.