by
posted on September 18, 2014
Support NRA American Hunter
DONATE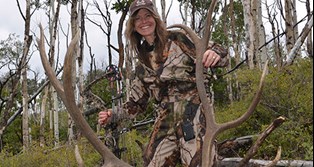 Have you heard about the latest, greatest clothing in the evolution of concealment? We bowhunters can increase our odds of success by wearing a fairly new, innovative product called a HECS Stealthscreen.
HECS consists of a lightweight shirt, pant and head cover made of a mesh-like screen. Science shows all living things emit an electromagnetic signal, so HECS' conductive carbon-fiber grid—called a Faraday Cage—works like an energy cloak. Believe it or not, HECS functions just like the grid in the door of your microwave and blocks up to 90 percent of your electromagnetic energy.
I've staged successful ambushes with both deer and elk while wearing HECS and believe it's the latest, greatest thing in the evolution of concealment. The big, old bull in this photo came in at 20 yards and stared right through me as I stood in front of a shrub. He never knew what hit him, which I'm very thankful for considering elk meat is tough to beat!
For more information, go to HECSLLC.com.